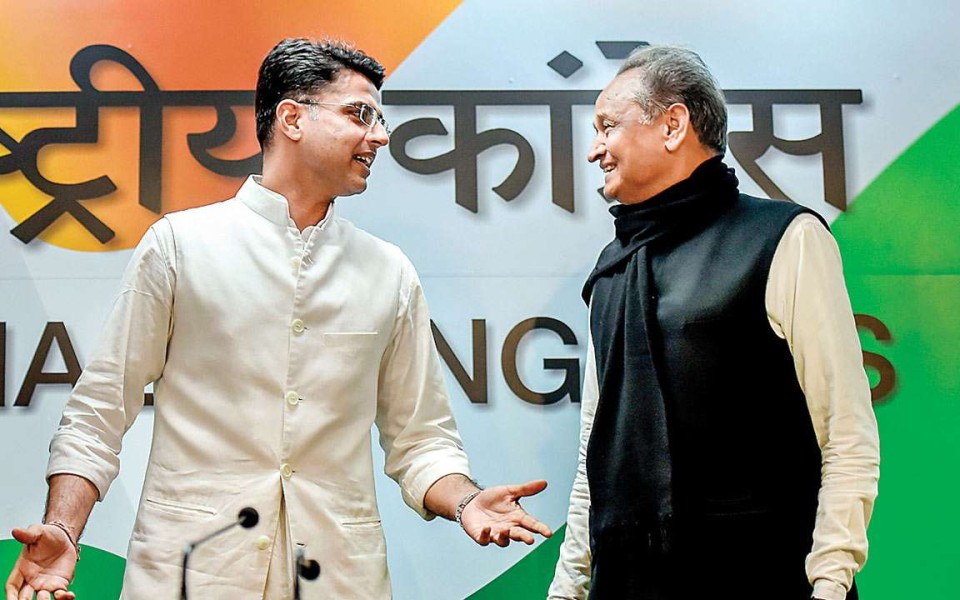 Is the Congress in Rajasthan going the Punjab way?
Ashok Chandna, Congress MLA from Hindoli in Bundi district and popular youth leader, has taken to Twitter, urging Chief Minister Ashok Gehlot to "free me from this humiliating post of a minister, and hand over the charge of all my departments to Kuldeep Ranka (principal secretary to the CM), as he is anyway the minister of all departments".
Chandna isn't just another party MLA gone rogue against his government. The 38-year-old legislator holds half-a-dozen ministerial portfolios in the Gehlot cabinet. As a minister of state, Chandna holds independent charge for the departments of Sports & Youth Affairs, Skill Development, Employment & Entrepreneurship while he is also the junior minister for Disaster Management & Relief, Administrative Reforms & Coordination Department, Statistics and Policy Planning.
The Hindoli MLA is the latest in a growing list of Congress leaders from Rajasthan – and the first member of Gehlot's council of ministers – to attack his own government. In expressing his discomfiture with the state of affairs in the Gehlot government, though without directly blaming the CM, Ranka has joined cause with party MLAs Rajendra Bidhuri, Ganesh Ghogra, Divya Maderna as well as independent MLA Sanyam Lodha, who incidentally happens to be among Gehlot's official advisors.
On May 25, former MLA Dheeraj Gurjar, who works closely with Priyanka Gandhi Vadra as the party's secretary in-charge of Uttar Pradesh, had posted a tweet hinting that the Rajasthan government was overrun by bureaucrats who were in cahoots with the opposition for "digging the grave of the government". "If not identified in time, any government will have to face dire consequences," Gurjar had added.
Gehlot, for now, has dismissed Chandna's outburst as a statement that "we should not take seriously", claiming instead that the young minister is "working under a lot of pressure".
Also read: My resignation letter is permanently with Sonia Gandhi, says Ashok Gehlot
However, several Congress lawmakers from Rajasthan that The Federal spoke to conceded, on condition of anonymity, that the attacks against the CM and his alleged running of the government through bureaucrats without addressing concerns of ministers and party MLAs, have an ominous similarity to the events that unfolded in Punjab last year before the Congress benched then CM Amarinder Singh.
The fresh salvos against Gehlot from his party colleagues are coming in at a time when speculation is once again rife about the Congress high command contemplating a change of guard in the state that will go for assembly polls end-2023.
Pilot's ambitions  no secret
That Gehlot's bête noir and former Rajasthan deputy CM Sachin Pilot has been eying the CM's chair ever since the Congress came to power in the state in December 2018 is an open secret. Pilot had, in August 2020, led a failed rebellion of some 18 party MLAs against the chief minister. Gehlot had survived that scare by ensuring that over 80 other party lawmakers and a dozen independent and BSP MLAs stood firm behind him.
After a month-long stand-off, Pilot was stripped of his posts as Rajasthan Congress chief and deputy CM, his loyalists who were ministers in the Gehlot cabinet or held organisational posts were sacked. However, Priyanka Gandhi Vadra, along with the late Ahmed Patel, had ensured that Pilot and his loyalists do not switch to the BJP and topple the state government as Jyotiraditya Scindia had done in Madhya Pradesh earlier that year.
Pilot's rebellion notwithstanding, Priyanka had kept him in good humour and, last year, several of his loyalists were brought back to the state cabinet and organisational posts. Congress sources say behind the truce brokered by Priyanka with Pilot was the assurance that Gehlot will be asked to step down and make way for the Tonk MLA a year before Rajasthan goes to polls. This arrangement has, so far, ensured no repeat of an all-out rebellion against Gehlot – the one the Congress high command not just presided over but encouraged against Amarinder in Punjab through the now jailed Navjot Sidhu.
However, both Gehlot and Pilot have continued to take barely-veiled potshots against each other. While Gehlot has maintained that "my resignation letter is always with Sonia Gandhi", he has repeatedly reminded his colleagues about the failed coup that Pilot engineered against him. Pilot, on his part, has avoided trading barbs directly with Gehlot and instead, limited his assertions for the need of young leadership that can "break the trend of Rajasthan cyclically voting for a Congress or BJP government".
Spiralling out of control
The timing of the fresh attacks against Gehlot and his government, however, suggests that things have once again begun to spiral out of control for the Congress, this time with a twist. Of particular significance is the fact that the new barrage of criticism against the CM has begun to come thick and fast within a fortnight of Gehlot hosting the party's Chintan Shivir in Udaipur where he was repeatedly singled out for praise by Sonia Gandhi while Pilot continued to commend the high command for promoting younger leaders in leadership roles.
Also read: Sonia calls for introspection, contemplation at Congress's Chintan Shivir
This mixed signalling seems to have left many in the Rajasthan Congress befuddled. "If you just look at the Chintan Shivir, it was an all-out Ashok Gehlot show – he was the host, he addressed the opening press conference, his policies were praised during the discussions and he was hailed for everything by Sonia herself. At the same time, you also had Pilot speaking to the media on the sidelines of the Shivir claiming that the party leadership had taken a decisive call to promote younger leaders. Pilot has now returned to touring the state aggressively as if he has been given some signal by the high command that a change of guard is in the offing. What are Congress MLAs of the state to make of all this," a party MLA told The Federal.
Punjab events looms large
Congress sources say the Gandhis, particularly Priyanka, are indeed keen on replacing Gehlot with Pilot. However, having paid a high electoral price by procrastinating on the leadership issue in Punjab for too long and replacing Amarinder Singh with Charanjit Channi just six months before the polls, Sonia, said a senior leader, wants the script in Rajasthan to be different from Punjab.
"She is convinced that if we must change the CM, we should do so now so that the new CM has time to implement his vision and reverse any anti-incumbency against Gehlot, but we don't know if or when the change will actually happen. There is some talk that it may be done after June 10 once the Rajya Sabha polls are over or perhaps after the Presidential polls in July. But we need to take a clear decision and can't keep it hanging like we did in Punjab because delaying a decision this important will confuse the MLAs and workers if they don't know who to rally behind," said a party veteran.
Also read: Rahul Gandhi or Sachin Pilot: Congress meets to discuss party future
Another Rajasthan MLA The Federal spoke to pointed out how the prevailing confusion was already veering dangerously close to the events that unfolded in Punjab. "In Punjab, several MLAs who rebelled against Amarinder had done so when they realised he had lost confidence of the Gandhis. They had no love for Sidhu as the events after Amarinder's exit and Channi's appointment showed. In Rajasthan too, the MLAs speaking out against Gehlot are not really Pilot loyalists. Divya Maderna and Ashok Chandna had stood behind Gehlot during Pilot's rebellion. But perhaps they now think the high command is backing Pilot. This is politics and Gehlot knows that if the high command endorses Pilot over him, several MLAs will change loyalties overnight. Dragging this is not in the interest of the party and the Gandhis should decide quickly what they want to do in Rajasthan," the MLA said.