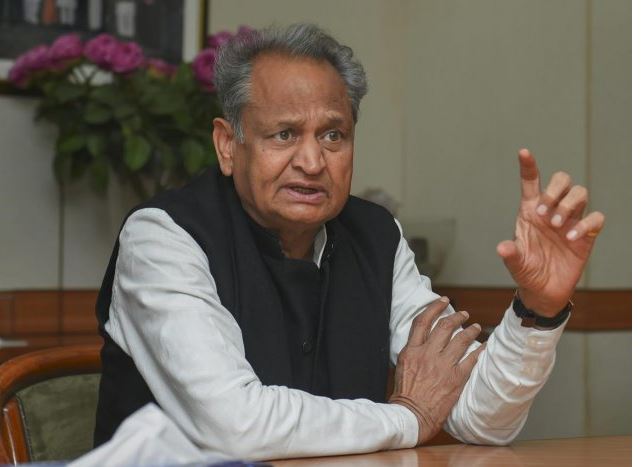 Rajasthan Chief Minister Ashok Gehlot on Wednesday asked Congress workers not to be distracted by politics and to focus on helping people get access to welfare schemes.
Addressing a daylong workshop at the Birla auditorium here, Gehlot said party workers should promote the governments welfare schemes, particularly the Mehangai Rahat Camps or inflation relief camps being organised across the state from April 24. "Our priority is to help people affected by inflation. We need to spread awareness about Mehangai Rahat Camps and ensure that people can access its benefits," Gehlot said.
"We are here to serve the people, not to play politics. Let us put our energy into making sure that every eligible person can benefit from our welfare schemes," he added.
The chief minister said party leaders and workers working hard in this regard will be rewarded.
"Your efforts will not go unnoticed. We will recognise and reward those who go the extra mile to serve the people," he said.
The camps are being set up with an objective to help people fight price rise. Information regarding public welfare schemes and programmes will be given to people from deprived sections and they will be linked to the schemes based on their eligibility.
Gehlot also cited a survey, saying the Congress will emerge victorious in the Assembly elections scheduled later this year. "We have done a survey and the results are clear… Congress is winning with a clear majority," Gehlot said. The Congress government in Rajasthan has been actively promoting its welfare schemes, including the Chiranjeevi Health Insurance Scheme, and Free Annapurna Food Packet Scheme among others.
All India Congress Committee and Pradesh Congress Committee delegates, MLAs, former MPs and MLAs, office bearers, and other leaders of the Congress attended the workshop.
AICC in-charge of Rajasthan Sukhjinder Singh Randhawa and PCC chief Govind Singh Dotasra also addressed the workshop.
---
(Except for the headline, this story has not been edited by The Federal staff and is auto-published from a syndicated feed.)