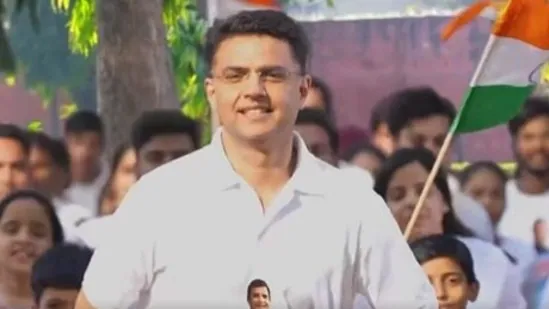 Desert storm awaits Cong? Buzz over Pilot's next move ahead of Assembly polls
Amid speculation over Congress leader Sachin Pilot's next move, sources close to him on Tuesday said he was firm on his demands, including action against alleged corruption during the previous Vasundhara Raje government, and was waiting for a definitive response from the party high command.
While some reports have claimed that Pilot may announce floating a new party, sources close to him maintained that he is focused only on the fulfilment of his demands. Sources said the meeting Chief Minister Ashok Gehlot and Pilot had with party chief Mallikarjun Kharge and Rahul Gandhi last week did not result in any resolution of "core issues" between the two Rajasthan bigwigs.
Also read: Rajasthan: No lull in desert storm; Pilot says he's waiting for govt to act on demands
Bid to broker peace before polls

Gehlot and his former deputy have been engaged in a power tussle since the Congress formed government in the state in 2018 and the party is seeking to broker peace between the two ahead of the assembly elections in the state, slated for later this year. There is intense speculation that Pilot may give a clear indication on his way forward on June 11 when he marks his father's death anniversary in Dausa. "He (Pilot) is waiting for a response from the party leadership, the ball is in their court," a source close to him said.
Leaders close to Pilot said he has taken a "principled position" and it is not about posts. The issues of corruption and paper leaks are his top priority, they added. Besides graft, Pilot's two other demands were reconstituting the Rajasthan Public Service Commission (RPSC) and making fresh appointments in it, and compensation for those affected by the cancellation of government recruitment exams following paper leaks.
All eyes on June 11 event in Dausa
The preparations for the programme marking Rajesh Pilot's death anniversary, which is held annually, are going on in full swing in Dausa and are being supervised by Minister of State for Agriculture Marketing Murari Lal Meena, a close aide of Pilot. With all eyes on that programme, Meena told reporters, "I have no idea from where the speculation of the new party started. I do not see any substance in such speculations."
Also read: Rajasthan: Congress's desert storm blows over as Gehlot, Pilot sing unity tune
The Congress last Thursday had said the party is supreme and will fight the Rajasthan assembly polls unitedly to emerge victorious, an assertion that came after Pilot refused to budge from his demands. In a bid to defuse the tensions, Kharge and Gandhi had held marathon discussions with Gehlot and Pilot separately last week, sources had said. They had later posed for photographs at Kharge's 10 Rajaji Marg residence in New Delhi.
After the meetings, the party had said Gehlot and Pilot have agreed to fight the upcoming assembly elections unitedly and have left all issues to be resolved by the party high command.
(With agency inputs)