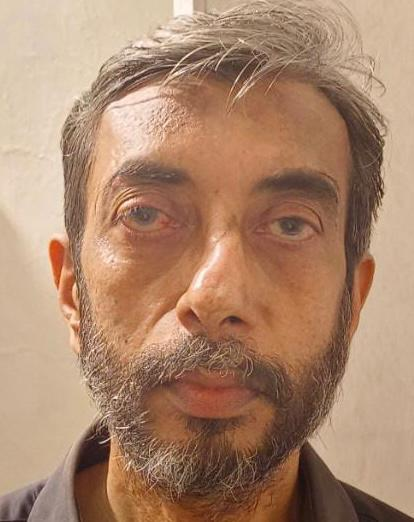 Mumbai murder | 'I treated her like daughter, she killed self', accused tells cops
He insists he did not murder his live-in partner and that she died by suicide. The police are not convinced. Either way, one thing is clear: Manoj Sane has admitted cutting her body into several pieces and boiling some in a gory ritual that has left the Mumbai Police stunned.
Sane, 56, was arrested on Thursday (June 8) on charges of murdering Saraswati Vaidya, who was an orphan, at her seventh-floor apartment on Mira Road in Thane. Police officers alerted by neighbours were numbed to see one day earlier some body parts in buckets and yet some more boiled in a cooker.
Although he had a house in Borivali in Mumbai where some of his family members live, he lived on his own. He worked in a grocery store as he did not get a job after being trained at the Industrial Training Institute.
Also read: Mumbai man kills live-in partner, boils chopped body parts in pressure cooker: Police
As for Saraswati, 32, she had told a worker at her earlier orphanage that she now lived with a rich uncle. But the worker recalled that the young woman was visibly unhappy when she visited the orphanage some two years ago.
Sane has told the police that he taught mathematics to Saraswati, who he met in 2014. Some years later, they moved into the Mira Road house.
HIV patient
The man also told the police that he was HIV-positive as a result of a blood transfusion and that he never had any physical relationship with Saraswati. She reportedly felt bad whenever he returned home late.
Also read: Shradha Walkar case rerun: Hyderabad man kills partner, stores chopped body parts, held
"I treated her like a daughter," he told the police officials who admit that Sane may not be exactly speaking the truth. They also realise that since the couple did not have friends, there are no witnesses to the crime.
Sane claimed that Saraswati killed herself on June 3, apparently by taking poison. Fearing that he will be implicated, he decided to dispose of the body by chopping it into innumerable pieces with an electric tree cutter.
Sane allegedly boiled some body parts in a pressure cooker and roasted them on gas so that they could be dumped easily. More body parts were found here and there in the house. The police have slapped charges of murder and destruction of evidence against Sane.
Also read: Nurse killed by live-in partner in Maharashtra, body stuffed in bed's storage: Police
Sane told his interrogators that he did not regret doing what he did and that he had decided to kill himself. But he ended up getting arrested before that.
A court sent him to police custody till June 16, Deputy Commissioner of Police Jayant Bajbale was quoted as telling the media.