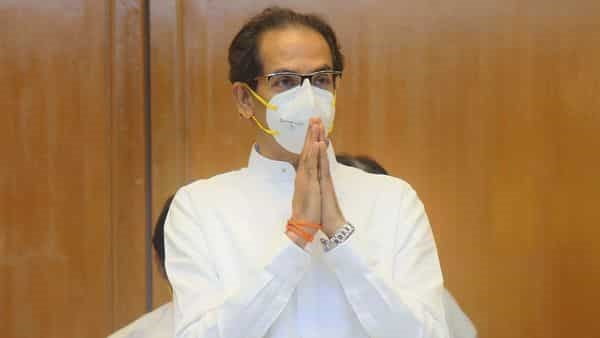 Hinting at the possibility of a lockdown in the wake of a major spike in COVID-19 cases in the state in the past few days, Maharashtra Chief Minister Uddhav Thackeray said on Sunday that he did not want to impose it but he expressed his 'majboori' (helplessness) in the face of the situation the state finds itself in.
Maharashtra, which continues to report the highest daily new cases in the country, has been subject to another surge in the last few days.
The state health department's figures on Sunday showed that Maharashtra had 8,293 new coronavirus cases, 3,753 recoveries, and 62 deaths in the last 24 hours.
Advertisement
Also read: 'Masks mandatory for next 6 months in Maha': Uddhav Thackeray
The recovery rate in Maharashtra is 93.95 per cent, while the fatality rate is at 2.42 per cent. 52,154 people have succumbed to the virus in the state so far, while more than 20 lakh people have recovered.
At a press conference in Mumbai, the Maharashtra chief minister urged people of the state to wear masks to avoid a lockdown. He also said that he "did not want to impose a lockdown in the state but 'majboori' is also something." However, he assured that he was continuously monitoring the situation.
This is not the first time, the CM was alluding to a lockdown. On February 21, owing to the rise in COVID-19 cases, the CM had said on February 21 that the following eight days would decide if there will be a lockdown in the state.
Also read: Full list of COVID restrictions in Maharashtra
To ease the grim situation, while commenting on the fuel price hike in the country, Thackeray also quipped, "Petrol and diesel prices have gone up. We have seen centuries by Virat Kohli, Sachin Tendulkar but now we are seeing petrol-diesel century."
Meanwhile, the district administration in Pune has extended the restrictions imposed earlier. The authorities have said all schools, colleges and private coaching classes will remain shut in the district until 14 March. In addition to this, no public movement will also be allowed between 11 pm to 6 am. Other districts like Amravati district has also extended the lockdown by another week till 8 March.