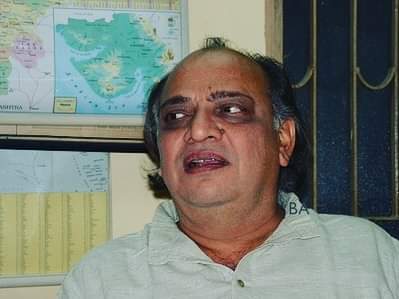 Obituary: Achyut Yagnik understood Gujarat's socio-economics like none other
Achyut Yagnik, Gujarat's foremost public intellectual, historian, former journalist, educator and social activist, passed away on Friday in Ahmedabad. He is survived by his wife, son and grandchildren.
Achyutbhai, as he was popularly known, was unmatched when it came to understanding the socio-economic political aspects of Gujarat. An array of books he has authored is a testimony to this.
"Achyutbhai knew that all battles are not meant to be won but it is important to remain steady on the battlefield. That is what he did until today morning," Ashokbhai Shrimali, an activist who has known Yagnik through years of work, said.
Also read: Gujarat: Mandatory parental consent for love marriages untenable, say experts
He was a man of many facets. He was the honorary secretary of the Centre for Social Knowledge and Action (SETU), Ahmedabad, a social organisation working among marginalised communities in western India.
He led various peoples' movements in Gujarat. He also worked as a journalist, he taught in Universities of Chicago, Columbia and Berlin and since 1982 he had been on the Guest faculty of the post graduate department of Development Communication in the Gujarat University.
Walking encyclopedia
"Achyutbhai authored so many books which are indispensable for understanding the state," said Shrimali. "The man was a walking library with his immense knowledge regarding Gujarat and its culture."
Also read: How the monsoon flushed away tall claims on Smart Cities project
Yagnik began as a journalist and was actively associated with the Working Journalists Union and Press Workers Union in Ahmedabad between 1970 and 1980.
He was the Gujarat Coordinator of the Lokayan Project of the Centre for the Study of Developing Societies (CSDS), Delhi, and the General Secretary of the People's Union for Civil Liberties (PUCL), Gujarat.
In 1981, he established a Gujarati research journal, Arthat, for the Centre for Social Studies, Surat branch. Soon after, he became a consultant to and a Fellow of the United Nations University in Tokyo until 1987.
He came back to India to work for the Mumbai-based Economic and Political Weekly and was its Gujarat correspondent till 1985.
Respected writer
Yagnik authored multiple books in Gujarati and English. In 1995, he co-authored "Creating a Nationality: Ramjanmabhoomi Movement and Fear of the Self" with Ashis Nandy.
His last book, "Shaping of Modern Gujarat – Plurality, Hindutva and Beyond", co-authored with Suchitra Seth and published in 2005, is a must read for anyone who wants to understand the state.
The book chronicles history of Gujarat from the 12th century when Kshtriya ruler Sidhhraj Solanki ordered rebuilding of a mosque in Khambhat (presently in Anand district) to the violence of the 2002 riots.
He was always associated with social activism as a voice of the marginalised sections and was a powerful critique of Gujarat's model of development.
"Equating Gujarat with Hindutva is an oversimplification of a complex web of Gujarat polity and society," Yagnik wrote in the book "Shaping of Modern Gujarat".
Political analyst
A political analyst par excellence, he extensively wrote for multiple news platforms both in English and Gujarati.
In one such articles written in December 2022, ahead of the state elections, he said: "No one can beat BJP in Gujarat for historical reasons as much as their political cunning."
In another prominent article titled "The Pathology of Gujarat" where he chronicles Gujarat through the 20th century, he said: "In the collective memory of Gujarat, the opening years of the 20th century are synonymous with the Great Famine followed by widespread plague. Similarly, the opening years of this century will become synonymous with the Great Earthquake followed by communal carnage."
Said Rajiv Shah, a Gujarat-based veteran journalist: "He was one of the most sought-after persons if one wanted to know about the social and political fabric of Gujarat. It is difficult to imagine Ahmedabad without him. He will always be remembered for his contribution to the society of Gujarat."