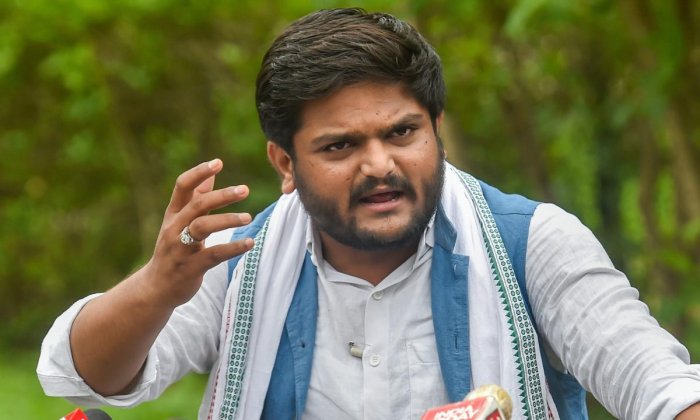 Upset Hardik Patel says Cong treating him like groom made to undergo 'nasbandi'
Gujarat Congress working president Hardik Patel has lashed out at his party top brass for not doing enough to contain the tiff within the party.
Hardik's outburst assumes importance because Gujarat is set to go to polls soon and the Congress won't like a party divided within to face the mighty BJP in Narendra Modi's stronghold.
Hardik Patel addressed the media on a day the Supreme Court stayed his conviction in a 2015 case regarding Patidar agitation.
Rahul Gandhi had given the responsibility to the Patidar leader in 2017, days before the Gujarat election, to capitalise on the Patidar agitation that had threatened to wean the politically and numerically strong community away from the BJP.
Patel has accused the top leadership of bypassing him during decision making. He said the local Congress leaders do not invite him to party meetings and not consulted either when it comes to taking critical decisions.
"My position in the party is that of a new groom who has been made to undergo nasbandi (vasectomy)," he was quoted as telling the Indian Express.
It seems that Hardik Patel is particularly upset about the proposed induction of another Patidar strongman Naresh Patel in Congress. "There have been talks about getting Naresh Patel in the party fold for some time now. The decision has been pending for two months now. Why no decision is being taken? The Congress high command has to take a quick decision in this matter," he said.
Hardik Patel's outburst doesn't augur well for the Congress when it is faced with a do-or-die battle before the Lok Sabha polls in 2024.
Talking about his credentials as a leader of the Patidars, Hardik said his agitation for quota to the community helped Congress win good number of seats in the local body polls in 2015, followed by a good show in the 2017 state election in Gujarat. The Congress had won 77 of the 182 assembly seats then.
"I was sidelined because some people in the party thought I would come in their way after five or 10 years down the line," Hardik rued.
Responding to Hardik Patel's charges, Gujarat Congress president Jagdish Thakor said he would soon meet with Hardik Patel to discuss his concerns.