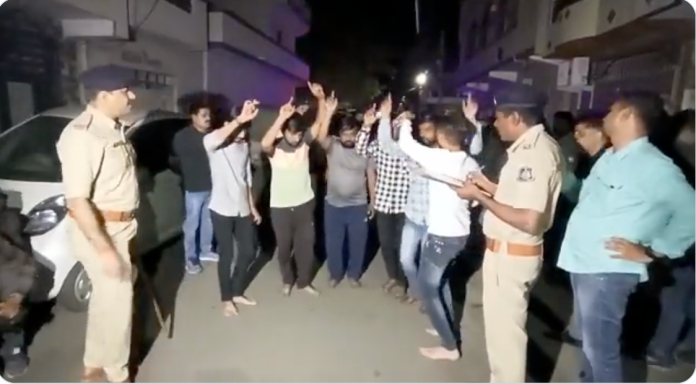 The police arrested seven people after a video went viral showing some young people drinking and dancing at a wedding function in Rajkot city. On Monday evening, Bhaktinagar police in the city booked eight people under the Prohibition Act and arrested seven of them.
Sale and consumption of alcohol is prohibited in Gujarat. As per provisions of Gujarat's prohibition law, liquor is available in restricted quantity to the state's residents only on medical grounds.
Viral video
The police charged the accused for drinking alcohol without permission. Police began investigations after a video showing some youngsters holding liquor bottles and dancing to a Bollywood song started making rounds on the social media.
દારૂબંધીના ધજાગરા/
પી લે પી લે ગીત પર રાજકોટમાં જાનૈયાઓ દારૂની બોટલ સાથે ઝૂમ્યા, ખુલ્લેઆમ બોટલો લહેરાવતો VIDEO વાયરલ#Rajkot #Alchole #Wedding #VTVGujarati pic.twitter.com/75ofpV2Kqq

— VTV Gujarati News and Beyond (@VtvGujarati) February 20, 2023
The video is believed to be shot at Saharkarnagar Main Road in Rajkot.
There are unconfirmed reports that there are more videos and that in one of them the groom is being given a gun.
Also watch: Family showers cash at a wedding event in Gujarat
Police recreates scene
Later, Gujarat Tak, a Gujarati news portal of India Today group, released two videos in which the Rajkot Police personnel, after arresting the alleged accused, are asking them to dance and recreate the scene.
#Rajkot પોલીસ વરઘોડામાં દારુની રેલમછેલ કરતા શખ્સોને ઘટના સ્થળે લઈ ગઈ અને કરાવ્યો ડાન્સ, દારુ કેવી રીતે પીવડાવતા હતા તે પણ કરીને બતાવવા કહ્યું#Gujarat #GujaratTak @CP_RajkotCity pic.twitter.com/DluT49SJZR

— Gujarat Tak (@GujaratTak) February 20, 2023
These videos too have gone viral.
PSI arrested
Interestingly, the Indian Express reported that on the same day a police sub-inspector (PSI) of the State Reserve Police (SRP) was arrested by Rajkot city police after he reported for duty at the commissioner's office in an inebriated state.
Based on the complaint, the PSI was booked under Section 66(1)(b) of the Gujarat Prohibition Act for allegedly consuming alcohol without due permission.