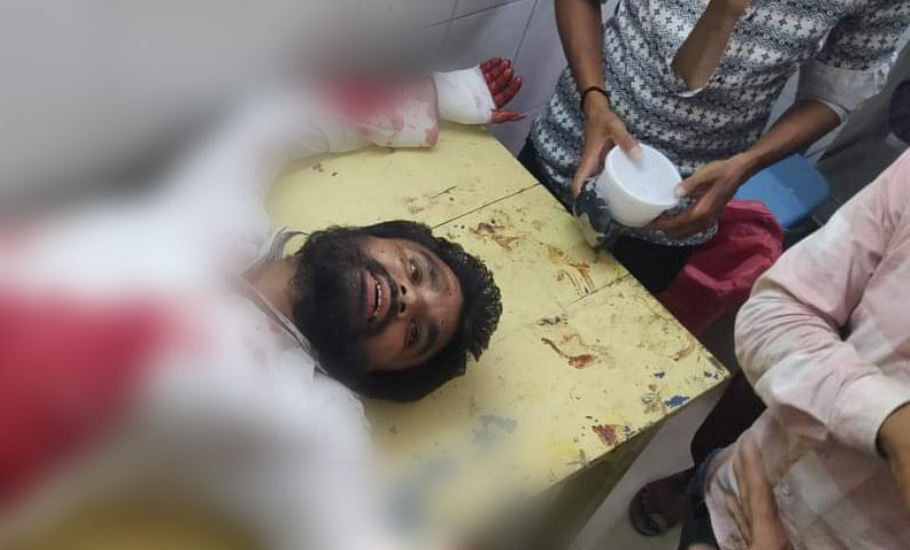 Amid rising caste atrocities in Gujarat, Dalit man's thumb severed over a cricket ball
Two upper-caste men have been arrested in Gujarat after they and their accomplices allegedly severed a Dalit man's thumb with a sword following a dispute over the victim's nephew picking up a cricket ball with which the former were playing.
The incident happened in Kakoshi village in North Gujarat's Patan district on Sunday (June 4). A cricket match was on at a school playground in the village, when a 10-year-old Dalit boy picked up the ball. The upper-caste men, who were playing the game, allegedly hurled casteist slurs at the little boy. That was when Kirti Parmar, the boy's uncle, stepped in.
Row over a cricket ball
According to the FIR lodged at the local police station, the accused got angry when the boy picked up the ball and hurled casteist slurs at him. When Parmar objected, the matter was settled initially. But later in the evening, seven men, armed with sharp weapons, allegedly assaulted Parmar at his tea stall. One of the accused allegedly chopped off his thumb, injuring him grievously.
Parmar is undergoing treatment in a private hospital in Ahmedabad.
The FIR has been registered under sections 326 (voluntarily causing grievous hurt by dangerous weapons), 506 (criminal intimidation), and other relevant provisions of the Indian Penal Code and the SC and ST (Prevention of Atrocities Act).
Also read: Caste bias in IITs: Somnath Waghmare's docu seeks dignity for Dalit lives
"Two of the accused have been arrested while teams have been formed to arrest the others who are absconding," said Vishakha Dabral, the Superintendent of Police in Patan district.
The accused have been identified as Kuldipsinh Rajput, Rajdipsinh Rajput, Jaswantsinh Rajput, Mahendrasinh Chakuba, Laskhmansinh Chakuba, and Sidhrajsinh Rajput. Jaswantsinh is one of the two arrested in the case.
Dalit atrocities on the rise
Noticeably, cases of atrocity against Dalits have been rising every year in Gujarat. Three days back, a Dalit man and his mother were thrashed in Banaskantha district of North Gujarat, reportedly for sporting sunglasses. The mother and son had to be hospitalised following the attack.
According to National Crime Records Bureau (NCRB) data, Gujarat recorded a 46 per cent rise in caste-based atrocity cases between 2015 and 2017.
Among the most shocking cases, seven members of a family were flogged at Una in Gir Somnath district in July 2016, leading to massive protests around the state. However, despite the protests, Dalits continue to face atrocities at the hands of upper-caste members.
In October 2017, a man called Jayesh Solanki was killed in Anand district for watching garba dance during Navratri, reportedly because the event was organised by an upper-caste community and he was a Dalit.
Also read: What it took for the West to wake up and notice casteism
In the same month, Dalit youths from a village in Gandhinagar district were thrashed for sporting a moustache.
In September 2018, Ronak Dabhi, a Dalit youth, was allegedly thrashed by people belonging to the Darbar (Kshatriya) community because his bike had a sticker with a moustache and the term "Banna" on it. The upper-caste assaulter claimed that only Darbars can use such stickers on their motorcycle.
In March 2018, a man called Pradeep Rathod was hacked to death for allegedly owning and riding a horse in Bhavnagar district. In November 2018, three Dalits were thrashed and attacked with knives for opposing a casteist slur hurled at them in a village in Una taluka.
32% rise in 5 years
In March 2019, the then Minister of Social Justice and Empowerment, Ishwar Parmar, told the Gujarat Assembly that crimes against Dalits in Gujarat had risen by 32 per cent between 2013 and 2018.
Between May and July 2019, five Dalit men were attacked in separate incidents, of which only one victim survived. Haresh Solanki, a 22-year-old Dalit man, was hacked to death, allegedly by his wife's family members, near Ahmedabad, as he attempted to meet his pregnant wife at her parents' house in the village.
Piyush Sarvaiya, brother of Lalji Sarvaiya — who was burnt alive in his house in Una by an upper caste mob in 2012 — was attacked by men accused of killing his brother. However, Sarvaiyya survived the attack.
Also read: Third gender denoted as a caste in Bihar's caste-based headcount survey triggering a row
Manjibhai Solanki, a 55-year-old Dalit deputy sarpanch was attacked with pipes and iron rods by upper caste men, reportedly irked by Solanki's initiative to help Dalits of the village lodge cases of atrocity against them. Solanki succumbed to his injuries on the way to the hospital in Ahmedabad.
In 2022, response to an RTI application by Gujarat-based Dalit rights activist Kaushik Parmar revealed that on average, four cases of caste atrocities were reported every day in the state in 2022.
The RTI reply also stated that in more than 30 villages across Gujarat, police protection is provided to Dalit families after attacks on them. Among these villages, 20 fall under Saurashtra region alone.
The stigma of untouchability
Despite a constitutional ban, untouchability is also a reality for Dalits in Gujarat.
A survey was conducted by the Navsarjan Trust, a Gujarat-based NGO that works with Dalits, in 1,489 villages across 14 districts between 2007 and 2010.
"In our survey, we concluded that untouchability is not only far from being eradicated, but the practice may have even intensified in rural Gujarat. We found 98 forms of untouchability being practised by the upper castes against Dalits, while 99 types being practiced within 32 sub-castes of Dalits," stated Martin Macwan, who heads the NGO.
Among the many forms of untouchability revealed by the survey, "Rampatar", the practice of serving Dalits in separate utensils, was found to be most rampant in both urban and rural Gujarat.
Also read: BJP trying to divide country on caste, religious lines: Lalu at Purnea rally
Various other forms of untouchability are practised in rural areas. Dalits are barred from using water from the same well, using the same crematorium, getting a shave or haircut in the town or village, and enter temples. Elected Dalit sarpanches often face social boycott in their own village and are threatened. Dalit children are made to sit separately in schools.
In Becharaji village of Mehsana's Rantej taluka, Dalit women raised the issue of fetching water from a separate tank far from the village well so that water spilling from the tank does not flow back into the well. The well is off limits for Dalits, as the upper caste residents of the village "don't want the water to be polluted". The protest, however, was met with social and economic boycott of the entire Dalit community of the village, forcing them to migrate.