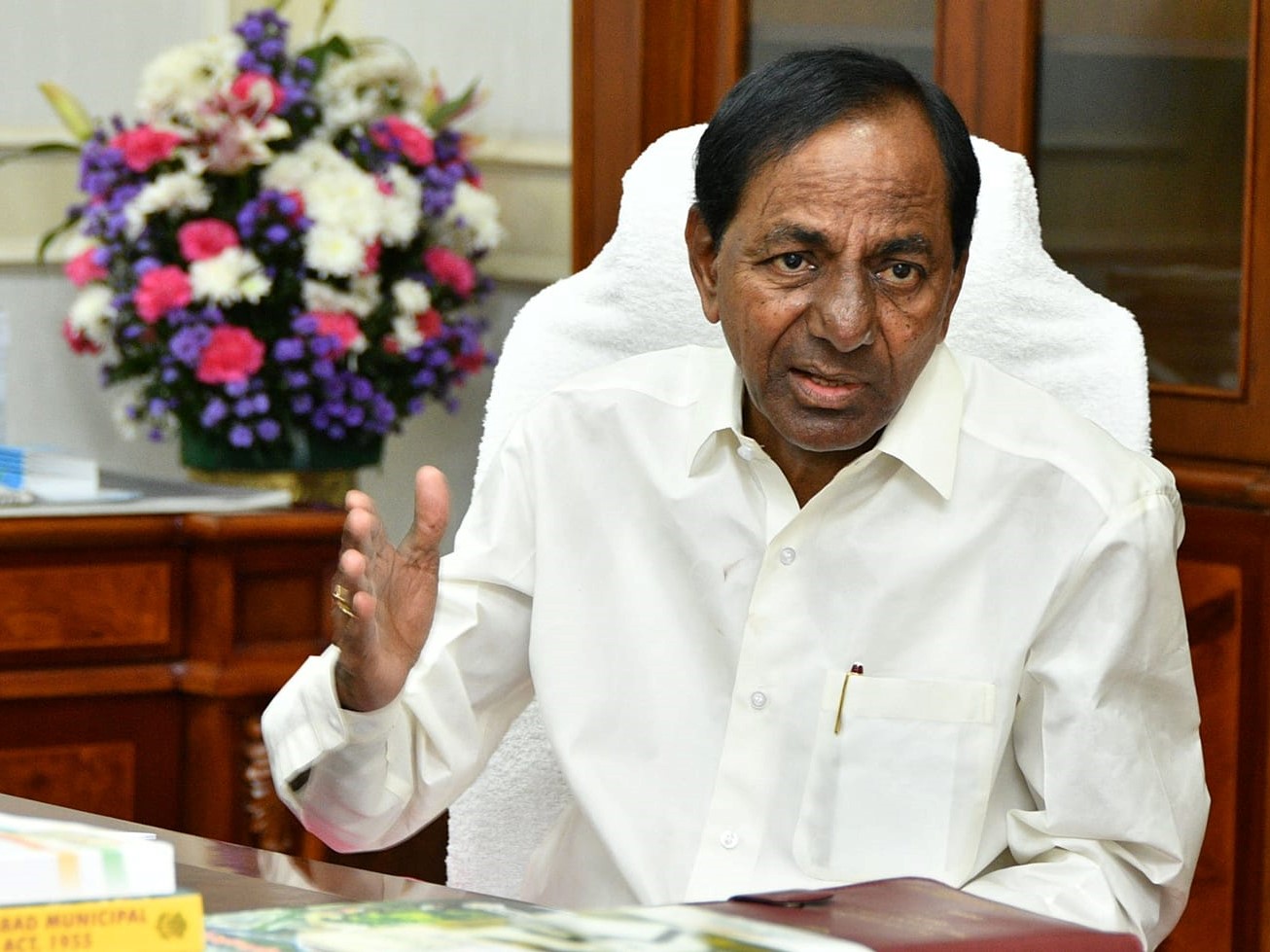 Why KCR abandoned federal front mission to unite Opposition
After meeting with various chief ministers, KCR seems to have realised it would be difficult to form a joint action committee at the national level on the lines of his Telangana movement
Telangana chief minister K Chandrasekhar Rao (KCR) is reportedly fine-tuning an alternative agenda for the country as opposed to the BJP and Modi's Hindutva politics. He has officially abandoned the agenda of uniting the regional parties against Prime Minister Narendra Modi after his tours to various states ruled by regional parties did not yield any worthwhile results.
He even chided the media for attributing the federal front to him. Now, instead of working towards opposition unity, he is toying with the idea of launching his own national party.
Why did KCR, who is known for his persuasive skills, float the idea of a federal front to unite opposition parties at all and then abandon it?  Would the reasons that put paid to his plans allow KCR's national party to take off?
Telangana Rashtra Samithi (TRS) sources said KCR was planning a workshop on the challenges posed by the BJP and Prime Modi's Hindutva politics. The Telangana CM is expected to present his views and an action plan to meet the threat.
Also read: New national party: KCR's bid to do a Rajaji excites supporters, but not a ripple elsewhere
Vundavalli Arun Kumar, a former MP from Andhra Pradesh, got an invitation to attend the workshop. A former Congress MP from Rajahmundry, Arun Kumar has been campaigning against the Hindutva politics. KCR personally invited Kumar, known for his credible politics, for a one-on- meeting to discuss his anti-BJP campaign last week. The meeting is a clear indication of KCR's new strategy — he is now planning to rope in influential individuals rather than regional parties.
The idea of the federal front
KCR floated the idea of a federal front to achieve a modicum of unity among the anti-BJP and anti-Congress parties before the 2019 general elections. He went around the country to meet chief ministers of regional parties to convince them of the need to form a front to defeat Modi.
Many in Telangana saw an unstated objective to this strategy of his. He would have been at the centre-stage of national politics if the 2019 general elections had resulted in a fractured mandate. This would also have paved a path for his son KT Ramarao to become the chief minister.
But his plan went awry. Modi returned to power and KCR not only fell silent but had to extend cooperation to PM Modi's government in passing many bills in Parliament.
The relationship, however, went sour the moment BJP identified Telangana as its next target state following the party's superb performance in Dubbaka assembly by-election in 2020 and Greater Hyderabad Municipal Corporation (GHMC) polls in 2021.
He revived his anti-Modi campaign without referring to the front. But, after many rounds of meetings with various chief ministers, he seems to have realised that it would be difficult to form a political Joint Action Committee (JAC) at the national level on the lines he managed during the days of the Telangana movement.
When KCR realised that the Telangana movement needed to be broad-based, he floated the idea of JAC which would work on his terms and conditions. Political JAC was a committee of representatives from all political parties to carry forward the T-Movement under his beck and call. He chose his friend and noted intellectual, Prof M Kodandaram, as the convenor.
Also read: Eyeing national role, KCR to meet families of farmers who died in anti-farm bills protest
The JAC helped KCR in two ways. First, it camouflaged the movement to look non-political and non-TRS, and second, the JAC under the leadership of Kodandaram carried the Telangana message to every nook and corner, caste, and social group of the region.
So successful he was with this move that even the rivals of KCR found it difficult not to respond to the call given by JAC. Thus, the JAC heralded a new phase in the statehood movement. But, a similar front at the national level has been proving elusive. Why?
Reasons for failure of the mission
Two theories have emerged from political commentators as the possible reason for the federal front's failure to take off.  While perceptions from the North see the clash of personalities among the anti-BJP parties as the stumbling block, the locals smell historical reasons as well as a trust deficit between KCR and other leaders for the front's abandonment.
According to noted political commentator Shekhar Iyer, two reasons might have put a spoke in KCR's attempts to forge a federal front.
"KCR comes from a rich state. Telangana is more developed than many other non-BJP states. He has the ability to mobilise the financial resources required to run a front. This might have scared away others. The second factor is KCR's communicative skills. He is fluent in Urdu and English, a rare attribute among non-Hindi-speaking chief ministers. With these two qualities, he can easily dominate others who are also equally ambitious. This clash of personalities might have discouraged others to join hands with KCR," Iyer opined talking to The Federal.
Veteran journalist Kay Benedict from New Delhi, noted that Telangana's strength in Lok Sabha might have forced others not to come under KCR's leadership for a federal front.
"After bifurcation of Andhra Pradesh in 2014, Telangana has become a smaller state of 17 MPs while West Bengal has 42, Maharashtra 40, Tamil Nadu 39, Odisha 21, etc.  What would be TRS' own strength in Lok Sabha?  At present, it has just 9 members while Mamata commands a force of 23. DMK has 24 members and Shiv Sena has 19 members. This reality hardly helps KCR position himself as the leader of the front," Benedict said.
Perceptions from Telangana
On other hand, Koride Mahesh, a noted journalist, feels that KCR's front failed as he fashioned it to suit Telangana's political reality where the Congress and BJP are KCR's rivals. Such a triangular fight is rare in Indian states.
"KCR wants the front to be anti-BJP and anti-Congress, reflective of the reality of Telangana politics. In every other state, regional parties have allied with either the Congress or the BJP. So, KCR's idea of the front has a fatal genetic defect that made all his high-profile tours to Kolkata, Ranchi, Chennai, Mumbai, and Bhubaneswar a futile exercise. So, he publicly announced that there was neither a front nor back," he said.
Another Hyderabad scholar, Dr Chennuru Satish, who is an associate professor at CSSS Kolkata, said KCR might have realised that with his regional moorings he cannot find acceptance among other regional parties as the leader of a front.
"Regional political parties' interests are more concrete and rooted at a local level. When compared with BJP's pan-Indian nationalist ideology, their ideological moorings seem sparse and diffused. Minus a commonality, a united front is difficult to forge," Satish said.
Mulling Goa-like experiment?
Is KCR planning TMC's Goa-experiment like coup at the national level with the help of iPAC founder Prashant Kishor, who is often spotted in Pragathi Bhavan, the official residence of the chief minister? The people The Federal spoke to replied in positive.
Though a disaster for Mamata Banerjee, who also harbours national ambition, the experiment had indeed proved the capability of iPAC to do the groundwork for a political party even though it is little known in a state.
Also read: TRS, AAP opt out of Opposition meet on new President
The army of iPAC members go to any extent to lure political leaders from other parties to the new party. iPAC-backed TMC's Goa experiment has, in fact, earned the moniker 'suitcase strategy'.
"The IPAC coined a slogan Goenchi Navi Sakal (New Dawn for Goa) for TMCs' Goa foray. About 300 iPAC members were mobilised from Hyderabad to work on behalf of the TMC in Goa. With zero party network, iPAC created a hype for TMC which led many second-rung leaders from other parties to join it and contest elections. It is a different matter that the experiment backfired. iPAC emerged victorious. Prashant Kishor is expected to do the same thing for KCR if he were to float a national party. Who knows KCR-Kishor combination may meet with success next time," an admirer of TRS told The Federal.