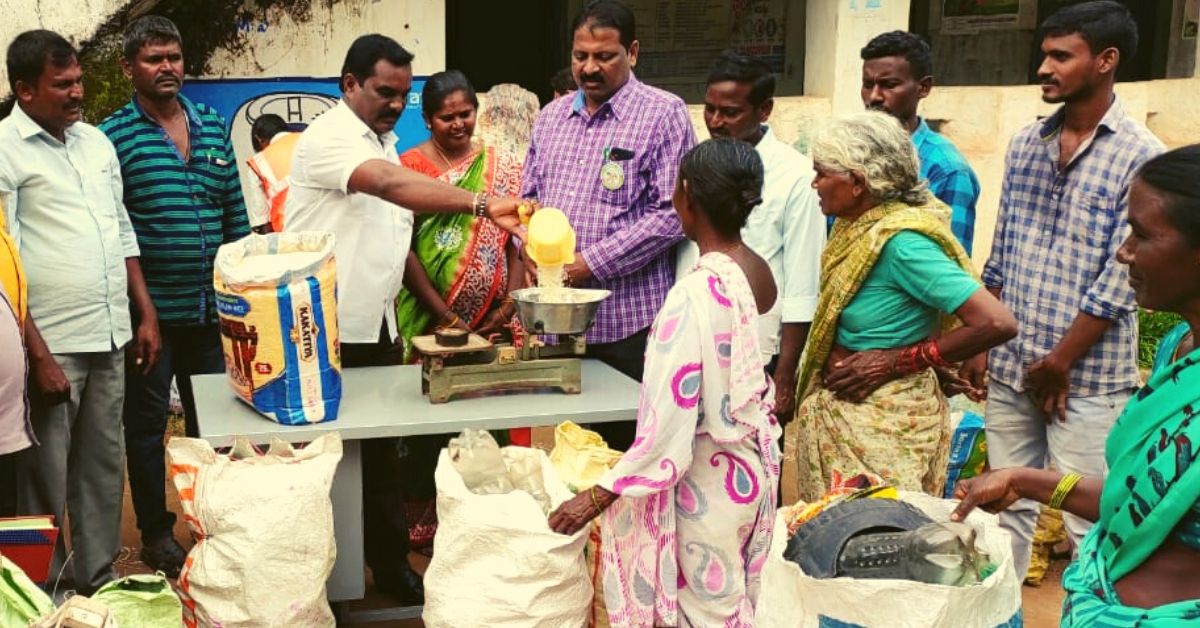 This Collector in Telangana is making waves with his unique war on plastic
A district collector in Telangana has launched an innovative initiative to promote public awareness on shunning the use of plastic. The initiative is called 'Give 1 Kg Plastic Waste To Get 1 Kg Rice'.
This idea is developing rapidly in Mulugu district of Telangana.
The district administration collects plastic items from people across 175 villages at plastic collection centres set up at various locations. In return, the customers will get one kg of rice for one kilo of plastic.
"Rice is only an incentive to educate people about plastic waste and why it needs to be banned in the region. Our district is famous for wildlife sanctuaries and temples that attract thousands of tourists from across the country. Though the authorities try to maintain cleanliness, the plastic menace still thrives. This initiative is our commitment to make India free from single-use plastic by 2020," the Mulugu district C Narayana Reddy told The Federal.
Overwhelming response
The initiative has evoked tremendous response from people. Around 2,400 kilos of plastic items, mainly bottles and bags, were collected from plastic collection centres in 250 areas on the first day alone.
Over 31,000 kgs of plastic has been collected so far and still counting.
"The target is to collect 50 tonnes of plastic by the end of the current collection drive. The accumulated plastic will then be transported to recycling agencies and carry bags will be converted into fuel in cement factories," the collector said.
The programme is divided into two parts. To drive the initiative, the officials are accepting donations in the form of rice or cash from general public. Within a fortnight, donors have given over 450 quintals of rice and close to ₹6 lakh in cash.
A toll-free number has been created to enable potential donors to reach out to the administration. "Donors can call on the designated number to know the details — where they should deposit the cash or rice for the special programme," said Mulugu Tahsildar Ganya Naik.
In order to replace the plastic bags, the district administration has simultaneously started a cloth bag initiative across all the villages.
"We have hired tailors in every village who will make cloth bags and distribute it for free to the locals. The money collected through donations will be given to the tailors for purchasing cloth to make the reusable bags," Narayana Reddy said.
The district collector is also working towards implementing other steps like imposing fines to eliminate plastic in the district.
'Sammakka Sarakka Jatara' is a prominent festival that is celebrated in Mulugu every year in February. Over one crore devotees throng the district during the four-day festival.
During this period, enormous volume of plastic is generated. Each village in the district generates close to 1.5 tonnes of plastic waste, most of which end up in landfills due to lack of segregation. The tourist spots generate around two tonnes of plastic waste.
To ensure that plastic waste is segregated and not mixed with the wet garbage, the district may appoint a team of 'Paryavaran Mitras' (Friends of the Environment) to guide the visitors on discarding plastic in dry waste bins," the official explained.
Mulugu's rice-for-plastic initiative is also seen as an effective way in such cases to address the environmental challenges and promote public awareness about shunning the plastic use.
Other barter options:
Similar barter initiatives are being successfully implemented in some parts of the country. Notable ones among them are:
Plastic waste as school fees
Two public-spirited individuals — Parmita and Mazin Sarma who run a school in Pamohi village, Assam — have decided to accept plastic waste as fees. The school 'Akshar', which was founded by them in 2016, has 100 children.
Each child brings plastic items that include polythene bags, cups and bottles. The waste deposited by the students is regularly segregated and recycled to improve the infrastructure of the school.
Exchange with a meal
The Ambikapur Municipal Corporation in Chhattisgarh has opened a one-of-its-kind café that gives a free meal to any rag picker in exchange for one kg and 500 grams of plastic waste respectively. The collected plastic will be used to construct roads.
"There are two reasons why we have started this scheme. First, the growing rise of plastic, particularly carry bags, has become a serious issue despite running constant checks on various commercial establishments. So, through this, we are trying to address the plastic problem. Second, there are around 100-odd homeless families for whom we can at least provide meals," Manoj Singh, the Municipal Commissioner of Ambikapur, was quoted as saying by the local media.
A similar drive was started by the alumni of Goethals Memorial School and Nishkam Khalsa Sewa in West Bengal's Siliguri district. This barter system gives free food to anyone who brings 500 grams of plastic. The exchange system takes place every Saturday.
"There is tremendous response from the people. This will help in saving the environment as plastic clog the drains and are the cause of floods. Further, it is lethal for animals who consume it," said SP Singh Saluja, President of Goethals Memorial School Alumni.