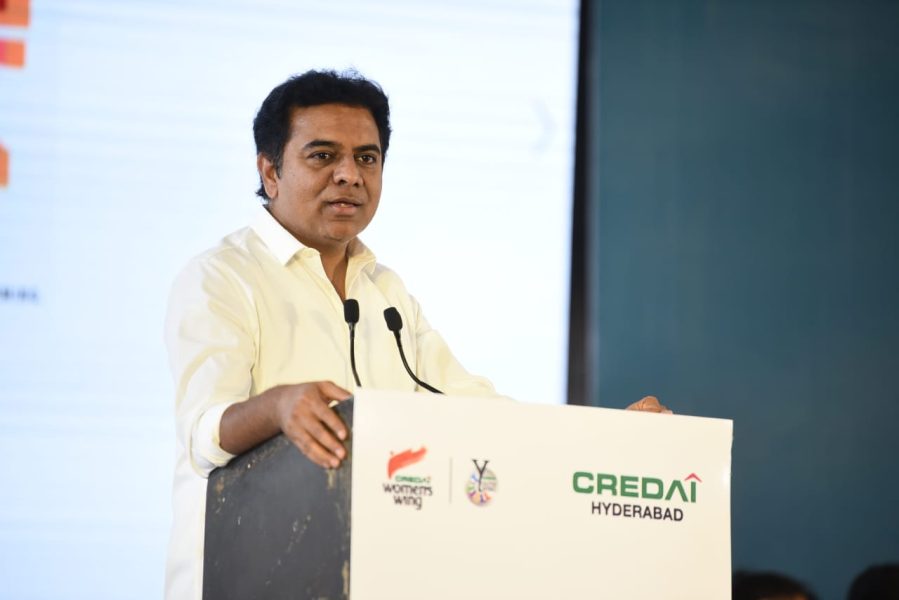 Telangana minister KTR under fire for remarks on Andhra's 'bad roads'
Telangana minister KT Rama Rao's comments on neighbouring state Andhra Pradesh's "bad roads, power cuts, and lack of water", have generated strong reactions from Andhra's ruling YSR Congress Party (YSRCP) leaders.
Minister for Municipal Administration and Urban Development Rama Rao (KTR), who is also the son of state Chief Minister K Chandrasekhara Rao (KCR), spoke about Andhra during an event organised by the Confederation of Real Estate Developers' Association of India (CREDAI) in Hyderabad on Friday (April 29).
At the event, he promoted Hyderabad and said, "Only when people visit other places will they appreciate our city. Recently, a friend of mine from the neighbouring state staying in Hyderabad visited his village for the Sankranti festival. He told me there is no proper power supply and water supply, and roads are badly damaged. He said he could not stay there even for three days and heaved a sigh of relief after returning to Hyderabad."
Responding to KTR's remarks, Andhra Education Minister Botsa Satyanarayana said his comments were unwarranted. Satyanarayana claimed that there was no power at his place when he was in Hyderabad.
"There is no power in Hyderabad, as I myself have seen. KTR might have been told about AP conditions by his friends, but I myself have experienced power cuts in Hyderabad and we had to use generators. We are not making an issue out of it. Responsible people like KTR should refrain from making such comments," Satyanarayana said.
Minister for Industries, Gudivada Amarnath said 16 states in India were facing power issues. "Power problems are present in 16 states in the country and Andhra Pradesh is one of them. Power cuts are there in Telangana too."
Tourism Minister Roja said, "If KTR gives me time, as a tourism minister, I will show him how we have renovated government schools, hospitals, and have been laying roads for 9,000 kms. We will prove that his friend was misguided."
Minister for Energy and Forest Peddireddy Ramachandra Reddy, who held the Panchayat Raj portfolio till recently, asserted that there are no power cuts in Andhra and the government is ready to purchase coal at any cost, a report in The New Indian Express said.
"After Jagan Mohan Reddy formed the government, roads were developed significantly, be it Panchayat, R&B or National Highways. In fact, the number of roads developed in AP is far greater than in Telangana," he explained, the report added.
Following these strong reactions, KTR said his comment was "innocuous" and said he enjoys "great brotherly" equation with Andhra Chief Minister Jagan Mohan Reddy.
"It appears that an innocuous comment that I had made at a meeting earlier today may have caused some unintentional pain to my friends in AP. I enjoy a great brotherly equation with AP CM Jagan Garu & wish that the state prospers under his leadership," KTR tweeted on Friday night.
It appears that an innocuous comment that I had made at a meeting earlier today may have caused some unintentional pain to my friends in AP

I enjoy a great brotherly equation with AP CM Jagan Garu & wish that the state prospers under his leadership

— KTR (@KTRTRS) April 29, 2022