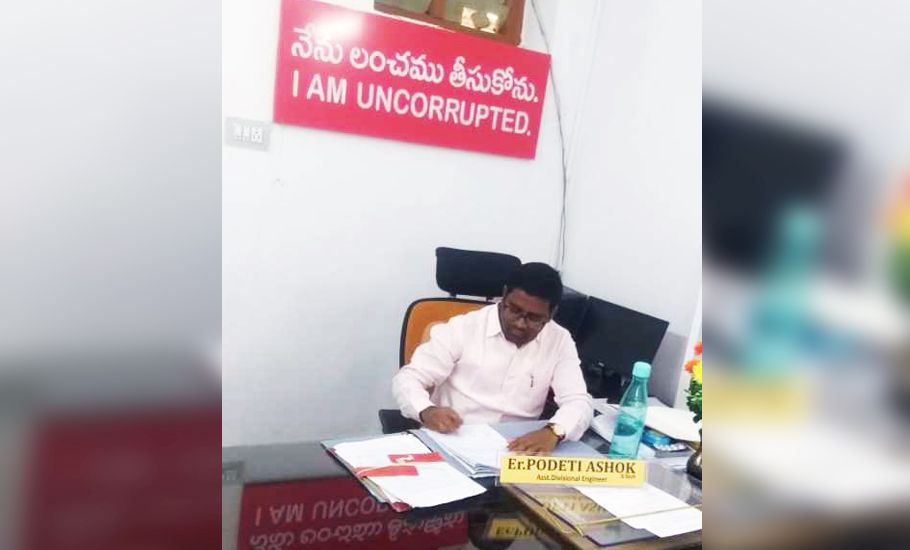 My name is Ashok. I am not corrupt: Telangana officer's unique message
At a time when there is widespread public outrage in Telangana over growing instances of corruption in government departments, an official in the state electricity department at Karimnagar has been creating a buzz and drawing huge attention with his unique message. He has put up a board in his chamber stating that he is not corrupt and would not accept bribes from consumers.
"I am uncorrupted," reads a big board in red colour right behind the seat of Podeti Ashok, an Assistant Divisional Engineer (ADE) in the Northern Power Distribution Company Limited (NPDCL) office in Karimnagar town.
Like any other concerned citizen, this 37-year-old officer was vexed with the rampant corruption in the department and wanted to send across a strong message from his workplace. It is a common practice for contractors handling various electric works to grease the palms of the officials at all levels to get their bills sanctioned and files approved.
"I have been in this department for 14 years now and in this post I now deal with issues related to industrial consumers including sanctioning connections. I have been offered bribe on several occasions. In fact, it is an accepted practise in this office to accept bribes. And, there are percentages and amounts fixed for each post – an assistant engineer will get this much, a divisional engineer will get this much," Ashok said when asked what prompted him to put up such an unusual message.
Also read | Woman tahsildar burnt alive in office in Telangana over suspected land dispute 
Outrage over corruption
The murder of a woman tehsildar at Abdullapurmet on the outskirts of Hyderabad recently, allegedly for seeking bribe, triggered widespread public outrage across the state. The officer Ch Vijaya Reddy was set ablaze by a frustrated farmer on November 4. Subsequently, the attacker also succumbed to the burn injuries.
The gruesome incident highlighted the widespread corruption in the government departments, an issue that has been the key focus of Chief Minister K Chandrasekhar Rao. He had given a call to the people to bring to the notice of his office any instances of corruption in the departments.
Following the Chief Minister's call, several people took to social media and posted videos narrating their harrowing experiences with the corrupt officials in the revenue, municipal, agriculture, electricity and other departments.
On its part, the government has promised to amend the revenue and municipal acts to hand out exemplary punishment to the corrupt staff. However, the flip side of this drive is that the TRS government is facing criticism for "instigating" people to resort to violence.
A fortnight after the murder of the woman tehsildar, another farmer made a similar attempt at a tehsildar office in Chigurumamidi of Karimnagar district over a land dispute. However, the officer was not in the office at that time.
Security has been tightened at all tehsildar offices following the killing of Vijaya Reddy. Revenue authorities across the state have been taking all precautions to avoid a repeat of the Abdullapurmet incident. They have installed closed circuit television (CCTV) cameras at the chambers of tehsildars and the movements of visitors are being monitored. While tehsildars at some offices are collecting petitions through windows, others are allowing visitors to meet them only during specific hours, after they are thoroughly frisked.
Also read | This Collector in Telangana is making waves with his unique war on plastic 
Change the mindset
"Let us accept the fact that corruption is rampant in many departments. The staff should change the mind set and take a pledge to clean up the system," says Ashok who had to face snide remarks from his colleagues initially for displaying the board.
"After being promoted as ADE in June this year, I have decided not to encourage corruption, at least in my office. So, I stumbled upon this idea of putting up a board last month," he told The Federal.
The officer admitted that his action had offended some of his colleagues in the department and they had found fault with him for putting up a board. "But I cannot help. That is my policy and I am not coming in the way of others," he said.
Ashok said he would continue with the practice till the day of his retirement. "I am not worried about any pressure. At the most, I might be transferred to another place," he said.
The Divisional Engineer of NPDCL at Karimnagar S Ramachander Rao found fault with his junior colleague, saying it was embarrassing for the other staff. The higher authorities would look into the matter and take appropriate action, he said.
What difference has this board made to his work?
"I can say with satisfaction that people approach me confidently that their work will be done without having to pay any bribe. Recently, an industrial consumer came to me, frustrated because his work had not been done with many others in the office demanding a bribe to get the work done. He had tears in his eyes after I got his work done. I believe he approached me confident that I will solve his problem, without him having to pay anything under the table for it," he says.