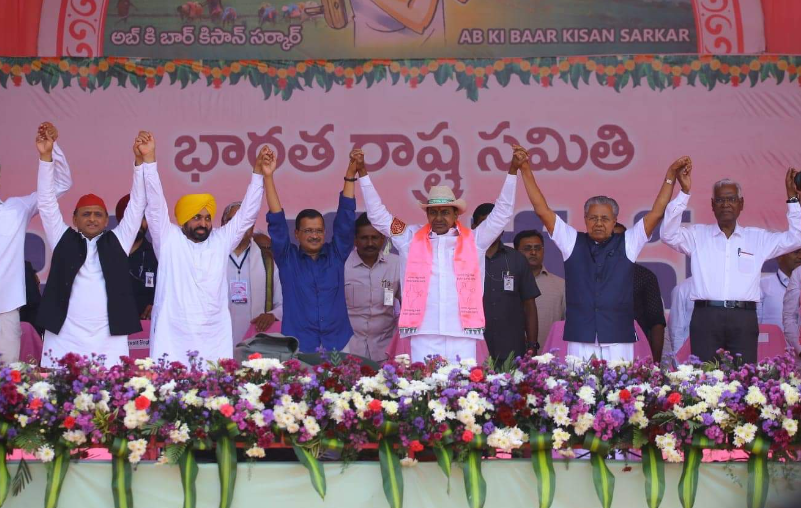 KCR eyes non-BJP, non-Cong India; may be following Telangana model nationally
In a speech reminiscent of pre-Telangana rhetoric minus statehood fire, Telangana Chief Minister K Chandrasekhar Rao, as chief of the newly formed Bharat Rashtra Samiti (BRS), promised everything to India that he used to tell people during the Telangana movement in the 2000s.
KCR appears to be following the same model that made him a numero uno in the eyes of Telangana people which ultimately helped him easily win two elections after the formation of Telangana.
With enormous patience and persuasive skills, KCR used to meet every leader in Delhi to tell how successive Andhra governments had ignored Telangana to provide even a pail of potable water in the fluoride-hit districts of the region.
Also read: KCR warns against 'Taliban' like forces attempting religious divisions
All his laborious efforts made KCR the unquestionable leader of Telangana.
Show of strength
KCR's revelation in Khammam late on Wednesday that 150 professors and former judges were working on a master plan of BRS clearly indicates that very soon he will lay his plan before the people regarding how easy it is to transform India into a superpower.
It is too early to visualize the impact of KCR's master plan on national politics. But it has the potential to strengthen his image as a national leader among his admirers and benefit the BRS in Telangana.
A Khammam teacher who did not want to be quoted expressed hope that KCR would succeed in national politics. "KCR can give a new perspective to the issues the nation is confronting. Once he comes out with his manifesto, national politics will undergo a change," the teacher told The Federal after attending the public meeting.
Also read: Why Bandi Sanjay Kumar is BJP's answer to KCR's clout in Telangana
The first BRS meeting on Thursday took off from Khammam with an impressive rally. Khammam is located strategically between Andhra Pradesh and Telangana, and people could be mobilised for the meeting from both states. While cadres and sympathisers were transported from all districts of Telangana, hundreds of buses ferried people from Andhra Pradesh, especially Guntur.
CMs rally behind KCR
In his hour-long address, KCR promised to implement his pet drinking water project Mission Bhagiratha nationally to provide a water tap in each house. Similarly, he pledged to extend to every state Dalit Bandhu, a scheme meant to provide Rs 10,000 in cash to each Dalit family. "At the rate of 25 lakh families a year, Dalit Bandhu can be implemented on a national scale," KCR said.
Another important scheme he vowed to implement once the BRS comes to power is free power to agriculture. "There is as much as 4.1 lakh MW power available in the country and what we're utilizing is just 2 lakh MW. Free power will be a reality if BRS and like-minded parties come to power at the national level," he said.
All these might have convinced chief ministers Pinarayi Vijayan of Kerala, Arvind Kejriwal of Delhi, and Bhagwant Mann of Punjab of KCR's ability to mobilise the people on such a massive scale. They were all praise for KCR.
Also read: TRS is now Bharat Rashtra Samithi (BRS) officially; KCR unfurls party flag
Vijayan said Khammam, once a centre of Left politics, would now trigger new resistance. Kejriwal said KCR was like an elder brother. Samajwadi Party leader and former Uttar Pradesh Chief Minister Akhilesh Yadav said political changes would invade the country's north from the south, and BRS would have a bigger role to play in the post-2024 politics. All these enthused the crowds though they could not follow the speeches in English and Hindi.
Praise for meeting
Calling the first meeting of BRS "successful," Dr Pentapati Pullarao, a noted political commentator in New Delhi, said it was a right step in the right direction.
He said KCR's promises like free power and re-nationalization were not of much importance.
"What is important is the objective of public meetings in terms of politics. The impact of the meeting will be felt mainly in Andhra Pradesh. Many aspirants now will come forward to contest on BRS ticket. That will change the complexion of Andhra politics. Having seen what is going on in Telangana, many Andhra people seem to have changed their attitude toward KCR and Telangana. Any rapport between the two states will be beneficial for both the states, as they can settle many issues related to river waters and power amicably. KCR is likely to get a rapturous reception in Andhra," he said.
Also read: To Hyderabad airport in 20 min: KCR's massive ₹6,250-cr Metro plan gets going
Political activist B Ramulu sees a game-changing potential in the assurances KCR made from Khammam. "The slogan of re-nationalization is the solution of many ills the country is afflicted with. Due to privatisation that began 30 years ago, the nation lost valuable assets, and lakhs of employees lost livelihood. Nationalisation is a double-edged weapon. It not only provides employment but also leads to social justice through the implementation of reservations," said Ramulu, who headed the Backward Classes Commission in KCR's first stint as chief minister.
Non-BJP, non-Congress alliance
Prof. Karli Srinivasulu, a political scientist and senior fellow at ICSSR, New Delhi, felt that the Khammam meeting was an attempt to forge an alliance among non-Congress and non-BJP political parties.
"CPI(M), AAP, and SP, which attended the meeting have problems with the Congress. Rahul Gandhi's Bharat Jodo Yatra has generated a positive vibe for the Congress. Regional parties in India took birth when the Congress was facing a decline. So, a Congress revival will be a problem for many regional parties that are fiercely anti-BJP. So, given the way Vijayan, Kejriwal and Mann spoke, one could surmise the meeting is a step in the direction of building a non-Congress and non-BJP political group," said Prof. Srinivasulu, who taught earlier at Osmania University.
Assembly polls key
Former Karnataka Chief Minister HD Kumaraswamy was conspicuous by his absence. Referring to this, commentator Tunga Lakshminaraya questioned the BRS's credentials when there was no representation from 90 per cent of the states. "Why did KCR not invite (Andhra Pradesh CM) YS Jagan Mohan Reddy, (Bihar CM) Nitish Kumar, (Tamil Nadu CM) MK Stalin, and (West Bengal CM) Mamata Banerjee? By this lapse, it looks like KCR is projecting his problem in Telangana as the problem of the entire nation."
Also read: Why statehood movement heads feel 'national leader' KCR should support them
Many people feel that the future of BRS hinges on the outcome of the 2023 Assembly elections in many states, including Telangana. If the BJP returns in Karnataka and Tripura, it will be difficult for the opposition parties to challenge the BJP in 2024. Similarly, any setback for BRS in Telangana this year will also be a setback to KCR's national dreams.