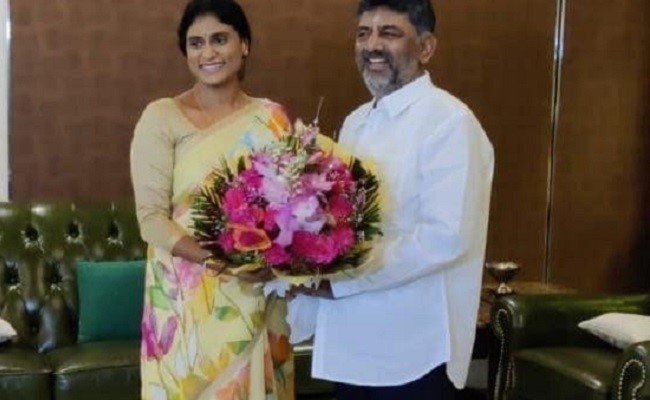 Is Congress eyeing a bigger role for DK Shivakumar in poll-bound Telangana?
On November 23, 2018, when the leaders of the Mahakutami (Grand Alliance) were on a dais in Medchel, a town adjacent to Hyderabad, the then Congress president Rahul Gandhi was seen frequently interacting with a stocky man, who was relatively an unfamiliar figure in political circles in Telangana at that time.
Mahakutami was a front formed by Congress, Telugu Desam Party, the Left and Telangana Jana Samiti, to defeat the Telangana Rashtriya Samiti (now known as BRS) and Rahul was visiting Medchel to address an election rally in which Sonia Gandhi was also present. Only the top brass in the state Congress knew the identity of the person whom Rahul too failed to name in his address to the rally.
But, the Congressman was none other than DK Shivakumar, the then irrigation minister  and current deputy minister of Karnataka. At that time, DKS was on a hush-hush mission to Telangana, busy involved in doing some trouble shooting for the much-divided Telangana-Congress.
DKS Shivakumar had been entrusted with the task of cajoling dissidents of the party, who had filed nominations as independent candidates in the 2018 Assembly elections, to withdraw. Based in a five-star hotel in Hyderabad, he had quietly accomplished the task given to him by party leaders and as many as 25 of more than 30 independent candidates withdrew their nominations.
His success in convincing dissenters to return to the party fold came on the heels of Karnataka's Bellary Lok Sabha election, in which DKS had been the campaign kingpin. DKS, however, did not campaign in the 2018 Telangana state assembly elections.
In 2023, with Assembly elections just five months away, the party high command turned to DKS once again to iron out the problems in the Telangana-Congress. The state unit is plagued by internal squabbles as no two senior leaders are friends in the party. Some have even declared publicly that they don't wish to work under the leadership of Telangana PCC chief, A Revanth Reddy.
Also read: Telangana: Suspended BRS leaders Srinivas Reddy, Krishan Rao to join Congress
One of the major complaints against Revanth is that he has not taken the other party leaders into confidence, while admitting politicians from other parties into the Congress.
The backward classes in the party are unhappy with the PCC president, who they accuse of  overtly promoting Reddy casteism. Veterans charged that they were being ignored by the T-Congress leadership. Though the political situation is conducive for the revival of the Congress following Karnataka's big win, the absence of any significant 'charismatic elder' in the T-Congress, who can bring all the belligerent factions together, has become a major cause of concern for the party high command.
In this scenario, in the light of Karnataka's thumping majority, the Congress high command, which believes that a win in Telangana is crucial for the consolidation of the party before 2024 Lok Sabha elections, is said to have again fallen back on DKS to bring the several factions within the party in line.
This news has created a buzz in T-Congress circles. Even as news that DKS will be made in-charge of Telangana started gaining ground, Manikrao Thakre, the current AICC Telangana-in-charge denied it.
Behind the scenes, DK calls the shots
However, it seems Karnataka deputy CM DKS is calling the shots in Telangana-Congress. A stream of leaders from other political parties who want to defect to the Congress in Telangana are making a beeline to meet DKS first.
On June 25, the Bharat Rashtra Samiti (BRS)'s former MP, Ponguleti Srinivasulur Reddy and former BRS minister Jupalli Krishna Rao, are scheduled to meet Rahul Gandhi in Delhi. According to party sources, the meeting with Rahul was fixed only after Reddy and Rao had called on DKS in Bengaluru, in the presence of PCC president Revanth Reddy.
Similarly, Revanth is said to have introduced BRS MLC Kuchukulla Damodar Reddy and his son Rajesh to DK. Another leader, who is said to have met DKS in Bengaluru, is the BRS leader from Tandur, Patnam Mahender Reddy.
Patnam Reddy, a BRS candidate was defeated in the 2018 election. Not sure of getting a ticket to contest in the 2023 Telangana Assembly elections, he is planning to join the Congress. Moreover, his rival and Congress MLA, Pilot Rohit Reddy, who defected to BRS has laid down a condition that he should be fielded as party candidate in the Tandur constituency in December 2023. Peeved at this, Patnam is all set to jump ship to Congress.
Another important development is the much-publicised meeting of YS Sharmila, daughter of late AP CM YS Rajasekhar Reddy with DKS in Bengaluru. Following differences with brother and Andhra CM Jaganmohan Reddy, Sharmila floated a political party called 'YSR-Telangana party' in the state. Her meeting with DKS has sparked off speculation that Sharmila's party will merge with Congress.
Also read: Don't entertain Congress Party: CM KCR tells people of Telangana
Another win that DK scored in Telangana is that bitter rivals MP Komatireddy Venkata Reddy and PCC chief Ravanth Reddy have purportedly buried the hatchet at the Karnataka Congress strongman's intervention.
Similarly, the disgruntled voices in the party have gone quiet largely because of DKS's mediating efforts, said party sources. More leaders from BJP and BRS are said to have met DKS and more are expected to in the near future in Bengaluru.
DKS: Will leave no stone unturned to ensure party's win 
Meanwhile, DKS confirmed that he met with Telangana leaders and that he is expected to 'talk' to more politicians in the future.
Speaking exclusively to The Federal, DKS said, "Prominent leaders from other parties have been meeting me after YS Sharmila met me in May. Many more are in touch with me. I will do whatever is possible at my disposal keeping the larger interests of the party in mind."
Stating that he had exchanged views with those who met him, DK said, "We will not leave any stone unturned for the party's win in the Telangana Assembly polls scheduled in December 2023."
Explaining why DKS has become a force to reckon with in T-Congress, a Congress source told The Federal, "All those who want to join the Congress are rich and high-profile leaders. It is a clear sign that the tide in Telangana is turning in favour of Congress. Unfortunately, we have no tall leader of stature in the Telangana party who can skillfully negotiate with political leaders from other parties keen to join Congress. The arrival of DKS on the scene has brought about a complete transformation in the functioning of the party."
Party leaders in Telangana acknowledge that there is no leader in the south who currently equals DKS' "negotiation skills and stature".
Dr Mallu Ravi, T-Congress senior vice-president, who was in charge of the party in Karnataka in the 2018 Assembly elections acknowledged DKS' persuasive skill.
He observed, "DK Shivakumar's grip over organisational matters especially in a south Indian state is enormous. So, his role in Telangana Congress is bound to give some momentum to the party, which has been in the doldrums, to face the December elections with confidence."