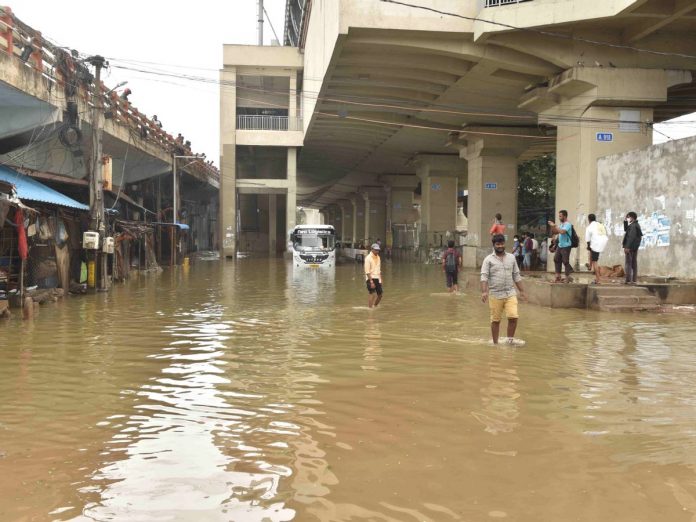 Hyderabad was once known as city of lakes. The founder Muhammad Quli Sutb Shah and subsequent rulers of Qutb Shahi and Asaf Jahi dynasty developed a chain of lakes, channels connecting the lakes to river Musi and open spaces to prevent flooding.
Over 430 years later, even a short spell of showers brings the much-touted Information Technology hub to its knees. The recent devastation caused by heavy rains has highlighted one of the key aspects of the environmental degradation: vanishing lakes of the city.
Hyderabad was once home to 7,000 natural and manmade water bodies such as lakes, ponds, tanks and reservoirs. "Over years, most of these water bodies have disappeared. Studies have suggested that since the 1990s, Hyderabad has lost over 3,000 lakes. This is due to large scale encroachments, rapid urban growth and toxic pollution in the form of industrial effluents and residential wastes," said noted environmentalist Prof Purushotham Reddy.
Advertisement
"Since late 1970s, there has been a frightening imbalance in urban planning as people from all over the state started coming to the city and water bodies were converted into residential and commercial complexes," says P Anuradha Reddy, who earlier headed Society for Preservation of Environment and Quality of Life (SPEQL).
Related news: Rain fury in Hyderabad leaves a trail of death and destruction
Musi River
The city was founded on the banks of Musi river which served as its lifeline. After devastating floods in Musi killed thousands of people in 1908, the then Nizam ruler enlisted the services of renowned civil engineer M Vishweshwarayya to plan new reservoirs upstream and develop a new drainage system to prevent recurrence of floods.
However, over years, the system of channels was destroyed due to steady encroachments, turning Musi into a drain. Contaminated, encroached and polluted, it became a virtual dumping ground for untreated waste.
The plans by successive governments for restoration and beautification of Musi remained only on paper. "All the encroachments should be removed and untreated waste should not be allowed to be dumped into Musi," said M Vedakumar of 'Forum for A Better Hyderabad', a city-based NGO.
"The city once had a very good drainage system. Whenever it rained, the inflow and outflow channels used to drain down north and south basins into Musi river. Since those channels have been destroyed, water can't drain into river. As a result, several areas are inundated," said Lubna Sarwat, an activist fighting for preservation of lakes.
"Dumping of waste including construction has further curtailed the holding capacity. Since the lakes can longer hold water, it is on road and colonies," the activist said.
Continuous discharge of untreated industrial effluents into the water bodies has turned them into toxic ponds almost devoid of any life. The pollution control board has been largely ineffective in penalizing the polluting industries.
Related news: 'Brand Hyderabad' goes under water as rains wreak havoc
Rapid expansion
The city grew rapidly since mid-1990s when it started emerging as IT destination.
Urban planners say the development of IT hubs like Madhapur, also known as Hitec City, and Gachibowli completely lacked the planning. Traffic snarls in these clusters, inundation of roads and low-lying areas expose the loopholes in planning.
The city had witnessed worst floods in 2000 when 24 cm rainfall in few hours inundated dozens of colonies, killing 30 people.
The Kirloskar committee, which went into the reasons behind the flooding, in its report submitted in 2003, pointed out that 13,500 illegal structures had come up on 390 km of drains.
However, the panel's recommendations were never implemented and according to government's own admission, the encroachments increased to 28,000 since 2000. The government needs over Rs 11,000 crore to clear them now.
Related news: Rain fury: IT hub pays the price for decades of neglect
Vanishing water bodies
A decision taken in the combined Andhra Pradesh to convert all water bodies covering less than 10 hectares of land into residential and commercial zones had led to the extinction of more than 3,000 water bodies in the city from the mid-1990s to mid-2000s.
While the government's move saw a real estate boom in the mid-2000s, the number of water bodies within Greater Hyderabad Municipal Corporation (GHMC) limits came down to 185.
In order to prevent encroachments of lake beds, the government formed a Lake Protection Committee in 2010 comprising senior officials. As per a 2010 government order, all constructions 30 metres from the full tank level must be removed. But, the order was never implemented.
Over years, almost 90 percent of the city's lakes, tanks and ponds have been reduced to cesspools due to sewage. Many lakes have also begun frothing, due to excessive chemical waste, in the city.
The drying up of the lakes has adversely impacted on the recharging of groundwater with the water table sinking sharply in recent years.
Unbridled urbanisation and the related activities are posing serious threat to the survival of Osmansagar and Himayatsagar, the two key reservoirs of the city," says C Ramachandraiah, an urban planning expert.
"It is time the civil society and general public wake up and hold the authorities responsible or else there will be no water bodies left in the city, warned Jasvin Jairath, the convenor of 'Save our urban lakes'.