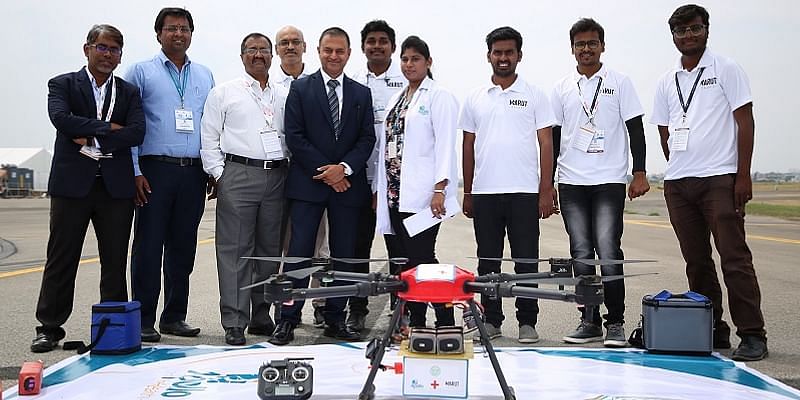 How Hyderabad start-ups are guiding the fight against coronavirus
From developing tracking apps to cost-effective portable ventilators, the start-ups are coming up with grassroots solutions in the fight against coronavirus pandemic.
From developing tracking apps to cost-effective portable ventilators, the start-ups are coming up with grassroots solutions in the fight against coronavirus pandemic.
A start-up incubated by the Indian Institute of Technology (IIT), Hyderabad, has developed a low-cost, emergency-use ventilator called "Jeevan Lite" while another city-based start-up has come with smart drones that can be used for a range of applications including temperature monitoring and delivery of critical medical supplies.
Ventilator, a boon
Aerobiosys Innovations, a start-up incubated by the Centre for Healthcare Entrepreneurship (CfHE) at IIT, Hyderabad, has developed a low-cost ventilator that can be operated through a phone app.
Designed for battery-operation too, it allows deployment in areas without assured power supply.
After receiving the certification for the device, the company aims to produce at least 50 to 70 units per day in collaboration with an industrial partner. "We plan to offer Jeevan Lite at ₹ one lakh per unit which is significantly economical compared with existing products," a spokesman of the company said.
"Senior citizens and elderly patients affected by COVID-19 disease will need ventilators for emergency life support and Aerobiosys has gone a step ahead by providing personal protection to healthcare providers through Internet of Things (IoT)-enabled monitoring," said Prof. B.S. Murty, director, IIT Hyderabad.
Jeevan Lite can perform both the invasive and non-invasive ventilation across a comprehensive set of modes and settings. It can be used for pediatric and geriatric patients and works on rechargeable lithium-ion batteries uninterrupted for five hours, the company has claimed.
The breathing of the patient is recorded and transmitted to the doctors via a connected app to enable telemedicine support. The device has a provision for attaching an oxygen cylinder and can operate on its own in ambient air.
Related news: Start-ups, residents' welfare bodies bridge gap between farmers, consumers
It can be used for children and adult patients and its design and features are in compliance with the requirements prescribed by the Ministry of Health, Director-General Life Sciences, Defence Research and Development Organisation (DRDO) and the Indian Council of Medical Research (ICMR).
"Unlike other low-cost models, Jeevan Lite offers wireless connectivity and remote monitoring. It is equipped to meet the demands of a pandemic situation like COVID-19," said Prof. Renu John, faculty co-head, CfHE which incubated Aerobiosys and head of the Department of Biomedical Engineering at IIT, Hyderabad.
The mobile app communicates with the unit and seamlessly controls the functional features of the ventilator, thus providing enough isolation to the patient and protection to healthcare providers and family members.
"We plan to produce at least 50-70 units of our devices per day and we can serve about 1 lakh people in the first three months," said Aerobiosys Co-founder Rajesh Thangavel.
Drones are watching you
Another Hyderabad-based startup, Marut Dronetech, is working with the state government to deploy drones for public safety applications. They are being used to monitor coronavirus hotspots, prevent crowds from gathering, provide appropriate instructions, and ensure delivery of medical supplies.
Founded last year by three IIT-Guwahati batchmates—Prem Kumar Vislawath, Suraj Peddi and Sai Kumar Chinthala—, Marut initially came up with a solution to the pesky mosquito problem and tied up with the Hyderabad Municipal Corporation to help increase coverage of its mosquito eradication operations.
Related news: Start-ups giving growth impetus to overall economy, says KPMG report
The start-up was selected to be part of Facebook's India Innovation Accelerator Programme – Artificial Intelligence (AI) for Social Good, and was awarded the 'Emerging Technology Award for Drones and AI' at the sixth Nasscom Technology Conference, 2019.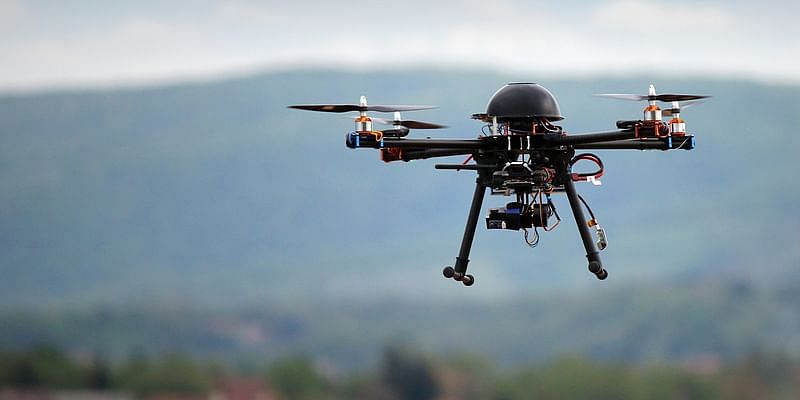 "As remotely piloted devices, drones can be the potential game-changers in the fight against COVID-19," said the company's co-founder Prem Kumar.
The state government has deployed customised drones developed by Marut for spraying disinfectants in an area in Karimnagar town where 11 people tested positive for coronavirus. The drones are also being used to spray disinfectants at the district collectorate, municipal corporation offices, district hospitals, bus stations and markets.
The Drone tech start-up has also developed public monitoring and warning drones fitted with a camera and speaker that can be used to monitor coronavirus hotspots, prevent crowds from gathering and provide appropriate instructions.
Marut is in the process of taking its solutions to other cities, including Ahmedabad, Rajkot, and Raipur.
Monitoring App
The Telangana government has also deployed an automated 'COVID-19 Monitoring System App' to identify, undertake live surveillance, track, monitor, and provide real-time analytics.
The mobile app, devised by Vera Smart Healthcare, is helping officials and even the Chief Minister's Office to keep track of the situation on a real-time basis.
It enables live surveillance, monitoring, tracking, and reporting.
The system empowers each health-caller to handle over 1,500 calls, do simple chatbot interaction every day with patients in home quarantine and ask them to follow the prescribed treatment and maintain social distancing.
This user-friendly app was developed by the US and Hyderabad-based, early-stage start-up Vera Smart Healthcare, which had earlier helped Andhra Pradesh, Telangana and Tamil Nadu create detailed health profiles for more than 50,000 people across these states.
"The system has helped us track and monitor the foreign returnees; community spread and those who are already hospitalised for severe acute respiratory infection (SARS) very early to control the spread of COVID-19 disease," said G. Srinivas Rao, Director of Public Health Service.
Related news: Budget pitches TV channel for start-ups, experts say govt projects a better option
"Our technology is based on technologies like Internet of Things (IoT), GPS and Geotag via a super lite centralised App, which is installed in the phones of all associates from the ground level till the Chief Minister's Office," said Dharma Teja Nukarapu, Founder and CEO of Vera Healthcare.
Hand sanitisers
IIT-H has been providing nearly 100 litres of hand sanitisers per day to the Sangareddy district administration in Telangana to fight the spread of coronavirus.
The hand sanitisers are prepared by a research team led by associate professor of the Department of Biomedical Engineering at IIT-H, Jyotsnendu Giri. They are being handed over to the Sangareddy Collectorate which is then distributing it to the local population.
The research group has developed the composition on par with the standards recommended by the World Health Organisation (WHO) and the US Centers for Disease Control and Prevention.
"Amidst the coronavirus crisis, IIT-H has geared up to contribute to society through its research and offer support to the local community. To combat COVID-19, the institute initially prepared hand sanitisers for in-house use. In view of the scarcity of this product, we are now preparing and delivering about 100 litres of sanitiser every day to the district administration," the IIT-H Director said.