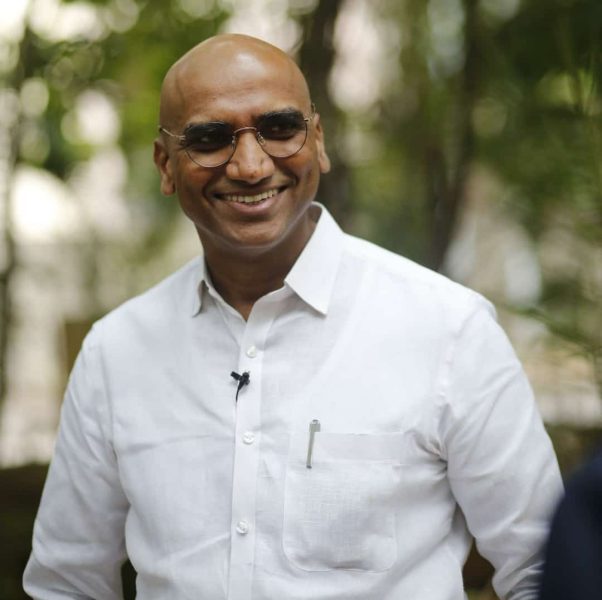 How a former IPS officer is scripting BSP's revival in poll-bound Telangana
High-profile IPS officer Dr RS Praveen Kumar, who quit the service six and half years prior to retirement, had surprised all his admirers when he suddenly announced in August 2022 that he was joining the Bahujan Samaj Party (BSP). Telangana is popular as a retired babus' haven as Chief Minister K Chandrasekhar Rao (KCR) has gained a reputation for rewarding All-India Service officers who meet his expectations by appointing them as his advisors.
KCR would have been more than happy to appoint a brilliant officer, that too a Dalit, as his advisor, given the latter's track record in transforming the moribund state welfare hostels into centres of excellence. In the Telangana government, it is rare to see Dalits entrusted with crucial assignments. However, Dr Praveen Kumar opted for a different path, choosing not to cozy up to the boss and pursue his own course.
On August 8, amidst loud cheers of thousands of 'Swaeros,' he joined the BSP, a party that has been rejected in every election since its formation in 1994 in Andhra Pradesh. Under his stewardship as secretary of Telangana Social Welfare Residential Educational Institutions Society (TSWREIS), the schools brought about a radical change in the Dalit students' attitude not only towards education but also towards identity, instilling a sense of empowerment and self-worth among them.
Sky's the limit
Dr Praveen Kumar invented an aspirational moniker SWAERO to replace the word 'Dalit' that symbolizes a stigma. The term 'Swaero,' which is a combination of three words — social welfare, air and space — serves as a metaphor for limitless possibilities ('sky is the limit') for Dalit students. Overnight, the boys and girls of TSWREIS became Swaeros by adding the word as suffix to their names.
Also read: Karnataka poll results have no bearing on Telangana: BRS
True to the ideology, the Swaeros scaled the tallest peaks in the world, won medals in national games, and emerged leaders in various walks of life. Now, BSP leaders claim that Dr Praveen Kumar commands an army of a lakh of Swaeros and members of their families. Riding on his track record as a civil servant, Dr Praveen Kumar wants to mobilize Dalits and Bahujans of Telangana to make BSP relevant.
Dr Praveen Kumar has many inspiring achievements that middle-class families aspire for: He is a doctor, an IPS officer, a Harvard alumnus and one of the few English-speaking politicians in Telugu states. And he scaled these heights in spite of being the son of poverty-stricken Dalit parents whose determined effort to become teachers was itself a saga of perseverance.
After returning from Harvard, he realised that change could not happen unless Dalit students undergo an ideological transformation and acquire a new identity. He once stated that his decision to choose TSWREIS was deliberate, driven by a lofty ideal of transforming the Dalit identity, which he perceived as an impediment. Now, he has embarked on a new venture in a larger arena: politics. The question arises as to whether he can replicate the Swaero model in the realm of politics, particularly through a party that appears to have never wielded significant influence in Telangana.
BSP and Andhra Pradesh
Following the success of the SP-BSP alliance in Uttar Pradesh in 1993, BSP patriarch Kanshi Ram set his eyes on Andhra Pradesh where Dalit mobilization, triggered by the massacres of Karamchedu and Chunduru, was at its peak.
Various Dalit organizations sprang up but were in a state of confusion as they lacked the political perspective for their movement. Kanshi Ram's Dalit-Bahujan "political power first " slogan looked like a logical goal. Many activists, intellectuals and former Naxal leaders gravitated towards the BSP before 1994 Andhra Assembly election. An unprecedented hype was created. But the hype ended in a whimper.
All BSP candidates forfeited deposits in the election. The BSP has not been able to recover from the setback till now. Some analysts feel Mayawati's change of strategy of BSP from Bahujan to Sarvajan in 2007 robbed the party of its remaining appeal. And, in the Telangana region, the statehood movement and post-Telangana politics closed the doors for the BSP.
Also read: Why ruling parties in AP, Telangana are not cheering Cong's thumping win in Karnataka
It has been reduced to a mere symbol provider, catering to a select few upper-caste candidates who were denied tickets by other political parties. In the 2014 elections, BSP offered tickets to a Kamma candidate and a Reddy candidate. However, despite winning the election, they opted to join the TRS party.
Will Dr Praveen Kumar make an impact?
For the first time, the BSP, which was portrayed as a North Indian and a party of Dalits, has got a leader with popular appeal. The party has never had a politically visible personality as its leader. Before every election, BSP supremo Mayawati had to visit Hyderabad to inspire the cadre. Still, it never fetched votes.
With his army of Swaeros, Dr Praveen has no doubt brought the BSP into the limelight exactly after 30 years. His voice of social justice is also distinctly audible in Telangana. In fact, it was he who provided arsenal in the form of inside information to the opposition recently when Telangana State Public Service Commission (TSPSC) question papers were leaked.
Against this backdrop, Dr Praveen Kumar's success lies in his ability to bridge the social divide between the historically hostile Mala and Madiga communities within the Dalit community, as well as with the Other Backward Classes (OBC) population. This achievement is particularly noteworthy given the prevailing influence of money-driven politics in Telangana.