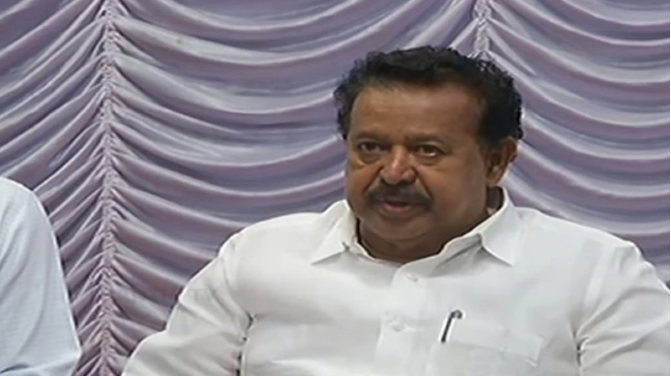 Will face the ED financial probe legally, says TN Minister Ponmudy
Tamil Nadu Higher Education Minister K Ponmudy on Friday (July 21) stated that he will confront the financial probe launched against him by the Enforcement Directorate earlier this week through legal means.
Declining to comment on the documents seized and cash amounting to Rs 81.7 lakh foreign currency (British pounds) equivalent to approximately Rs 13 lakhs and fixed deposits worth Rs 41.9 crore frozen by the ED after the searches, Ponmudy said "I will face the case legally."
When his comments were sought on the searches on his premises on July 17, the minister told reporters here, "Confine your questions to education." However, when the media persisted, Ponmudy said he had nothing more to add other than what Chief Minister M K Stalin had already said about the raids.
Also Read: TN: ED grills Ponmudy for second time, says it seized incriminating documents and cash
"The chief minister himself had said that the case will be fought legally. I will face it legally," he said and added, "We have seen many such cases in the past."
Besides the minister, his MP son Gautam Sigamani was also questioned by the ED in connection with a money laundering case.
Before leaving for the opposition parties' conclave in Bengaluru, Stalin, while extending support to his Cabinet colleague, accused the BJP-led government at the Centre of "political vendetta". Also, the chief minister had said the ruling DMK will back Ponmudy morally, politically and legally.
Also Read: Stalin backs Ponmudy as ED summons TN minister for second round of questioning
Earlier, Ponmudy who chaired a meeting of vice-chancellors told reporters that despite the financial crunch being faced by the state, the chief minister gave his assent to enhance the salary of the guest lecturers to Rs 25,000 per month from the present Rs 20,000.
"This would come into effect soon. Also, steps will be taken to fill up the vacancies for all posts in colleges and universities," he said.
Further, efforts would be taken to ensure that government colleges, aided, autonomous or minority colleges too follow a uniform syllabus, and conduct examinations at the same time, Ponmudy said.
(With agency inputs)