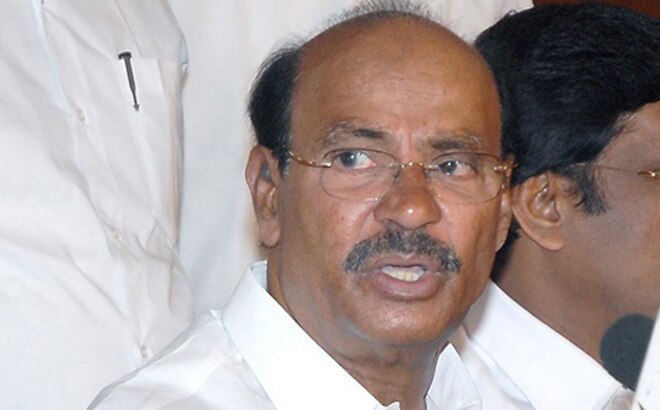 'Will cut journalists who suggest I'm a tree-cutter': S Ramadoss
PMK founder S Ramadoss, a BJP ally in Tamil Nadu, stoked a controversy, saying that he would "cut" journalists who question him about cutting trees.
A video of the speech he made at an event, recalling an incident with a journalist, went viral on social media.
"I said I have answered this question a hundred times. You are asking about it repeatedly with a motive, which is to tell people that Ramadoss is a tree-cutter. You want to ensure that even people who don't know about this, get to know it now," Ramadoss said.
"So I told him – in future if there is any such protest, we will not cut trees. Instead, we will cut people like you who ask questions," he said.
Abusing journalists, he noted that he has planted trees and built a forest in his charitable trust, but no one reported on that despite being offered Rs 1 lakh prize.
PMK members are referred to as tree-cutters as they had cut more than 100 trees during a protest against the arrest of several of its leaders under the late chief minister and AIADMK leader J Jayalalithaa.
Interestingly, the PMK allied with the ruling AIADMK in Tamil Nadu for the Lok Sabha elections, but could win only one seat in Theni. The two parties are part of the BJP-led National Democratic Alliance which swept the general elections bringing back Narendra Modi to power for a second term.