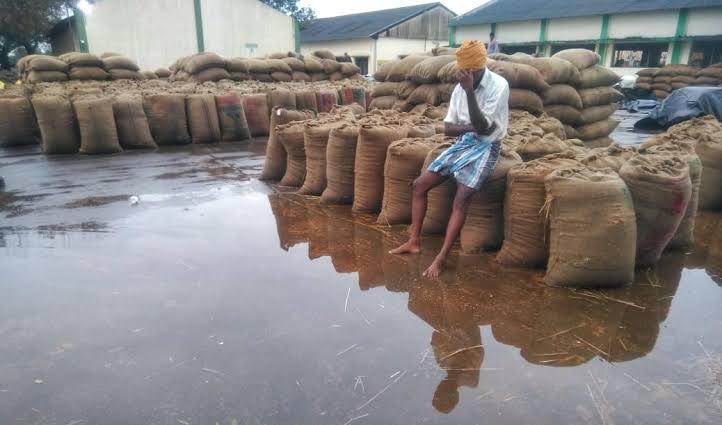 When people rush in to get food in TN, paddy sacks get drenched in rain
It is a reality that bites – hundreds of sacks of rice are getting drenched in unseasonal rain and being rendered useless across Tamil Nadu. This is happening at a time when the food situation is turning grim in the country due to the COVID lockdown. There are no facilities to procure and store paddy in districts like Kanchipuram, Cuddalore, Ariyalur, Perambalur, and Tiruvannamalai, farmers say.
Private rice mills too are facing difficulties in repairing machines due to the shutdown of industries.
After the Centre announced the nationwide lockdown, the Tamil Nadu government began taking steps to meet the food needs of the people. Given the magnitude of the demand, the state had stocked in its godowns nearly 8 lakh metric tonnes of rice, which would be adequate for these measures for the next three months, said P.R. Pandian, general secretary of Tamil Nadu Cauvery Farmers Association.
However, this is not the case with private rice mills in the state. Prior to the lockdown, the mills had produced around 3 lakh metric tonnes of rice, which would usually be sold in three months. But due to panic buying, stocks have run out in one month, say rice mill owners and paddy dealers.
Related News: How a small town in TN with 70 COVID-19 cases fought it off
"Since rice is an essential commodity, the government has allowed at least 60 per cent of rice mills in the state to function with minimum labour," says T.S.B. Selvam, president of Erode Taluk Rice Mill Owners and Paddy Rice Merchants Association. "So we could carry out only 50 per cent of the normal production, which would not create any shortage," he says. But the story does not end there.
Since other industries that offer various services to rice mills are closed due to lockdown, mill owners are in a fix. "Suppose if any equipment malfunctions, we need to get spare parts for repair works. But companies that manufacture them have shut. So, if the lockdown continues, we will not get spare parts. This will affect the production," says Selvam.
Farmers too face problems in selling their produce. They allege that there are no facilities for paddy procurement in districts like Kanchipuram, Cuddalore, Ariyalur, Perambalur and Tiruvannamalai. "Last year the rice production in the state was 16 lakh metric tonnes. Out of this, the state had procured only 8 lakh metric tonnes, claiming that it had met its target," Pandian said.
But after the opposition from farmers and the intervention of the Centre, the state has now been procuring more, says Pandian. After harvest, the paddy must be taken to rice mills and processed within three months. If it is left in sacks, the moisture level increases and the husk cannot be removed from paddy.
To facilitate paddy procurement, the government had set up direct purchase centres (DPC), which have a target of procuring 1,000 rice sacks a day. After procurement, they will be transported to 241 godowns run by Tamil Nadu Civil Supplies Corporation (TNCSC) across the state. While about 311 DPCs are currently functioning, 260 are under construction. Whenever there arises a need, the corporation opens temporary sub-centres.
Related News: Bonded labourers stuck in work units amid lockdown await freedom
However, most DPCs function only in delta districts — Thanjavur, Tiruvarur and Nagapattinam — and in many other districts, the government has not even opened them, says Pandian. But even where DPCs function, officials are not ready to procure paddy, citing lack of sacks. So, farmers have kept their produce in the verandas of DPCs.
Stating that officials can cover the rice sacks with tarpaulin, Pandian alleges that they are not ready to do so. The TNCSC had reportedly written a letter to the National Jute Board in Kolkata, requesting it to transport 2 crore sacks to Tamil Nadu. However, due to restrictions on transportation, it is getting delayed.
According to Gopinath, an economist at MS Swaminathan Research Foundation, Tamil Nadu has been taking proactive steps in paddy procurement, when compared to other states. "During harvest seasons in Delta districts, the government sets up DPC sub-centres. These centres procure the rice and immediately distribute the money to farmers," he says.
Sometimes, if the centres achieve their target for the day, they will not procure any more. Officials ask farmers to keep their produces outside and give them tokens, says Gopinath. But when the procurement is delayed, farmers face financial constraints. Earlier, DPCs had a target of procuring 800 rice sacks a day. Now it has been increased to 1,000. Keeping the pandemic in mind, the government can increase the target to 2,000, he says.
Another problem is the less frequency of lorries transporting the load from DPCs to TNCSC godowns. It must be increased, says Gopinath. "Though the government has given certain relaxations to farmers, the police have been restricting their movement in many districts. This too causes a delay in procurement, he says.
But some districts have fared well in this regard. Take Ranipet for instance. The district administration had hired around 100 lorries to transport the paddy accumulated in DPCs to TNCSC godowns. Due to this, the paddy was not only saved from summer rains but also the DPCs were freed for the arrival of the next patch. This has facilitated the procurement process for farmers.
Related News: From drones to pranks, TN police fight fire with fire to handle youth
Speaking to The Federal, M Sudha Devi, managing director of TNCSC, says the procurement process is going on without any hindrance. "It is only in Tiruvannamalai some rice sacks got drenched in rain. In other regions, sacks were covered properly, but the top layer got wet. That too got dry in the last couple of days." She adds that TNCSC procured even the rice sacks that had been drenched.
When asked about the transportation restrictions and the lack of sacks, she says the corporation has been procuring paddy in all possible ways. "The transportation restrictions are being sorted out. With regard to sacks, we have written to the jute board. But the production has not started there. So we are managing with whatever we have," she says.