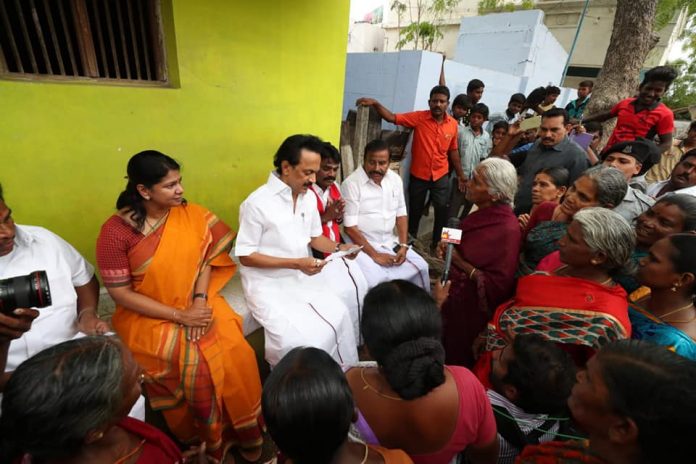 In Tamil Nadu, the tradition of 'thinnai' (verandahs) has a special cultural significance. In the past, when there was no concept of a drawing room in the house, guests were received in the verandahs. They were asked to sit in the verandahs and served water or tea and only then they were taken inside the house.
A tired traveller could take refuge in the verandahs and the residents of the house wouldn't object. Informal teaching happened at these verandahs and they became schools. There is a term to describe these schools — 'thinnai pallikoodam' or verandah schools. By and large, verandahs are known for being communication spaces in the villages.
With four more Assembly seats in Tamil Nadu going to polls on May 18, DMK's MK Stalin and Kanimozhi have launched 'thinnai pracharam' or verandah campaigns to reach out to villagers and establish a personal rapport.
Verandah campaigns were part of the early Dravidian movement's outreach. Periyar would go door-to-door and talk to people about atheism and rationalism. Such meetings dwindled as stages were erected and public meetings became the preferred means of mass contact.
Stalin reinvented verandah campaigns in 2015-16. At that time his father's movements were restrained and Stalin had embarked on an outreach programme, stepping out of his father's shadow. The personal touch of verandah campaign helped him.
Shunning the conventional way of campaigning like using open-air vans, he used bicycles and bikes and ventured into streets by foot. He went door-to-door, had 'chai' in tea shops, distributed pamphlets and met people amidst constant 'selfie-shoots.' The DMK didn't win the elections but Stalin seems to have taken a fancy to the verandah.
In this election, other Tamil Nadu political leaders like PMK's Ramadoss and VCK's Thirumavalavan have also used this campaign strategy. In Karnataka, actor-turned-politician Prakash Raj has followed this kind of campaigning in this election. Leaders of the AIADMK and its allies are sticking to the old-style, however.
KS Radhakrishnan, a DMK leader, says 'thinnai pracharam' was the preferred mode of campaigning for DMK founder CN Annadurai in 1957 when he contested for the Assembly. "In 1967, the style had started to change. By then, posters, pamphlets and mikes had arrived. Before that, mikes were not there. In most of the villages there was no electricity to operate mikes. So, they used megaphones to address large gatherings. For campaigning they resorted to verandahs," he says.
Verandah campaigns have drawn criticism, too. State BJP chief Tamilisai Soundararajan. has called it drama. "Stalin is orchestrating a 'thinnai drama' in the name of 'thinnai pracharam'. The DMK hands out the readymade questions to the people and Stalin replies to them" she tweeted.