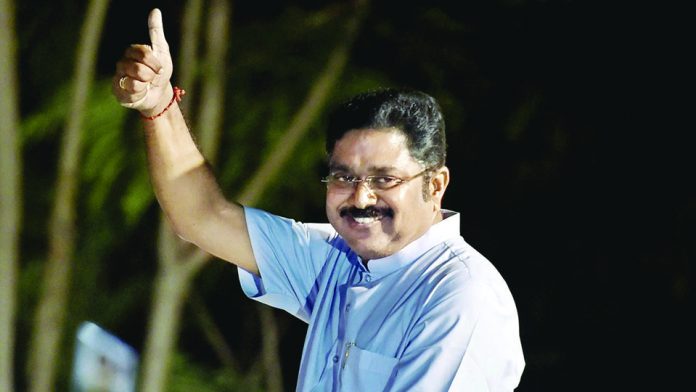 Eyeing North Chennai, on the last leg of the campaign, Amma Makkal Munnetra Kazhagam 's founder TTV Dhinakaran clearly indicated that he gives a lot of importance to grassroots.
As he went on a rally starting from Perambur, where his party 's candidate Vetrivel is contesting, all the way into the neighbourhoods of Vyasarpadi and Otteri, before the culmination in Anna Nagar, two aspects of his reach were clear—connect with women cadre and plumbing the depths of Amma sentiment.
A group of women draped in sarees depicting their support for TTV attend to the 250-odd crowd gathered near a petrol pump in Vyasarpadi. They direct young women carrying their babies, college going girls and boys and even some older men to arrange themselves in a neat line. "Anna (TTV) will be coming any minute," they say. Muniammal, a party worker, who has been actively campaigning in the area, explains that they have been telling people they are the actual supporters of Amma (Jayalalithaa). "We are her true devotees and we want to ensure that she gets the place she deserves in the minds of people. Those who have aligned with the AIADMK have been her enemies. DMDK's Vijayakanth disrespected Amma openly when she was alive. He was here in the morning. No one could understand a word of what he spoke.  Will such people preserve her legacy?" she asks.
Advertisement
The women in the area have been working hard for over a fortnight to reach out to voters in each and every street. They divided the voters list from each booth and have visited each of them to convince them to vote for Amma's true followers. RD Valluvan, an advocate and a party worker, says, "Look at the BJP and the trouble they have caused to the people without the subsidies for LPG and the demonetization. People know who are actually working for them."
The bypoll and aftermath
TTV Dhinakaran, the nephew of Jayalalithaa's close aide Sasikala, rose to prominence, in just a year, after the passing away of the former TN CM. After the sparring factions within the AIADMK reunited with successive CM Edappadi Palaniswami and Deputy CM O Panneerslevam joining hands to fight the TTV faction of dissenting MLAS, he won the RK Nagar bypoll vacated by Jaya, as an independent.
But RK Nagar victory is probably not the right testament to his success, for after that it has been a bumpy ride for him with the voters. After promising as much as ₹10,000 per voter, the constituency voters claim, they have not seen more than ₹20, the token amount they were given before the polls.
In Perambur and surrounding areas, they have heard about his successful run in RK Nagar. There are several rungs of supporters, some who openly admit that they have turned up for the money. Vallimathi, a mother of two, residing in Perambur has turned up at the rally. She says, "I am not a political person and I came here because I have been given ₹300. There are many like me brought from each ward in the area— groups of 10-30 women who have turned up to add to the crowd's strength."
The party which is contesting 38 Lok Sabha seats is also keener on the bypolls in the state. According to party workers the failure in securing pressure cooker as a symbol is a big challenge for them. Valluvan adds," Everyone knows the pressure cooker symbol belonged to TTV Anna, but now we are fighting with a different symbol (gift box), after the EC said it cannot give a common symbol to us. There are people like one of the contestants by the same name in Perambur (Vetrivel) contesting with a symbol similar to ours (harmonium box). But we have worked very hard here. By foot, we have reached out to all voters and all of them said they will vote for Amma." However, he pauses, wondering if they also meant the AIADMK.
The party claims they have the support of the Dawood Jamaath, along with the SDPI, which is contesting the Central Chennai LS seat as an ally.
Women all the way
In every lane around the campaign area, groups of women are seen marching with party flags. Govindraj, an auto driver says, "It is always men who lead the crowd, but here we evidently see only women dominating the pack of supporters." True to his words, a smaller crowd of DMK men are a few steps ahead, without a single woman among them, marching towards Perambur Barracks Road.
Not very far from the swelling crowd is a group of onlookers. Ask them if they are supporters as well, one of them retorts angrily. "Anyone can use Amma's name and fight? These are traitors, we have nothing to do with them," he says and turns around.