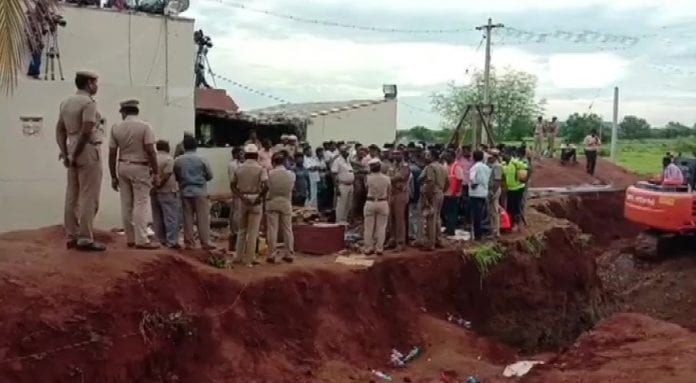 The rescue teams are frantically undertaking operations to save Surjith Wilson, a two-year-old boy who fell into an alleged 1,000 feet deep borewell at Tiruchy in Tamil Nadu. The child has been stuck at a depth of 65 feet for over 21 hours now without food and water.
Sujith who was playing near his house in Nadukattupatti, fell into an abandoned borewell at around 5:30 pm on Friday (October 25). As soon as State Disaster Response Force (SDRF) received the information, the teams rushed to the spot and immediately started digging the land adjacent to where the child was stuck using earthmovers to create a tunnel to reach him.
However, their efforts came to a halt after digging 20 feet as it was rocky terrain beneath it. Drilling the land with rock cutters is not an option as the soil around it is wet mud which might accumulate over the hole and bury the child.
Advertisement
Health Minister C. Vijayabaskar who is at the spot said, "We were able to hear the child's voice through a mic sent down till 5:30 am when he was stuck at 26 feet, after that we haven't been able to hear anything. We are not able to assess his condition."
Initially, when the kid was at 26 feet, there was an attempt by the National Disaster Response Force (NDRF) to put a rope around the wrist of the boy and lift him out. But, when the child reached the 20 feet, the rope slipped and the boy fell back to 70 feet depth.
This happened after the authorities decided to resume drilling a passage parallelly after attempts made by multiple teams from Madurai, Coimbatore and Ramanathapuram using various devices and methods failed on Friday night.
Oxygen is being continuously supplied to the boy from outside the bore well. Four ambulances are put in place to give aid to the child as soon it is rescued.
The boy's mother was distraught at the multiple unsuccessful attempts to pull her child out. She called out to her son stuck in the hole and asked him not to worry to which the boy whimpered.
She needed medical attention on hearing her son breathing at 3 am. The entire village of over 1,000 people had gathered to watch the operation amidst mounting anxiety.
Even as the gruelling pursuit to pull the child out is underway, scanty rain is hampering the rescue process.