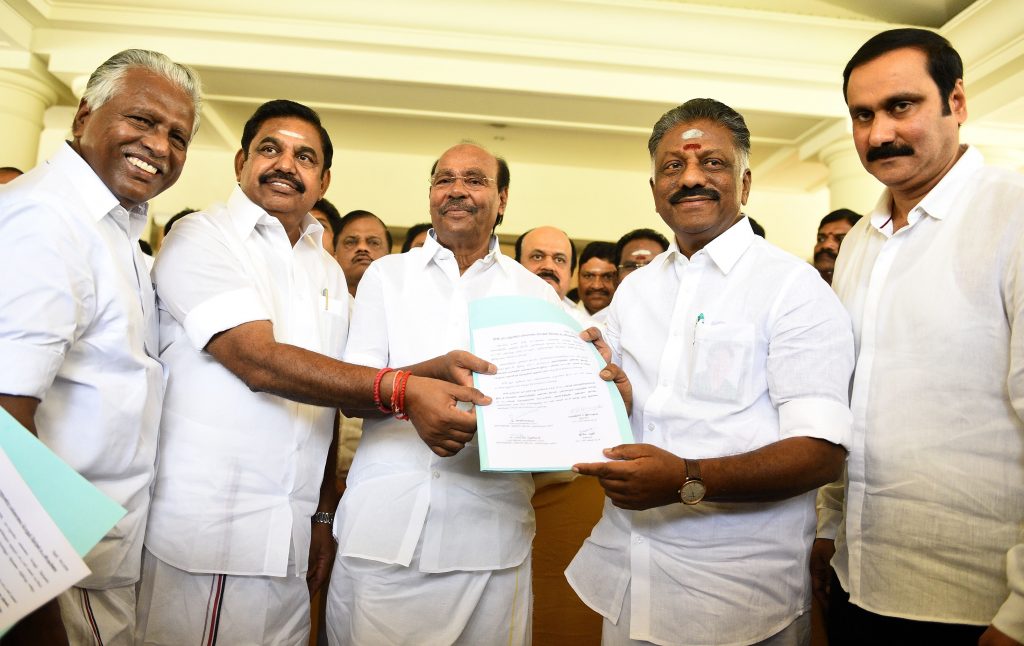 TN elections: Smaller parties see potential in tie-up with DMK, AIADMK
Pre-election activity has started in full force in TN. Frenetic behind-the-door poll partnerships are being stitched up, actors turned politicians are flocking to ousted leader, V Sasikala and strategic sops for a powerful community are hurriedly being doled out by the ruling government, even as the Election Commission announced on Friday that Tamil Nadu would go to the polls on April 6.
The ruling All India Anna Dravida Munnetra Kazhakam (AIADMK) government has moved fast to clear a 10.5% reservation for the Vanniyar community in educational institutions and government posts just before the elections, to win this powerful trading caste dominant in northern TN to their side.
Going further, AIADMK has completed the seat-sharing talks with PMK today (February 27). The PMK, which has no representatives in the 234-member TN Assembly right now has been allotted 23 seats. It is after 20 years, the PMK and AIADMK have come together for assembly elections. In 2001, they were given 27 seats out of which they won in 20.
They have also simultaneously stitched an alliance with the GK Mani-led Pattali Makkal Katchi (PMK) to fight the upcoming elections.
The PMK, which has not won an Assembly election since 2011, however has strong roots in the Vanniyar community, a most backward community, and has fought for a long time to promote them.
Also read: DMK may drop Cong, fight Puducherry elections on its own
In fact, S Ramadoss, the founder of PMK issued a statement that he was "drenched in tears of joy" when this reservation for the Vanniyar community was tabled in the Assembly and passed. According to him, Vanniyars, who are more than 2 crore in population have never got proper representation in education and jobs.
The PMK had a strong innings in the Assembly only between 2006-2011 and that too when they were allied with the DMK. They had last won an Assembly election in 2011 bagging just three seats. The party was routed in the 2016 polls.
The AIADMK, meanwhile, is playing all their cards right setting the stage for the battle royale, even as the threatening shadow of dethroned leader, V Sasikala hovers around them. After being ousted by the AIADMK, Jayalalitha's former aide has formed the Amma Makkal Munnetra Kazhagam (AMMK). But, political observers say that she seems to be warming up towards the AIADMK hoping to forge ties with them to contest the upcoming elections.
What BJP is eyeing
The BJP, which knows it will not stand a chance without allying with a regional party, is also seeking a tie-up with the AIADMK. BJP leaders, including Kishan Reddy, VK Singh, and Tamil Nadu party president L Murugan, met AIADMK leaders this morning, NDTV reported.
According to PTI, a senior BJP leader, M Chakravarthy said that the BJP expects to be given 60 assembly constituencies, which they have identified as "winnable" seats. However, the AIADMK is likely to allot them around 20 seats, said sources, media reports revealed. Union Home Minister Amit Shah, allegedly a hard-bargainer, will land in Chennai tonight around 10 pm, to seal a deal.
DMK attracts smaller parties
The old regional warhorse, Dravida Munnetra Kazhagam (DMK) has also started the process of seat-sharing talks with allies.
A seven-member committee has been set up under TR Balu to set the wheels in motion. Predictably, they have already had one round of talks with the Congress, represented by Oommen Chandy, Dinesh Gundu Rao, and Randeep Surjewala, along with some state leaders.
Smaller parties, who may play a role in changing the fortunes of candidates in constituencies by splitting votes, are also making their moves, scouting for strategic partners. Actor turned politicians, R Sarathkumar and Kamal Haasan ostensibly waited for a call from the AIADMK, which never came.
Also read: BJP will fight Tamil Nadu assembly elections with AIADMK: Nadda
Kamal Haasan's Makkal Needhi Maiam (MNM), which had garnered nearly 4% votes – and 10% in some urban pockets – in the 2019 Lok Sabha polls, is all set to release their first list of candidates on March 7. A former AIADMK MLA Pala Karuppiah has moved to MNM to test his fortunes under this new flag.
R Sarathkumar, who formed his own party too, the All India Samathuva Makkal Katchi (AISMK), after being a DMK parliamentarian in the past, met his old actor colleague stating that it is nice for  "like-minded people" to meet. "We waited for a call from the AIADMK. We are now moving on," he commented to the media after the meeting.
Sarathkumar, who had once allied with the DMK, also met VK Sasikala along with his wife Radhika, at her residence today to mark former Chief Minister J Jayalalithaa's 73rd birthday. Another actor-turned-politician Seeman, who heads the Naam Tamilar Katchi, also paid her a visit.