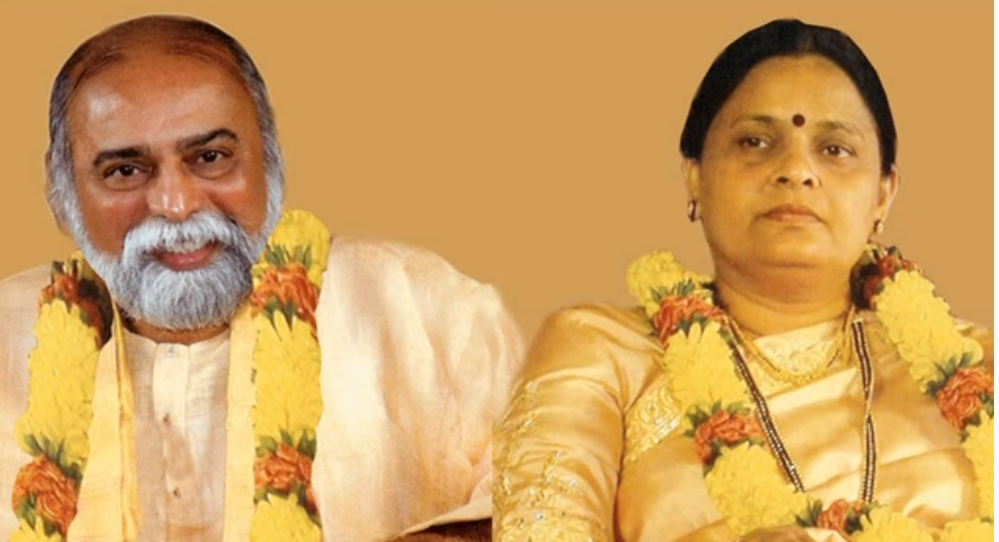 The recent seizure of over ₹ 30 crore of unaccounted wealth during I-T raids on as many as 40 properties including ashrams and residences of self-styled godman 'Kalki Bhagwan' in Hyderabad and Chennai, is yet another exposé that shows that not all self-proclaimed godmen are saints.
Bhagwan alias Vijay Kumar's story is that of a transition from a mere LIC agent to a godman with a sizeable number of followers as well as a fair share of controversies.
From LIC agent to 'God's agent'
Born in Natham, a village in Vellore district, Vijay completed his school and college studies in Chennai. His father was employed in the Indian Railways. After completing his college, Vijay took up the job of an LIC agent. His belief in the philosophy of Jiddu Krishnamurthi drew him to the Theosophical Society in Chennai, to which he was a frequent visitor.
His life took a major turn when in the early 1990s, he started calling himself an avatar of 'Kalki', one of the ten avatars of Lord Vishnu mentioned in the Puranas. He started running a small ashram in a village called Nemam in Thiruvallur district, near Chennai. The 'spiritual foundations' that he founded were named under different labels –  Kalki Dharma, The Golden Age Foundation, The Foundation for World Awakening, Bhagavad Dharma and Oneness Organisation. His pitch "to make one in every one lakh people enlightened" landed him lakhs of devotees both from the country and abroad.
Assuming the title of 'Bhagwan' among his devotees, he in the initial days taught them meditation and yoga asanas. Later, his wife Bujjamma, known among devotees as Amma, helped him in his endeavours. Together they are called 'Amma Bhagwan'. Sources say he stopped calling himself 'Kalki', when he realised that it didn't go down well among a greater section of the public and stuck to the name 'Bhagwan'.
'Spirituality' and controversies go hand in hand
As Vijay grew in popularity, controversies followed. At a time when other self-styled godmen asked devotees for money in the name of poojas, Amma Bhagwan would collect money just to make an appearance. A follower who desired to meet or have a darshan of the duo had to pay a minimum amount of ₹ 10,000 just for a glance from a distance.
Through his chain of Satyaloka (earlier called Jeevashram) schools, Vijay started conducting 'advance retreat' programmes for the public in the 1990s. In 1996, he founded the 'Oneness University' at Varadiahpalem in Andhra, which offered spiritual education courses for youth and adults. The university hit the headlines in 2008 when five people died on its premises during a stampede. The university is now managed by Amma-Bhagwan's only son Krishna and his wife Preetha. Krishna also runs a realty business which has now spread to Los Angeles and a few African countries. In 2003, it was alleged that he had diverted the money from tax-exempted ashrams to develop his realty business in Los Angeles.
In the late 1990s, when Vijayakumar started an ashram at Anna Nagar in Chennai, many accused him of pushing their children into forceful monkhood. The university attracted youth from both genders and once the disciples 'graduated' in enlightenment and seva (service), most of them started working there as teachers. These teachers were referred to as dasas (servant).
With the couple having the likes of Manisha Koirala, Hrithik Roshan and fashion designer Donna Karan among their followers, it was alleged that they often paid celebrities to popularise their name and services. For instance, in 2000, an India Today report quoted popular Tamil writer Indumathi stating that she was pressured by Vijaykumar's people to recruit prominent personalities like Latha Rajinikanth as a devotee since she personally knew him.
In the past, there were reports that Vijay in his meditation classes, gave 'intoxicating prasad' to disciples after eating which they got involved in sexual acts. The allegations came to light after a private channel in Andhra Pradesh reported the same after conducting investigations.
In 2010, Vijay Kumar was accused of encroaching forest and private lands, owned by the poor near the Oneness University. Residents also accused him of making false promises of developing the area by building hospitals, schools and colleges.
The I-T raids may have just revealed the tip of the iceberg.