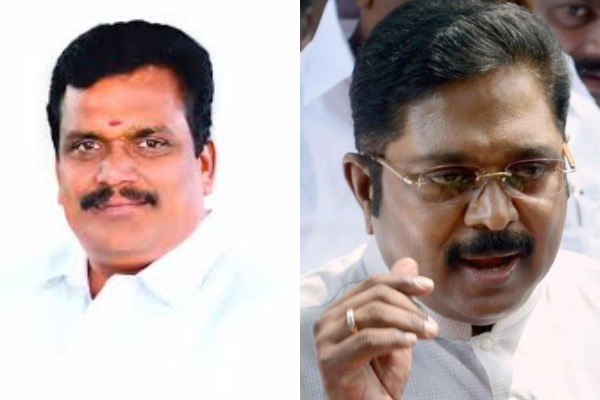 Thanga Tamil Selvan to be sacked soon, says TTV Dhinakaran
Following an audio leak in which Thanga Tamil Selvan, propaganda secretary of Amma Makka Munnetra Kazhagam (AMMK), was heard making an attack on the party's chief TTV Dhinakaran, the latter has decided to sack him soon.
Addressing media at his residence in Chennai on Tuesday (June 25), Dhinakaran said Selvan will be removed from the party and sacked from all the positions soon.
"Thanga Tamil Selvan is in some sort of mental confusion. I don't know why he joined our party. He could have been with the All India Anna Dravida Munnetra Kazhagam (AIADMK), but when he joined us, party members gave a good opinion about him. He worked hard during the elections. Recently, during an interview with a private TV channel, he criticised us. Immediately, I called him and warned. However, he continued and that's why we have resorted to this decision," Dhinakaran said.
The move came after Selvan made a scathing attack on the party leadership in an audio leak that was circulated on social media a day ago.
Selvan, who was earlier with the AIADMK, has a considerable influence in Theni parliamentary constituency. He contested in the 17th Lok Sabha elections from Theni but lost to OP Raveendranath Kumar, son of deputy chief minister and AIADMK leader O Panneerselvam.
Despite Selvan's influence, AMMK has not done well in the Assembly bye-elections too.
Known for his no holds barred speech in the past, Thanga Tamil Selvan has attacked the leadership of the AIADMK and other opposition parties. But after the debacle in the elections, he seems to have withdrawn into a shell. It is in this backdrop that he hailed state Chief Minister Edappadi K Palaniswami recently over his measures to eradicate plastic use. Close on the heels, he gave an interview to a TV channel and the audio leak also ensued.
On the audio leak, Selvan said the party could sack him if there was anything wrong in his speech.
Dhinakaran said Selvan acts on the instructions from the opposition and added that, "Someone is instigating him from behind."
Meanwhile, rumours are doing rounds that Selvan might join AIADMK. However, Panneerselvam, who is also from Theni, is said to be acting as an obstacle for his homecoming. The two have locked horns in the past over a power sharing dispute at the district level.
Dhinakaran also said he will extend his support and vote for 'No Confidence Motion' against Assembly Speaker P Dhanapal by the Dravida Munnetra Kazhagam (DMK).