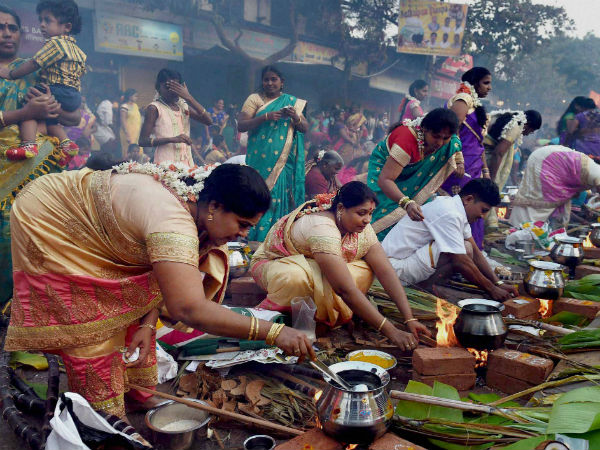 The Tamil Nadu government's decision to declare Thaipoosam as a state holiday, has yet again rekindled the debate on the 'legitimate' Tamil New Year. The festival is celebrated by Tamils on the full moon day in the Tamil month of 'Thai'. This year Thaipoosam falls on January 28.
Considered as an auspicious day for Lord Murugan, Thaipoosam is celebrated by Tamils across the world including by those in Malaysia and Singapore.
The demand to declare Thaipoosam as a state holiday was first put forth by Naam Tamilar Katchi in 2017. However, the state unit of BJP claims that events like Kandha Sashti Kavacham and Vel Yatra, goaded the government to make the announcement.
Every year, during Pongal, Tamil scholars debate which month should mark the Tamil New Year. While religious scholars reiterate that the Tamil month of 'Chithirai' (which falls on April 14), should be considered as the Tamil New Year, those subscribing to Dravidian ideology assert that the first day of 'Thai' (usually February 14) should be celebrated as the Tamil New Year.
In 1971, during the DMK's regime, Tamil scholars wanted the Tamil New Year to be named after poet-saint Thiruvalluvar, author of Thirukkural. Accepting their demands, the then chief minister M Karunanidhi passed an order in 1971 and from then on the Thiruvalluvar Year is being used in all the state official documents. Since then 'Thiruvallur Day' has been observed every year on January 15 and is usually celebrated along with Pongal.
Similarly, the scholars wanted the government to announce the first day of 'Thai' month (January 14) as the Tamil New Year. Karunanidhi passed an order to this effect in 2008, but it was cancelled during the AIADMK regime which came to power in 2011.
With there being no end to the debate if the Tamil New Year should be celebrated on Chithirai or Thai, a section of Tamil historians have added another opinion. They argue that the Tamil New Year should be celebrated on the eve of Thaipoosam. This argument was first made by late historian Tho Paramasivan.
Related news: Why Sikhs celebrate with gusto a non-Sikh festival like Lohri
"Every Tamil month is born on 'Pournami' (full moon day). Thaipoosam too falls on that day. So the Tamil New Year should be celebrated on Thaipoosam," he said in an interview to a Tamil magazine in 2010.
While people associate Thaipoosam with Lord Murugan, Paramasivan in his book Panpaattu Asaivugal (2001) explains how the day becomes an auspicious one for Vaishnavites (in Tamil Nadu Vishnu is worshipped as Thirumal or Perumal).
In Thiruppaavai, (a book of songs sung by Aandaal, a girl who wanted to marry Thirumal), Aandaal says 'Margazhi Thingal Mathi Niraintha Nannaal'. It means, in the month of Thai, on full moon day, the devotees of Thirumal should end their 'Margazhi Nonbu' (the month-long fasting) by having a bath in a holy river. It is then understood that the fasting ends and a new month begins on the day of Thaipoosam. The 'Thai Neeraadal' (holy bathing in Thai) which is found in Sangam texts also refers to the same occasion, Paramasivan said.
"On that day, in ancient Tamil Nadu, particularly in the houses which had girls, a festival called 'Siruveettu Pongal' was celebrated by building a small toy house, as a mark of welcoming a new month and a new beginning. This tradition is still followed in the southern districts of the state," he said.
Tamil scholar and cultural researcher Yer Maharasan says although it is true that ancient texts celebrated Thaipoosam, there are practical difficulties in buying the argument of Paramasivan.
"Firstly, Thaipoosam is associated with the Hindu religion. So if it is announced as the Tamil New Year, it is doubtful if people from other religions will accept it. Secondly, this year Thaipoosam, or the full moon day falls on January 28. But the full moon day will fall on some other date the next year. So there is no standardisation and every year the Tamil New Year date will change, thus confusing people," he said.
"In general, all the 12 Tamil months were celebrated in ancient Tamil Nadu, since people welcomed each month with different festivities. For example, Chithirai was welcomed by preparing the land for the next sowing. They called it 'Ponner Poottudhal'. In Aadi, people celebrated the flow of water in the river and it was called as 'Aadipperukku'. In Karthigai, in order to warm and light their houses due to the cold weather and because the nightfall came early, people lit lamps. It was called as 'Karthigai Deepam'. Some of these festivities are in practice even today," said Maharasan.
He says Thai is considered an auspicious month as it brings the harvest season which in turn brings profit for the farmer.
"So, the first day of Thai can be celebrated as Tamil New Year. Unlike Thaipoosam, Pongal or the first day of Thai doesn't fall on different dates every year. They were standardised and hence January 14 can be celebrated as Tamil New Year," he added.