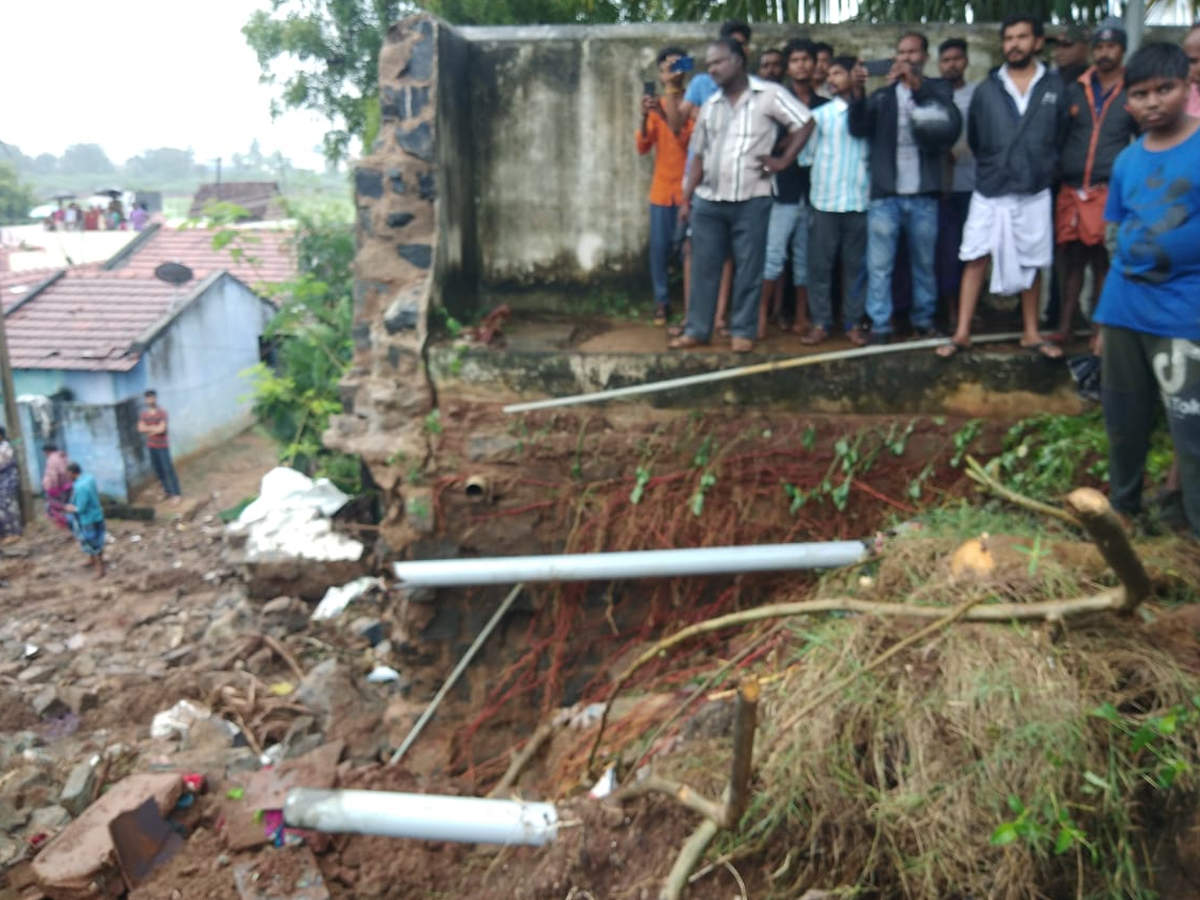 Seventeen killed due to wall collapse in Tamil Nadu's Mettupalayam
At least fifteen people, including four women, are feared dead due to a wall collapse that damaged four houses in Tamil Nadu's Mettupalayam on Monday, police said. Authorities have retrieved nine bodies so far.
Seventeen people, including ten women and two children, were killed in a wall collapse that damaged four houses in Tamil Nadu's Mettupalayam on Monday (December 2), police said.
Police said that the victims were inside their houses when a private compound wall that was wet due to heavy rains fell on them, burying them alive while they were asleep. Rescue personnel have retrieved their bodies.
Chief Minister Edappadi K Palaniswami condoled the death of the 17 and announced a relief of ₹4 lakh each to their families from the State Disaster Relief Fund in a statement.
Coimbatore District Collector K Rajamani and Superintendent of Police Sujit Kumar visited the spot. The Collector told reporters that the villagers informed him about the issue over the construction of the compound wall. "If found illegal, the wall would be demolished," he said.
Also read: Rains lash parts of TN; IMD issues red alert to six districts
He also said that facilities at the Mettupalayam government hospital would be upgraded to ensure that locals did not need to travel to the district headquarters here.
Torrential rains in several parts of the state have already claimed five lives.
The India Meteorological Department (IMD) has issued a red alert for six districts in Tamil Nadu. It stated that Thiruvallur, Vellore, Thiruvannamalai, Thoothukudi, Tirunelveli and Ramanathapuram districts would receive extremely heavy rainfall over the next 24 hours.
The administration in Chennai has declared a holiday for schools and colleges in the city. According to the Tamil Nadu State Disaster Management Agency, schools will be shut in Puducherry, Kanchipuram, Ramanathapuram, Chengelpet, Ramanathapuram, Tiruvallur, Thoothukkudi, and Cuddalore districts too.
Several parts of Chennai, Nagapattinam, Cuddalore, Thoothukudi have been waterlogged.
Also read: Incessant rains lash Chennai, spells to continue till Monday
According to the locals in Cuddalore, at least 5,000 houses in the district have been flooded and around 500 people have been forced to take shelter in a marriage hall.
Farmers in the district said that the sudden rain has inundated more than 5,000 acres of rice crops.
A flood alert has been issued to people living on the banks of river Bhavani in this western district of Tamil Nadu as the water levels in a dam built across it have increased in the wake of copious rains.
The state government has set up 176 relief centres and said that they have all the required equipment to carry our rescue operations. The Chennai Corporation said that boats, water pumps to clear water-logging, long ropes, and tree-clearing machines are kept ready to help with rescue operations.
(With inputs from agencies)