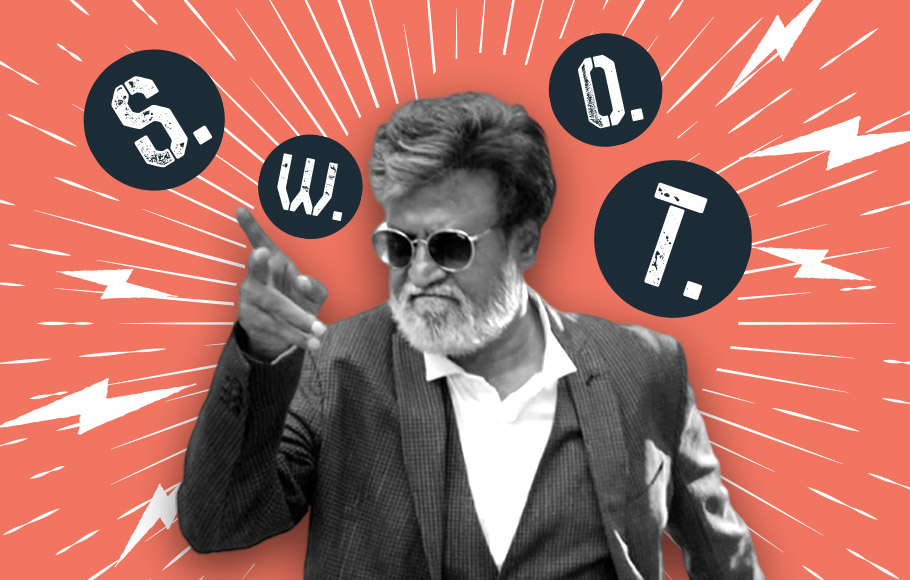 Rajinikanth's political entry: His strength, weakness and prospects
After he made his fans wait for over a decade, Superstar Rajinikanth announced his political entry in December 2017 by showing his famous baba sign. He had said that it was a compulsion of time.
Born on December 12, 1958 to a Maratha family in Karnataka, Rajinikanth started his career as a bus conductor and became the highest paid film star, and eventually earned the title 'Superstar'. In the cinema industry, where appearance plays a vital role, he broke all norms with his dusky look. He has been awarded the Padma Bhushan and the Padma Vibhushan, and this year, the Centre announced a special icon award for his contribution to Indian cinema.
Though he has officially announced his entry into politics and asserted he would contest the 2021 assembly polls in all the 234 assembly constituencies, he is yet to announce his political party. Here is The Federal's look at his political prospects — his strength, weakness, opportunities and threats.
Rajini's strength
Rajinikanth possesses a huge fan base not just in Tamil Nadu but across the world.
Even as he speaks for or against political parties, he makes sure he never targets them directly. Thus, he did not burn the bridges with any regional or national political parties so far.
Unlike several other politicians, there are no major corruption charges against him. In his professional life, as well as in his personal life, he has always been a respectable person.
Though there had been speculations about his political venture, he has always kept his words. Since officially announcing his political entry in December 2017, despite several chances to face elections, he has maintained his decision that he would contest only in 2021 assembly polls.
Rajini's weakness
Unlike other film personalities who entered politics like former chief ministers, M Karunanidhi, MG Ramachandran (MGR) and J Jayalalithaa who had a huge fan base, Rajinikanth has never been at ground-level politics even at the time of crisis.
Even though he clarified that he may not join the BJP, his statements supporting demonetisation and the abrogation of Article 370, and remarks against protesters in Thoothukudi gives an impression that he is a sympathiser of the saffron party.
Though he had said that he would make films until he announces his political party, by referring to MGR, he has not done any films targeting a particular audience, like MG Ramachandran did a film on the Narikuravar community reportedly based on their request.
Despite announcing his political entry in 2017, he is yet to come out with his political party, while his contemporary actor Kamal Haasan started his political party a little late and also contested the Lok Sabha polls.
Though he quit smoking years ago, he has age-related ailments due to which he may find it difficult to work on the ground.
Rajini's prospects
Unlike Kamal Haasan, if Rajinikanth announces his political party at least a year before the election and does some groundwork with his party workers, he may be able to secure a considerable number of votes given his support from across religions.
It may be recalled that Kamal Haasan launched his party just months before the Lok sabha election and was able to get a seizable percentage of votes in cities including Chennai and Coimbatore. So, it is predictable that Rajinikanth would get more percentage of votes that what Kamal Haasan secured.
Since there has been no tall leaders in Tamil Nadu politics after the death of M Karunanidhi and J Jayalalithaa, he could aspire to fill that vacuum.
Tamil Nadu has been a front-runner in most social and economic indicators. And Rajini, with his imaginative approach, could take the state towards achieving its full potential.
Rajini's threat 
The only threat Rajini is likely to face in his political career is his allegiance towards softcore Hinduism and soft corner for the BJP. Every time when he makes a statement that would go against the BJP party, he comes back to clarify his stand.
Months ago, when reporters said all the opposition parties have come together to defeat the BJP, he said, "If everyone thinks so, then it should be so."
A day later, he clarified that the BJP would be a dangerous party only to the opposition. "If it is dangerous to the people, then people should decide on it," he said. He added that if 10 people are opposing one, then the one who is being opposed becomes the stronger person.
On Thursday, he said that efforts are being made to paint him 'saffron', just like how Thiruvalluvar was 'saffronised'. But within an hour, he clarified that it was the media that is painting him as a BJP man. Rajini's statements favouring the BJP is likely to backfire since the state has always been against the Hindutva parties.