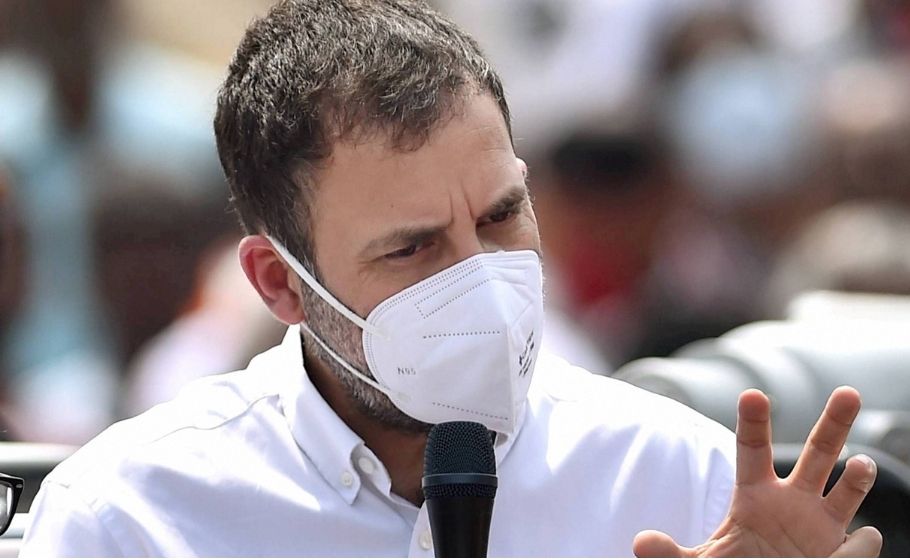 In poll mode in TN, Rahul promises to make GST 'one tax, minimum tax'
When Congress comes to power at the Centre, it will restructure the Goods and Services Tax (GST) and make it 'one tax, minimum tax', said former party president Rahul Gandhi in Coimbatore on Saturday.
When Congress comes to power at the Centre, it will restructure the Goods and Services Tax (GST) and make it 'one tax, minimum tax', said former party president Rahul Gandhi in Coimbatore on Saturday (January 23).
Gandhi made the announcement while interacting with industry representatives during his three-day visit to the Kongu belt as part of the campaign for the assembly elections in Tamil Nadu later in the year. He took questions on two of the biggest problems in each sectors under the Micro, Small and Medium Enterprises (MSME).
"The expansion of GST should be Goods and Services Tax and not taxes. But instead of one tax, we pay many taxes and it is wrong," said Gandhi.
Related news | After 'taming' Jallikattu bulls in Madurai, Rahul finds ground in farm stir
"We have seen the entire GST drama unfolding today. Who are these supporters of GST? They are large businesses. Why? There is a reason for it. It is designed to help them. The GST is not only badly implemented but strategically destroyed the economy," he said.
"When Congress planned the GST, its objective was 'one tax, minimum tax'. But BJP has complicated the negotiation when it was implemented. Prime Minister Narendra Modi has bypassed the bulk of negotiation.
"The GST has been superimposed. Instead on one tax, now people pay five taxes with massive amount and undergo huge complication. It has served a huge blow to MSMEs. When we come to power, it will be restructured and reconceptualised," he added.
Climate of disharmony
Gandhi alleged that the present government at the Centre has wrong view of economy. A nation must maintain harmony for economic growth, but the BJP government has created a climate of disharmony, he said.
"The Centre has only one ideology and we are heading towards a dictatorial direction. To bring back the economy into normal, the government must hear the people. But it's not heeding us," said the Congress leader.
"When the Centre brought demonetisation, (former prime minister) Manmohan Singh had warned it will take a toll of 2 per cent of GDP. Similarly, in February, I had warned about COVID-19 pandemic. But it was ignored and I was termed as fear mongering," he said.
He added that the prime minister must speak to people with respect and kindness, and then he will receive the kindness he expects.
Crippled banking system
Responding to a question regarding MSMEs not getting loans announced by the Centre, Gandhi alleged that the country's banking system is crippled.
"The Indian banking system is not working. It is captured by only 10 or 15 large industries. The banks have waived the loans for the biggest business. They also under attack for non-performing assets problem. Until this gets changed, nothing will be changed," he said.
On the unemployment problem in cities like Coimbatore which has a large number of industries, Rahul said education must have a linkage with businesses.
Related news | Rahul Gandhi finds jallikattu 'bullish', calls it a 'lovely experience'
"I believe success and employment in India depends on its MSMEs. Our education system is not designed for businesses. It is theoretical and not practical. We need to change that," he added.
At the end of the interaction, while answering questions from the firework industry, Rahul said he would also visit Sivakasi to understand the problems of the industry. "Like I visited jallikattu, I will also visit Sivakasi soon," he said.
At the beginning of the the visit, Gandhi said he would "protect" the Tamil culture from Modi's "attacks". "I am delighted to be back in Tamil Nadu today to spend time with my Tamilian brothers and sisters in the Kongu belt. Together, we will defend & preserve the unique culture of the Tamils against the attacks by Modi govt," he said in a tweet.