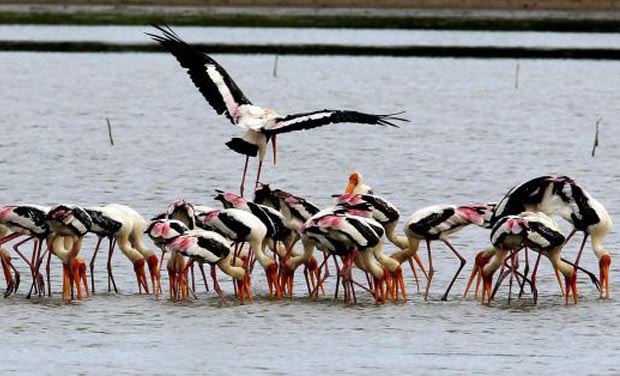 Former environment minister Jairam Ramesh has warned against the port project proposed in north Chennai, saying it will affect ecosystem of Lake Pulicat and Kattupalli Island.
"The proposed construction of a megaport complex in North Chennai by a private company with dubious environmental credentials will irretrievably damage the Ennore Pulicat ecosystem with its invaluable mangroves and salt marshes and the Kattupalli barrier island with its thickly vegetated sand dunes," he said in a statement in Rajya Sabha on Monday (July 15).
Though he did not mention the name of the company, activists said he was referring to port project of Marine Infrastructure Development Private Limited, a subsidiary of Adani Group.
Advertisement
Environmental activist Nityanand Jayaraman, who has been working towards conserving the Ennore ecosystem, said around 6,111 acres has been earmarked for the project and has been valued at ₹54,000 crores.
"If the project is implemented, it will affect water resources in the surrounding areas and close to 30,000 fishermen will be affected," he said.
Ramesh also shared the statement on Twitter and urged the Ministry of Environment, Forests and Climate Change to "reject the proposal and protect Tamil Nadu coast from more disasters".
Also read: River linking good in logic, bad in science
He said the barrier island separates Pulicat lake, the second-largest brackishwater lake in India, from the Bay of Bengal.
"The Kattupalli dunes protect the hinterland from violent storms and salinity intrusion. The Ennore-Pulicat backwaters absorb rainwater and tidal storm surges. Encroaching these wetlands will place nearly 10 lakh people in the region at heightened risk of disastrous flooding," he said.
The Congress leader also warned that the project would affect the livelihood of more than 30,000 fisherfolk who depend on the backwater and the sea.
Well known ornithologist P Jeganathan said the area which is earmarked for the port is "a highly critical habitat for wetland birds".
"More than 200 bird species, including migrant species, are found here. It is both a major stopover site and wintering site for birds like flamingos. It is not only about the rarity of the birds but also huge number of congregation of resident birds that can be sighted here. It is a kind of endangered habitat. Building ports or any other construction here should be looked at as a kind of linear infrastructure intrusion," he said.
Also read: Naidu proposes, Jagan disposes: How Amaravati landed in hot water
Sundaravel, another city based birder, said that the ecosystem was recently recognised as Important Bird Area (IBA).
"Rare birds like Lesser Noddy, Grey-tailed tattler, Eurasian oystercatcher and all kinds of waders can be seen here. It is one of the important migrant routes for the birds," he added.