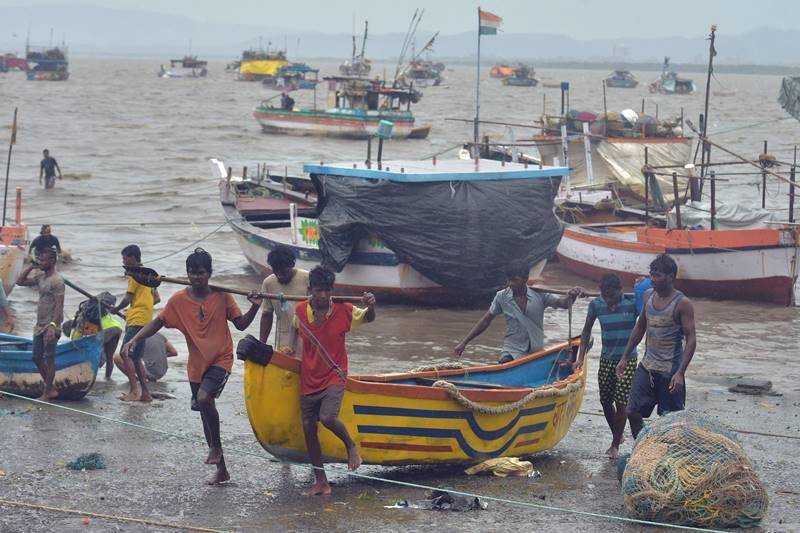 Crisis effect? Sri Lankan court asks Tamil fishermen to pay ₹1 cr each
While the economic crisis may have triggered the high penalty, observers say Sri Lanka is extra hard on TN fishermen, as against those from other parts of India
On April 7, the Kilinochi court in Sri Lanka ordered 12 detained Indian fishermen to pay ₹1 crore each to be released on bail. This has created panic among Indian fishermen, particularly in Tamil Nadu. All the 12 fishermen are from Rameswaram in Tamil Nadu's Ramanathapuram district, and were detained by the Sri Lankan navy on March 24.
The court's order may be viewed in the backdrop of the ongoing economic crisis in the island nation, which has hit its fishing industry. However, experts and fishermen association leaders insist that the prevailing situation in Lanka is not the sole reason.
"Yes, we accept that the fault is also on the Tamil Nadu fishermen's side. Yet, the United Nations Convention on the Law of the Sea says that if fishermen of one nation cross the International Maritime Boundary Line (IMBL) and enter the waters of another nation only for fishing, then they should be pardoned," M Ilango, chairperson, National Fisherfolk Forum, told The Federal. "They can be detained only if they have drugs or weapons in their possession. Every time our fishermen get detained by Sri Lankan forces, we reiterate this. But it has fallen on deaf ears."
Punished, yet released
He claimed that whenever Indian fishermen are detained by the Sri Lankan navy, the courts there issue orders in such a way that the detained fishermen are punished and yet released at the same time.
"The Sri Lankan government seizes the Indian fishermen boats and auctions them. The fishermen are awarded a sentence, say for 2 years, but they are released with a warning that if they enter Sri Lankan seas again and are detained, they should undergo the 2-year sentence. In one way, they are punished (by not getting their boats back) and on the other side, they are released with a warning," Ilango added.
This not only ensures that Indian fishermen do not dare to enter Sri Lanka next time, but also that, if they do, they spend lakhs of rupees to get a new boat, which would cripple them financially, he said.
Levying fine for bail is normal
A country collecting a fine from the detained fishermen of other nations for their release is a normal procedure found in the rule book of many countries, Madras High Court advocate Johnson told The Federal.
"These kinds of rules are there across the world in relation to illegal fishing. Take for instance, Seychelles. Five Kanyakumari fishermen are detained there now. The court there also demands a fine and they have the power to levy it. Even though the fishermen entered the seas of other nations inadvertently, if using illegal methods of fishing, like trawl net fishing, they are in danger of detention. In some parts of the world, some countries have banned the usage of such mechanised boats," said Johnson, who is closely associated with the case of detained Indian fishermen in Seychelles.
He alleged that it is the fault of the Indian government for not making Indian fishermen aware of such rules. "This is not the first time the Sri Lankan courts fined detained Indian fishermen. Earlier, the courts have fined Indian fishermen with approximately LKR 20,000," he added.
While the fishermen have no capacity to pay such a huge amount, if they fail, they have to undergo the sentence besides their boats getting auctioned. "The Indian government should pay the amount to get them released. Interestingly, the Indian embassies in other countries are not taking sufficient efforts to release the detained Indian fishermen when compared to the High Commission in Sri Lanka," said Johnson.
Law amendment
Policy analyst N Sathiya Moorthy said Sri Lanka started imposing fines on detained Indian fishermen after it made amendments to its Fisheries and Aquatic Resources Act, 1996, which was piloted by Sri Lankan Tamil parliamentarian MA Sumanthiran of the Tamil National Alliance. He moved a Bill to ban mechanised bottom trawling, which was adopted in 2017.
"A decade back, Sri Lankan fishermen who came to Indian waters for tuna were arrested by the Indian Coast Guard off the Andhra coast. Until then, Sri Lanka was lenient towards Indian fishermen when they entered their waters. But after that incident, Sri Lanka too started to detain Indian fishermen," he said.
Moorthy added that the detention is based on two aspects — livelihood of Sri Lankan fishermen getting affected due to illegal fishing carried by Indian Tamil fishermen, and violation of IMBL.
Additional bias
Johnson alleged that Sri Lanka is extra hard on Tamil Nadu fishermen, as against those from other parts of India or other countries. "Through the current fisheries minister Douglas Devananda, a Lankan Tamil politician, Colombo tries to instigate friction between Lankan Tamil fishermen and Tamil Nadu fishermen. Earlier, detained Tamil Nadu fishermen were subjected to physical punishment but now heavy fines are imposed on them," he said.
He added that there are many international treaties and conventions that allow fishermen of one country to fish in the waters of another country, subject to the condition that they do not practise banned methods of fishing. "But India and Sri Lanka have never moved towards adopting such a treaty or an understanding," said Johnson.
Courts should not bend
Noted Tamil novelist Joe D'Cruz, who has long experience in maritime relations, said though it is natural for the rulers to be shaken by the economic slowdown and carry tough actions, the judiciary should not fall prey to an ongoing crisis.
"The court's order shows that not only is the country's economy is in crisis but also its humanity. The detained fishermen can go for an appeal and the exorbitant fines may get reduced or nullified," he said.
The fishermen in TN hope that since India is helping Sri Lanka now by giving it food supplies and debt, the Union government will hold talks with the Sri Lankan government to release the fishermen without any punishment.