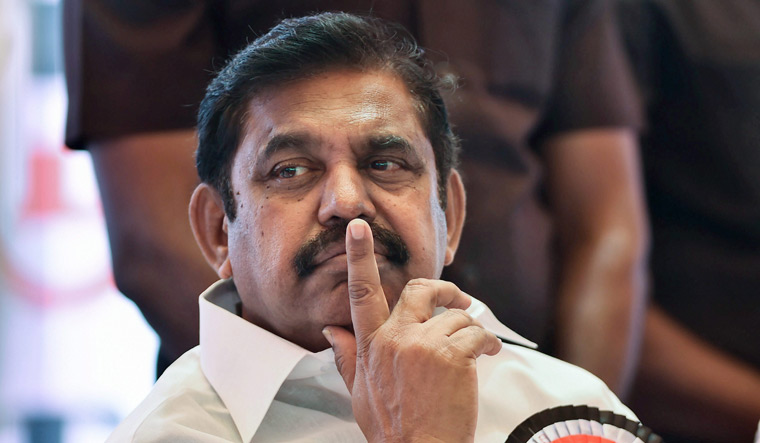 Palaniswami's Twitter avatar: Tweetheart for some, opportunist for others
A decade ago, if one steps into the rooms of cabinet ministers of Tamil Nadu in the Secretariat, one would not have found a desktop or laptop on their tables. It was their personal assistants who had personal computers. But times have changed. Ministers who were once wary of the technology have begun to adopt it, with the arrival of smartphones.
Almost all ministers in the state now have a social-media account, especially on Twitter. Generally, they post press releases and videos of them supervising departmental activities. But the COVID-19 pandemic and the nationwide lockdown due to it seem to have kept them active. Besides, meeting reporters and issuing statements, they reach out to the people through social media platforms at every opportunity.
For instance, a women had told State Health Minister C Vijayabaskar that her wedding was slated for April 16 and asked if her cousin, who was in the US, should come in advance to accommodate the 14-day quarantine period. Vijayabaskar replied "Madam, we anticipate things will settle before 10th April, hence your cousin may not be required to prepone her trip".
Related News: Amid lack of incentives, TN police ensure smooth passage of lockdown
But it is Chief Minister Edappadi K Palaniswami who seems to have realised the importance of the social network more than his cabinet colleagues. In the last two weeks, he has been engaging with his followers and replying to their queries with utmost importance.
On April 5, a man from Tiruvarur district sought the government's help to provide food to around 40 Narikkuravar (Gypsies) families near Idumbavanam village. He did not even tag the Chief Minister in the tweet, posted around 12.30 pm. But within a hour, Palaniswami replied to him, assuring that the government would take action immediately. By 7:15 pm, the Chief Minister's office tweeted that all essentials had been handed over to the families.
Also, the administrators of Palaniswami's Twitter handle reply to queries from other states too. On March 28, the Chief Minister replied to Tejaswi Yadav, Opposition Leader of Bihar Assembly, and to Jana Sena chief Pawan Kalyan on March 30 on the plights of migrant workers from Bihar and fishermen from Andhra Pradesh.
He had also requested Maharashtra Chief Minister Uddhav Thackeray and Andhra Pradesh counterpart YS Jagan Mohan Reddy on Twitter to help migrant workers from Tamil Nadu who had been stranded in the two states. "The Chief Minister takes note of all the requests on Twitter and only after his approval, we respond to them," says the admin of CM's office Twitter handle.
While some have welcomed Palaniswami's dynamism, others have claimed that it was just a 'political stunt' ahead of the assembly elections slated for 2021.
However, G Ramachandran, state secretary of the AIADMK IT Wing, dismisses it. He tells The Federal Palaniswami has been maintaining a CM-to-CM contact and it does not only mean his communication with Chief Ministers of other states, but also with 'Common Man'. "He is not only accessible to the people, but also to migrant workers. Calling it a 'political stunt' is nothing but the Opposition's grudge against him," says Ramachandran.