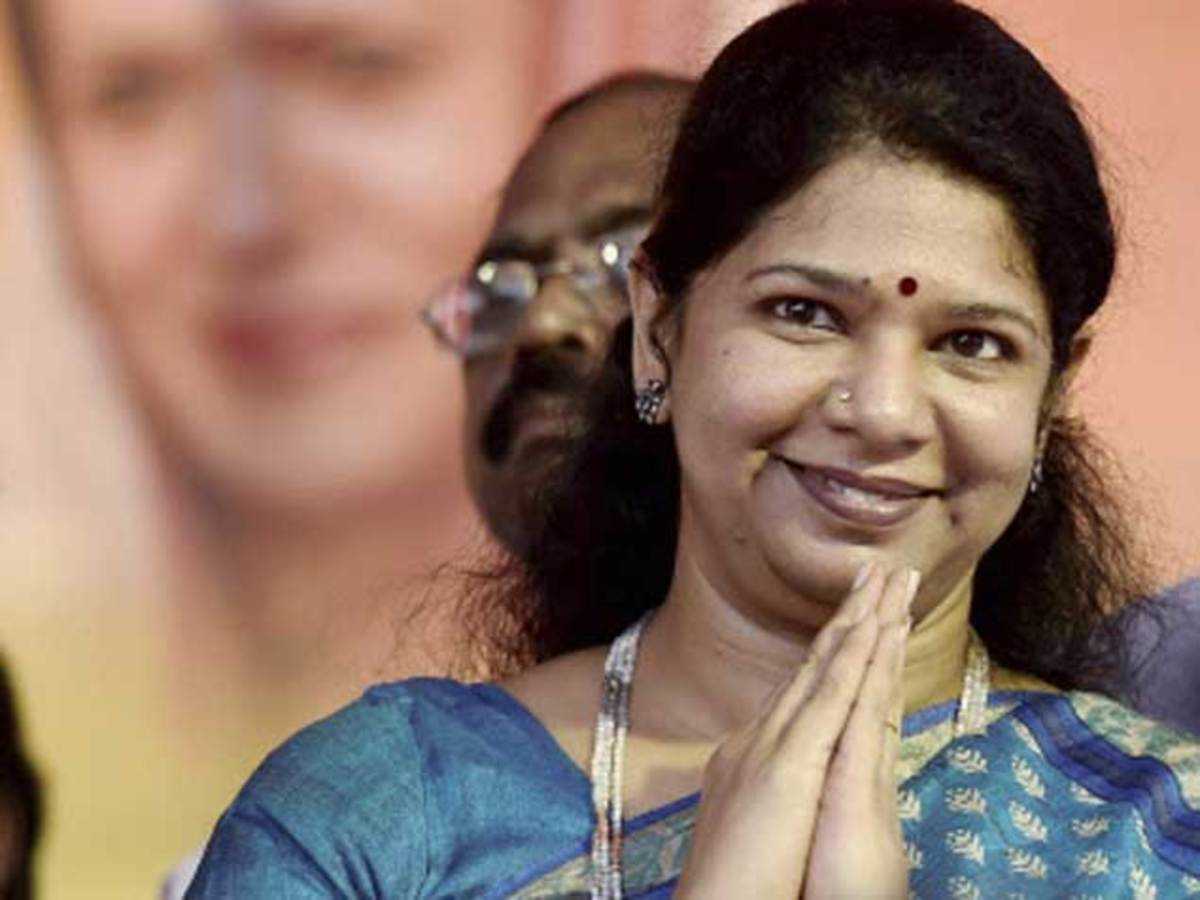 NEP, Kanimozhi airport incident lend more importance to TN's state song
The DMK's Member of Parliament Kanimozhi may have remembered her father M Karunanidhi when a CISF official asked her if she was an Indian or not after she asked him to speak in Tamil or English as she did not know Hindi.
Karunanidhi had made 'Tamil Thaai Vaazhthu' the state song on November 23, 1970, after he took charge as chief minister, fulfilling a campaign started by his predecessor C N Annadurai to assert the Tamil pride amid a move by the Congress government at the Centre to impose Hindi as an official language in Tamil Nadu.
The state has the tradition of singing 'Tamil Thaai Vaazhthu' (invocation to Mother Tamil) before the commencement of any government function, with everyone rising to their feet. It is also recited before some private functions.
Originally written as a poem, it was a part of the book 'Manonmaniam' by P Sundaram Pillai published in 1891. The writer later became known as 'Manonmaniam' Sundaram Pillai.
In its golden jubilee year as the state song, 'Tamil Thaai Vaazhthu' has gained added significance and meaning due to the three-language formula proposed in the Centre's National Education Policy (NEP). Tamil Nadu chief minister Edappadi K Palaniswami has, in fact, said that the state will never allow the Centre's 'three-language policy'. He pointed to the anti-Hindi agitation of Annadurai and other state leaders to justify the government's stance.
Anna's dream
In 1967, when the DMK came to power, its leader Annadurai brought many changes to proclaim the party's Tamil pride — the name of the state was changed from 'Madras State' to 'Tamil Nadu'; the words 'Vaaimaiye Vellum' replaced 'Satyameva Jayate' in the official logo of Tamil Nadu; 'Sabanayagar' (Assembly speaker) was referred to as 'avai thalaivar' and 'manthiri' as 'amaichar'.
He also wanted a state song on the lines of 'Jana Gana Mana', the national anthem.
"After going through many poems and songs in Tamil literature, Annadurai shortlisted two songs – poet Aranga Venkatachalam Pillai's 'Vaanaarntha pothiyinmisai' and Sundaram Pillai's 'Neerarum kadal udutha'. Annadurai chose the second because it contained the word 'Dravidam' in one of its lines, "says writer Karanthai Jayakumar.
The song hails the richness of the Tamil language and the culture of the Tamil people.
Anna, however, died in 1969 before he could announce it as the song of the state.
Karunanidhi made Anna's dream a reality after succeeding him as the chief minister. The renowned music composer, MS Viswanathan, composed music for the song and well-known playback singers T M Soundararajan and P Susheela lent their voice to it.
Contribution of Karanthai Sangam
"Even before the DMK announced it as the state song and it was used for government functions, the poem used to be sung during the Karanthai Tamil Sangam," says Jayakumar.
Karanthai is a town in Thanjavur district. According to Tamil scholars, ancient Tamil Nadu had three Sangams (an academy for Tamil). The fourth Sangam was established in 1901 at Madurai and the fifth was founded in 1911 at Karanthai. The Karanthai Tamil Sangam espoused the cause of using 'pure Tamil' in speech and writing. The style of prose with such 'pure Tamil' was even referred to as 'Karanthai Nadai' (Karanthai style).
"It was Uma Maheswaran, the first president of this academy, who decided to popularise 'Tamil Thaai Vaazhthu'. By 1913, the souvenirs of the academy started using this song on their first page. It was also sung at many functions organised by the academy," adds Jayakumar, who works as a Maths teacher in a school run by the Sangam.
Disputes over removed lines
The original song has 12 lines. But Karunanidhi removed five lines, because he felt that they disrespected other languages. This, according to many Tamil nationalists, showed that even though the Dravidian leaders always hailed Tamil, they never disrespected other languages. It should be remembered that Karunanidhi was always criticised for belonging to a community that speaks Telugu.
But Tamil scholars have another theory. Karunanidhi removed the lines because they equated the Tamil language to god, an anathema to a party espousing atheism, the scholars say. Moreover, the composer interchanged the third and fourth lines from the original song for the sake of rhythm, they claim.
"When Sundaram Pillai composed the poem, he wrote 'Tamil Deiva Vaazhthu and not 'Tamil Thaai Vaazhthu'. Even though Pillai identified himself as a Dravidian, he also believed in god. If the DMK had allowed those lines, their basic principle of atheism would have been questioned and, hence, they removed those lines," said N Krishnan, a professor and head of Centre for Information Technology and Engineering at Manonmaniam Sundaranar University, who has written a critical essay on the song.
But Jayakumar differs. "While singing a song in praise and honour, it is better to avoid euphemism. The removed lines had references related to 'Aryan' and had words such as 'destroyed'. So, Karunanidhi removed them," he said.
Sundaram Pillai was born as a Malayali in Alappuzha and worked as a revenue officer in the Travancore kingdom. He later served as the first principal of the Hindu College in Tirunelveli. Though he was a well-known philosophy professor, he is remembered for his contribution to Tamil and theatre. It was after him that the  Manonmaniam Sundaranar University in Tirunelveli was named.
Other state songs in the country
According to Tamil scholar Maraimalai Ilakkuvan, Odisha is the first state to have had a state song.
"They had 'Bande Utkala Janani' way back in 1936. That was even before the states were divided based on languages. In 1990, during the regime of Biju Patnaik, it was made compulsory to sing the song at the end of state Assembly sessions," he writes in an article.
Besides Tamil Nadu and Odisha, states such as Karnataka, Andhra, Assam, Maharashtra, Gujarat and Madhya Pradesh, too, have their own songs.