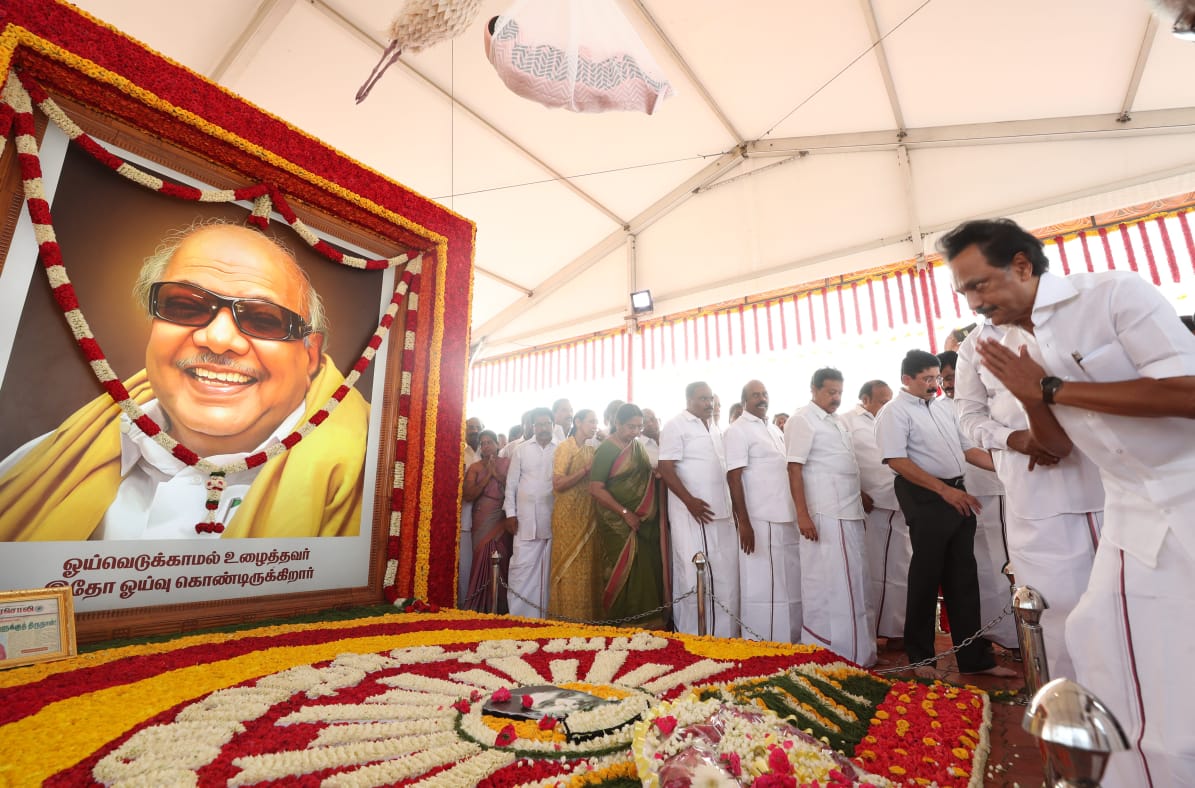 NEP backlash: Centre sidesteps Hindi on MK's birth anniv
While Tamil Nadu is celebrating the 95th birth anniversary of its former chief minister M Karunanidhi, the severe public backlash in Tamil Nadu against the draft National Education Policy (NEP)'s recommendation of three-language formula has forced the central government to issue a modified version of the draft.
The original draft, submitted to the Ministry of Human Resource Development by an expert committee headed by former ISRO chief K  Kasturirangan, had made Hindi a mandatory language to be taught in schools, besides English, across the country.
This had triggered a wave of resistance in several parts of south India, especially Tamil Nadu, where people have long been protesting against alleged imposition of Hindi.
Read more: New education policy draft triggers anti-Hindi backlash on Twitter
One of the strong leaders to advocate this 'anti-Hindi' policy has been Karunanidhi, who passed away in 2018.
While paying homage to the late Dravidian leader, his son and DMK president MK Stalin pointed out that the Centre's move to revise the draft NEP comes while Tamil Nadu is celebrating the birth anniversary of the former chief minister.
Kalaignar lives: Stalin
"While we celebrate Kalaignar's birthday as a Classical day, the central government withdrawing Hindi as mandatory shows that Kalaignar lives," he tweeted. Karunanidhi was referred to as Kalaignar (meaning artist in Tamil) by his supporters.
Stalin had raised objections to the draft NEP recommendation and made the party's stance clear on the day it was submitted. He had said that the DMK would oppose any attempts by anyone trying to impose Hindi on Tamils.
Protests in other states
This wave of resistance had spread to other southern states although the magnitude differed. After opposition by Tamil Nadu politicians, those in Kerala and Karnataka too followed suit.
Defending the NEP recommendation on three-language policy, Union minister DV Sadananda Gowda said, it was 'not fair to cast aspersions on the central government.'
Read more: Hidden meanings and unspoken truths: A 360 degree view on the language row
"So far, no decision has been taken by the central government as far as the imposition of language (Hindi) is concerned. Prime Minister Narendra Modi has categorically said that national aspirations and regional ambitions should define the country's development. He said regional issues should be taken on priority," Gowda said, while asserting that he was '100% sure there won't be any Hindi imposition on Karnataka.'
Ashwin Mahesh, noted urban expert, said the three-language 'mis-recommendation' was an example of a deep error in our approach to policy, where a Centre-appointed committee makes recommendations on what states should do, in a matter that was almost entirely within the states' purview.
"The country needs three formulas for language and not a three-language formula. This implies — earning in the mother tongue is easier, familiarity with local language has social, economic and cultural value, and access to languages of the marketplace increases opportunities," he said.
DK leader blames Hindutva agenda
Dravidar Kazhagam leader K. Veeramani hit out at the Rashtriya Swayamsevak Sangh (RSS), saying that it (the three-language formula) is nothing 'but the imposition of Hindutva, which is the core principle of the RSS.'
In an interview to The Hindu, Veeramani reiterated there's nothing like a 'national language' in India and that the Constitution mentions only of an official language.
He also referred to the BJP's failure to open its scorebook in Tamil Nadu in the recently concluded Parliamentary elections, saying that it was a resounding victory for the state. "More than a political victory, it is a cultural victory in the ideological war," he was quoted as saying in the interview.
Better implementation needed: Tharoor
Thiruvananthapuram MP Shashi Tharoor too had made his stand clear on this issue, stating that the solution to the three-language formula lies in its better implementation.
"Nobody in the north is learning Tamil or Malayalam," the Congress leader had said.
The Centre had on June 2 (Sunday) issued clarifications on the issue, with I&B minister Prakash Javadekar saying that it was a recommendation and the government had not deliberated on it.
Read more: Why this anti-Hindi fervor in Tamil Nadu
Interestingly, two Union ministers took to Twitter to defend the Centre's role on this issue and used Tamil language to convey their message.
"Feedback shall be obtained from general public. State governments will be consulted. Only after this the draft report will be finalised," said external affairs minister S Jaishankar.
Finance minister Nirmala Sitharaman too echoed a similar stance, and said the report will be implemented only after public hearings.
(With inputs from Prabhu Mallikarjunan)