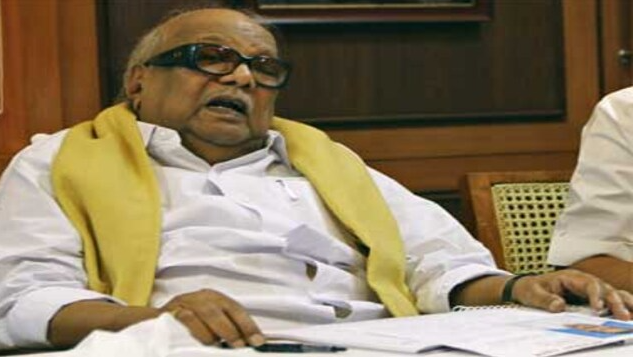 Karunanidhi unveiled IT dream when few in India thought about it
When computers hadn't flooded even government offices, the Tamil Nadu Textbook Society founded by DMK patriarch M Karunanidhi brought out in 1975 a book titled Computer and Their Uses.
Archival materials from the government also show that Tamil Nadu had a separate policy for Information Technology in 1997 — the first-of-its-kind in the country.
This is why Tamil Nadu Chief Minister MK Stalin has underlined the need to recall Karunanidhi's numerous initiatives that helped the state to rapidly forge ahead as his year-long birth centenary celebrations began on Saturday (June 3).
Also read: Karunanidhi was the architect of modern Tamil Nadu: CM Stalin
The celebrations, his son Stalin told party cadres, should not merely centre around glorifying Karunanidhi's numerous achievements but should remind the people of his welfare policies.
"Kalaignar is the architect of modern Tamil Nadu as he implemented numerous welfare schemes like the free bus pass for students, formed women's self-help groups, ensured 33 percent quota for women in local bodies, provided free insurance scheme for people and established Uzhavar Santhai (farmers markets) with a visionary approach," Stalin said.
IT world
Realizing how powerful IT would be one day, Karunanidhi had called it knowledge and "symbol of our future".
"This knowledge can improve our quality of life. It has turned out to be a quintessential example for a growth-oriented industry. This is going to be a symbol of our future," he said at the launch of Chennai-based Tidel Park in 2000.
By then, Tamil Nadu had a separate department for IT. To guide it, a state level task force on IT was formed, headed by Murasoli Maran, a former union minister for commerce.
Also read: Sea memorial for Karunanidhi draws praise from DMK men, flak from environmentalists
In 1999, the state launched centres in 666 government higher secondary schools to train about 30,000 students in computer applications. In the 1999-2000 budget, the state said it will introduce a computer science stream in Class 11 and 12.
"I said that 'It is expected that under this new stream, about 40 students per school on an average would complete their school final and become employable in the IT sector'. Our initiative was welcomed by other Indian states and a few countries," Karunanidhi had said.
"However, some thought that when most schools lacked even a blackboard, whether it was necessary to have a computer. I told them these computers are going to be blackboards in the near future," he said.
Other schemes
Karunanidhi also launched pioneering schemes like free eye surgeries, population control measures, leprosy eradication programmes and took initiatives to strengthen primary health centres.
Also read: Not just Periyarists, in 1970 Karunanidhi too pitched for TN flag
But the definitive moment in the healthcare sector came in November 1999 when the 'Varumun Kappom' (preventive healthcare) scheme was introduced.
Its main objective was that the government should reach the people to provide healthcare, instead of the other way round.
Karunanidhi, who had a tough early life, recalled how people from his village came in 10-12 bullock carts to see his sister get an injection from a doctor.
He stated: "We need awareness to know about a disease that has affected us. People … now come to hospitals only when they get affected by a disease. We have launched this scheme to change this behaviour and perception."
A wide range of health issues such as eye problems to tuberculosis to heart ailments to maternity were covered under this scheme. About 20 to 25 camps were conducted in each district every month.
Mechanised industries
Karunanidhi shared his mentor CN Annadurai's vision when it came to industries: "The development of humanity lies in reducing the people's working time and increasing their leisure time. It can be done only through mechanised industries and not cottage industries."
That vision pushed Karunanidhi to build Tamil Nadu as an industrialised state. But that was no cakewalk.
One of the state's earliest fights with the Central government on the industrial front was over the Tuticorin Alkali Chemicals and Fertilizers Ltd established in 1971.
Also read: MK Stalin: Does he measure up to his father Karunanidhi?
The state wanted to run the company as a state public sector unit. But the Union government refused and came forward to fund private companies to make fertilisers in this unit.
Joint Sector
Leaving no stone unturned, Karunanidhi introduced a new policy called 'Joint Sector' under which, the state had 26 per cent share and the private participation had 25 per cent. The remaining 49 per cent share would be from the public.
In 1989, he introduced another policy called 'Associated Sector' where the state's share of contribution would be 11 per cent.
When it comes to identifying and selecting a backward region to develop into an industrialised zone, he followed a method.
Under this, the number of average work force in that region should be less than the state's average of 1.26 per cent.