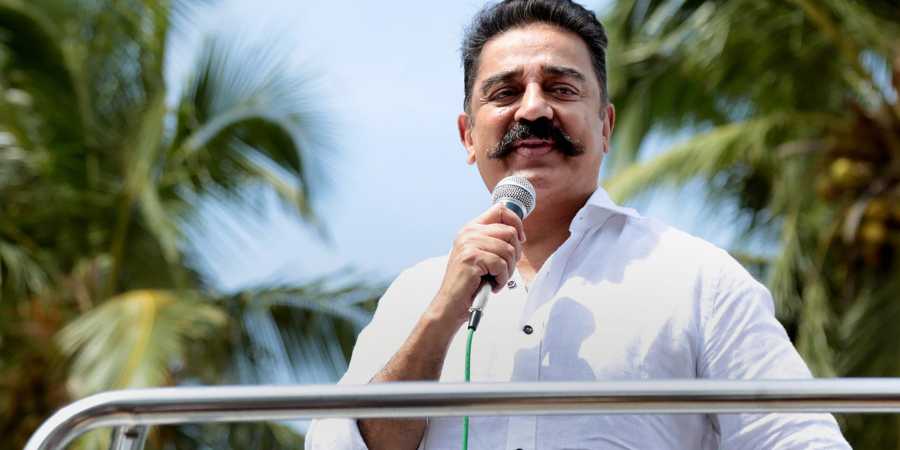 Kamal says India's first terrorist was Hindu, raises a ruckus
It looks like actor and politician Kamal Haasan is far from ending his fixation with Mahatma Gandhi. Stirring a new controversy, Makkal Needhi Maiyam (MNM) founder and actor Kamal Haasan has said free India's 'first terrorist was a Hindu', referring to Nathuram Godse, who killed Mahatma Gandhi.
Addressing an election campaign at Aravakurichi, which is set to go for bypolls on May 19, the actor-politician said he was one of those 'proud Indians' who desires an India with equality and where the 'three colours' in the tricolour, an obvious reference to different faiths, 'remained intact.'
"Free India's first terrorist was a Hindu, his name is Nathuram Godse. There it (terrorism, apparently) starts," he said in the rally.
Kamal's obsession with Gandhi is not new. His engagement with the iconic figure translated on screen with the actor's magnum opus 'Hey Ram.' Helmed by him and released in 2000, a historical fiction and political drama, the flick revolved around the assassination of Mahatma Gandhi. Kamal portrayed the role of Saketharaman Iyengar, a Tamil brahmin hailing from an orthodox family, who plots to kill Gandhi. But Saketh has a change of mind after realising that the latter stands for non-violence and loving all. For the movie, Kamal is said to have done an extensive research reading several books on the political leader who led a movement that believed in peace and inclusion, shunning weapons or violence.
And when he began a more active role in politics, after years of reluctance in taking a plunge, he has fallen back largely on the idée fixe. Having labelled himself a Gandhian convert, Kamal's brand of political leaning is a concoction of various ideals in different proportions—Left and Dravidanism sometimes, at other times naively non-political.
Just as he floated the MNM late last year, he had written a column in the Tamil weekly Ananda Vikatan, hitting out at right-wing groups without naming any specific groups, accusing them of indulging in violence, batting for non-violence, much like the Mahatma.
He symbolically invoked him in his last campaign ahead of the Lok Sabha polls on Marina Beach, when he said he was there to avenge his great grandfather's death. He covertly likened Godse and the group he was affiliated to (RSS) to the ruling government at the centre. Yet again at Aravakurichi, he claimed that he was there to seek answers for Gandhi's death that happened way back in 1948. Only that, this time he openly declared that Godse was the first terrorist  of a free India and that he was a Hindu who triggered the idea of terrorism in the country. The comparison, as he maintained, was not to appeal to a Muslim majority area, he added. However, in the rhetoric is the silent admission of appeasement politics that it is not new to the state.
Please sir, from a much smaller artist to a great one, let's not divide this country, we are one, Jai Hind

Vivek Anand Oberoi
Not very long ago, the actor had threatened to leave the country when religious groups had opposed to the portrayal of Muslims as terrorists in the 2013 film Viswaroopam. However, Kamal even back then stopped short of being vocal about religious bigotry and said he was not against his 'Muslim brothers', as many of them were 'non communal'. And the heart that bleeds for the cause of Tamils had no words for the dastardly attacks in Sri Lanka, strategically timed on an Easter Sunday by Islamist groups.