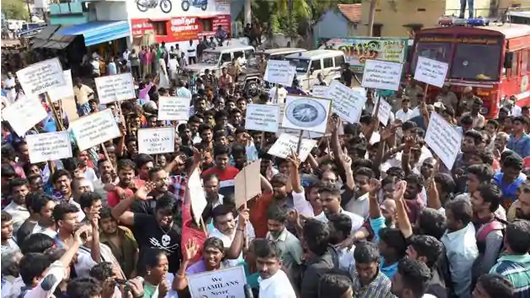 Deisi Saravanan's voice chokes up with pain as he speaks to us. A resident of Alanganallur in Madurai district, the 32-year-old would have completed his doctorate in tourism by now. But his involvement in the Jallikattu protests of January 2017 changed his course of life, and not for the good.
"I was waiting for the allotment of a guide after passing the Ph.D. entrance exam in 2017. It was the time the pro-Jallikattu protests happened in my village and I participated in that. Police filed cases against me and my life changed once and for all," he says.
Because of the case, Saravanan lost his job as a tourist guide and the hassles the case hearings brought along, led to the discontinuation of his Ph.D. research.
Advertisement
Even though various parts of the state will see Jallikattu events being held on Pongal (January 14), some 180-odd people like Sarvanan, are still fighting court cases for participating in the pro-Jallikattu protests of January 2017, which had goaded the state government to allow the conduct of the sport despite a Supreme Court ban on it.
Thirty-four-year-old Reegan, an aspiring filmmaker, who currently works as an assistant director in Chennai has a similar predicament.
"When I heard about the protests in Madurai, I went there and participated. I stayed there for 10 days and was booked in a case. Now, I have to attend the every hearing in Madurai. Considering the nature of my job, it becomes difficult for me to present myself at the court for each hearing," he says. So far, Reegan has attended six hearings and skipped four in the last four years.
Related news: TN govt green-lights annual Jallikattu, but with restrictions
"If I skip a hearing, it affects my fellow protesters. If others skip, it affects me. So there is no progress in the case till now," he rues.
Geetha, a mother of four and a volunteer with Makkal Padhai, a Chennai-based social service organisation had also participated in the protest in Madurai.
"I had taken my children along. Due to the case, my relatives and neighbours have stopped talking to me. They fear if they have any contact with me, they too would be booked. My children too have the same fear," she said.
Geetha, who is a single parent, was unable to attend three hearings due to family commitments.
False charges against us, allege protestors
The Supreme Court in 2014 banned the annual bull sport, considered a sport of bravery by Tamils, in the state while hearing a case filed by Ethical Treatment of Animals (PETA).
In 2017, what started as a small demonstration in Alanganallur, a village in Madurai, the main hub of Jallikkattu, slowly spread to other parts of the state. In Chennai, a large, leaderless crowd gathered on the Marina beach and staged a massive demonstration. In a few days, the protest saw a massive congregation and came to be known as the 'Marina Puratchi' (Marina Revolution) or 'Thai Puratchi' (Thai Revolution. 'Thai' is the Tamil month when Pongal is celebrated).
The mass movement resulted in state government coming out with an ordinance that allowed to conduct the sport.
Apart from peaceful protests, incidents of violence and arson were also seen at agitation sites across the state, leading police to arrest protesters under various charges.
Calling the violence a handiwork of fringe elements who infiltrated the agitation, protesters have said that police have also booked people who were not directly involved in the protest and even slapped false charges against many of them.
"We slept on the verandah of a house (in Madurai) during those 10 days. The house owner provided us food as they would do for any of their relatives. But police also booked them for feeding us," says Reegan.
Probe report still awaited
What started as a peaceful demonstration, ended with violence on January 23, when police had to forcefully evict protesters from agitation sites across the state. In Madurai, protesters were charged with attempting to kill a policeman, as well as blocking rail tracks and roads.
A total of 179 protesters who participated in agitations in Madurai were charged under various sections. Of this 64 were from Alanganallur alone. In the protests that happened at Sellur, Perungudi and Thilagar Thidal, 54, 34 and 27 protesters were booked respectively. A commission headed by Justice S Rajeswaran was appointed to probe the incidents of violence.
"The 179 people are not from Madurai alone. A majority, mostly youngsters who are studying and working in 20 districts, came here and participated in the protests. They are unable to attend every hearing. Only if all the 179 people gather at a time, the case can move on. But it seems impossible," says Kambur Selvaraj, a native of Madurai and coordinator, Jallikkattu Poraatta Vazhakku Muriyadippu Kuzhu (Committee against Jallikattu protest cases).
"Most of the people are from economically weaker background and are illiterate. They don't have the means to get any kind of legal aid. So we formed this committee," he adds.
Selvaraj says although the single-member Justice Rajeswaran Commission, formed to probe the Jallikattu protests, visited Madurai, Coimbatore, Salem and Chennai, the visit not properly communicated to the protesters. "Those who deposed before the commission came to know about the visit through newspapers," Selvaraj says.
Related news: From Kuttanad's belly, Jallikattu writer Hareesh takes the bull by the horns
It is to be noted that the commission submitted its final report in January 2020, which has not been published so far.
"We believe that the report must have been against the state government. So it's not making it public," said activist Mugilan, who participated in the protests.
Stuck at a dead end

While the 64 protestors in Alanganallur are booked under Section 307 of IPC, which is invoked for 'attempt to murder', all the others are booked under Railway Act for 'rail roko' and Tamil Nadu Property (Prevention of Damages & Loss) Act.
"The IPC Sec 307 is the highest section used against the protestors. Because of this, many are unable to join government jobs and four of the protesters are unable to return to their jobs abroad. They came during the Pongal holidays in 2017. Their passports were in the renewal stage. Due to the cases, now they are unable to renew it. The people who were booked, but were able to return abroad are now unable to come home. Because if they come, they can't return," said advocate Saravana Kumar who is appearing for the protestors.
"The cases filed against the Alanganallur protesters are handled by the CB-CID and they are not showing an interest in pursuing them," Kumar alleged.
"Celebrities like composer HipHop Thamizha and filmmakers like Ameer and Va Gauthaman who actually supported the protestors are added as the government's witness. Do you think they will appear in court? It's impossible," he said.
Kumar said while the government usually publishes a synopsis of the report of any probe commission as soon as it is submitted, the same has not been done in this regard.
Talking to The Federal, Justice Rajeswaran said only the government can answer why it has not published the report yet.
"My job is to investigate and submit the report. I have done it. I can't even comment on the report," he said.
While addressing the media during his visits to Madurai he reportedly said that he would recommend the government to withdraw the cases filed against the students, considering their future.
Related news: Jallikattu: Story of a bewildered buffallo and unbridled machismo
When asked whether he would be able to submit an additional report if the protestors approached him personally and requested him to recommend the government to withdraw the cases, Rajeswaran said he can't do that.
"Since such recommendation has not come from the public, I cannot do that," he said.