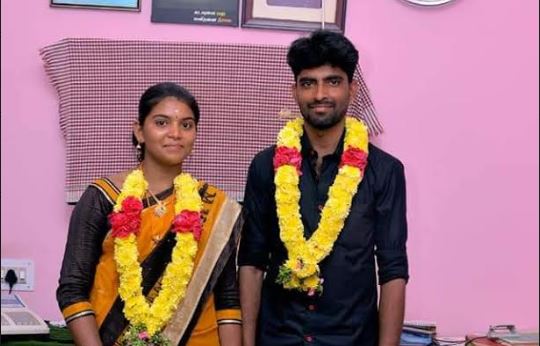 Inter-caste couple kidnapped; four days on, police yet to trace girl
Four days after an inter-caste couple was attacked and the girl abducted in Erode, the Salem police has failed to ascertain the whereabouts of the victim.
Four days after an inter-caste couple was abducted and attacked in Erode, the Salem police have failed to ascertain the whereabouts of the woman.
The couple, P Selvan and J Elamathi belonging to different caste used to work in a cotton mill in Erode, where they met and fell in love three years ago.
While Selvan belongs to the Arunthathiyar Caste, Elamathi is from Vanniyar caste that belongs to the Other Backward Caste (OBC).
Aware of the opposition they would face from their respective families, the couple decided to go for a registered marriage with the help of the Dravidar Viduthalai Kazhagam people in the region.
On March 9, with the help of a local functionary, K Eshwaran, the couple performed self-respect marriage — a wedding which is not solemnised by a Brahmin priest.
However, soon the news spread and family members of the bride along with local politicians started calling Eshwaran whose house the couple was staying.
Eshwaran said he kept getting threat calls and even calls requesting him to somehow break up the marriage.
Related news: Wedded to a cause: Over 5K Indian youth vow to go for inter-caste marriages
Eshwaran then sent Selvan and Elamathi to a Dravidar Viduthalai Kazhagam (DVK) member's house for safety.
Around 8:40 pm on March 9, Eshwaran was attacked in his house by goons who demanded to know about the whereabouts of the couple.
Meanwhile, Selvan and Elamathi who were on the run were caught by another set of goons.
The couple was assaulted and taken in different vehicles to secluded places where they were abused and threatened.
"I had no clue where I was taken. Only after reaching the place, I came to know it was a government school ground. They threatened to kill Eshwaran and me and throw our bodies in a river. The goons also took away my mobile phone and ₹15,000," Selvan said.
Before the gang could harm them further, Mettur Deputy Superintendent of Police R Soundarajan along with his team rushed to the spot and rescued the duo. However, they could not trace Elamathi.
Three days on, Selvan now fears for his wife's life and said, "Elamathi's family members were well aware of their relationship and had no problems initially. It is once the caste outfits started brainwashing them, matters got worse."
Related news: As Hindutva comes calling, Catholic church struggles with caste in Karnataka
Based on complaints from Selvan and Eshwaran, Mettur police have registered a case against 18 people including the father of the girl under various sections of IPC and SC/ST (Prevention of Atrocities) Act.
Assuring of Elamathi's well-being DSP Soundarajan said he is confident that the girl would be rescued as her father and his aides are arrested.