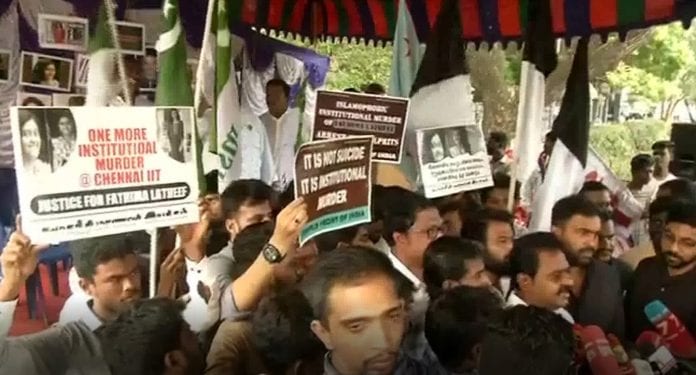 A day after two students of Indian Institute of Technology (Madras) went on an indefinite hunger strike demanding justice for Fathima Latheef who committed suicide allegedly due to harassment by professors, students of the university staged a protest on Tuesday (November 19) demanding the suspension of three professors for their alleged involvement in the case.
Fathima, a first-year MA student and a class topper, had committed suicide on November 9 by hanging herself. In a suicide note, Fathima had named two professors of the university for abetting her suicide.
Also read: IIT-M student who ended life often faced harassment, alleges father
Advertisement
A special team of the Crime Branch, Crime Investigation Department (CB-CID) was formed on Monday to investigate the case. The team interrogated three professors of the university in connection with Fathima's death. Reports said, the team also spoke to fellow students about the case and made a note of the statements. The team has not yet revealed any information regarding the investigation and is still making enquiries on the case on IIT premises.
Meanwhile, the team is also set to visit Kerala to meet the victim's family.
"The police has not made any arrests in the case yet. There has been no domestic inquiry and none of the professors have been suspended yet. If the professors whom Fathima named in her suicide note continue in the institution, there are chances that they will tamper with vital evidence. But police or the institution has not suspended them. Fathima's case is not a lone one. There have been many minority or racial or caste based discrimination murders on the campus in the past. If the state government doesn't take appropriate action in this regard, there will be a student revolution against it soon," said a protestor outside the campus.
However, Azhar Moideen, a final year Humanities student said, "We have called off the (hunger) strike." The fast was called off following assurance from the Dean that two of their demands would be implemented "at the earliest," while that for a probe into the conduct of faculty would be discussed with the Director later, he said.