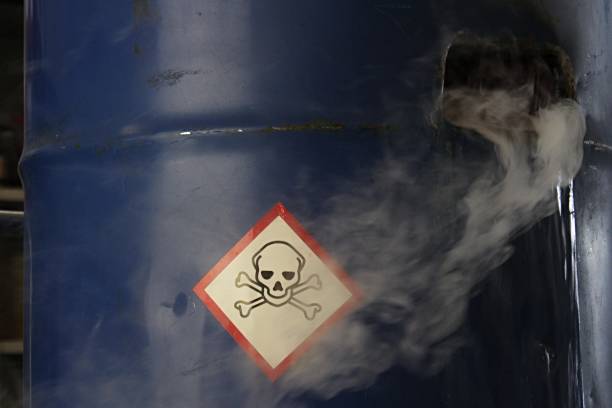 The death of six people in Sriperumbudur after inhaling noxious gases while cleaning a septic tank raises questions on the state of sewage management in the country.
On March 26, V Krishnamurthy, 53, and his son Kannan, 23, lowered themselves into the septic tank of their building to clean sludge. A private vehicle had just pumped out sewage water. While they were in the tank, Krishnamurthy's wife, Latha, was taking care of their grocery shop. "As there was no response from Krishnamurthy and Kannan after a while, Latha called out to them. When they did not reply, she woke her other son Karthik, 21," said K Murali, district forest officer of Kancheepuram, who was the first to be alerted about the incident. Karthik, who went inside the tank to rescue his father and brother, inhaled the gas and fainted on the spot.
A report on gas poisoning in septic tanks by MedCrave says such deaths happen when poisonous gases are inhaled over a prolonged period of time. The report says that while sewer gases can be both toxic and non-toxic, the toxicity increases with the concentration of methane. Sewer gases are mostly a mix of hydrogen sulphide, ammonia, carbon dioxide, nitrogen dioxide, sulphur dioxide and, sometimes, carbon monoxide.
Advertisement
Hydrogen sulphide is particularly poisonous and leads to irritation of eyes and shortness of breath. Exposure to higher concentrations (>300 parts per million) results in rapid loss of consciousness and death. Even a single breath of a concentration higher than 1,000 ppm can cause immediate collapse and death, the report says.
Unaware of the situation, Latha sought help from her neighbours. S Paramasivam, 31, tried to help, but met the same end after inhaling the fumes. The fifth victim, M Lakshmigandhan, 21, a gas supplier, was on his way to have lunch. On hearing the commotion, he too went to help, but died on the spot.
However, the tale of tragedy did not end there. Surathabhai, a native of Odisha, was at Krishnamurthy's store to purchase groceries. "He was standing near the tank and did not even get in. But he fell inside the tank after inhaling the noxious gases," said J Suresh, sub-inspector, Sriperumbudur.
Finally, Latha and her neighbours went to a nearby fire station for help. "When we attempted to rescue them, there was already about two feet water in the tank. Lakshmigandhan was floating in the water, while the other five were under him. As the lid of the tank was too narrow to bring them out, fire and rescue personnel had to break its ceiling and fish out the bodies," said S Rajeshkumar, a colleague of Lakshmigandhan.
With only 45.3% of urban houses depending on on-site systems to treat waste, it is impossible to do away with septic tanks altogether. Government guidelines mandate that septic tanks must have two chambers, with a connection to a treatment system for safe dispersal of effluents. But most houses have just one chamber, which has to be cleaned up regularly.
Tamil Nadu reported the highest number of deaths due to manual scavenging between 2013 and 2018, as per a report by the Union Minister of State for Social Justice and Empowerment Ramdas Athawale. The recent deaths suggest that victims are not limited to manual scavengers. A Down to Earth report says that only a third of urban houses in India are connected to the sewer system. A majority of houses — 38.2%, as per census 2011 — use toilets connected to septic tanks.
As the people who were cleaning the sewage tank were owners of the building, the Sriperumbudur police said it cannot be treated as a case of manual scavenging. However, they have registered a case under Section 174 of CrPc (unnatural death). The chief medical officer, Jayabharathi, who conducted the autopsy, confirmed that all six died of asphyxiation.
Such incidents call for an alternative to manual scavenging and implementation of new technology to handle human waste. The Kumbakonam municipality set a trend when it introduced a semi-automatic robot, equipped with night vision cameras, to clear blockages in sewers. In another method, vacuum tankers are used to empty septic tanks.
The solution lies in employing efficient waste management methods, including the setting up of homestead-level sewage treatment plants.