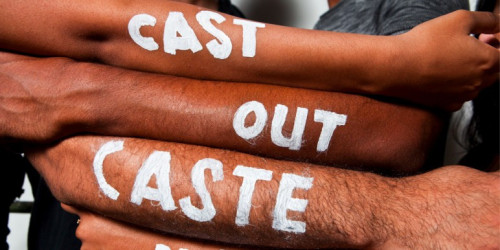 On October 3, Surya, a youth from the narikkurava community in Thanjavur was attacked by members of the Mutharaiyar community for riding a bike. They damaged his motorcycle. Surya who works in an IT company in Chennai is currently under medication to treat the wounds he sustained during the attack.
On October 7, S Sundar, a dalit youth from Theni district was attacked with sickles by members of the thevar community for sitting cross-legged on a chair. Sundar who was preparing for TNPSC examinations is now recovering from his injuries.
On October 11, a school going student Thangaraj (name changed), a dalit was attacked by his classmate Vikram (name changed), who hails from an upper caste with a knife after a scuffle over a petty matter. Thangaraj in his statement to police had said that Vikram had repeatedly tried to pick a fight with him by hiding his schoolbag. When resisted, he attacked him with a knife, Thangaraj had alleged.
ALSO READ: Singer TM Krishna slams discrimination of art, artistes during Modi-Xi summit
Incidents of caste-based violence and discrimination continue to occur in Tamil Nadu, even though the state government, after coming under criticism for caste-based discrimination recently banned wearing of caste bands by children from lower castes in schools in the southern part of the state.
Activists say, the nonchalant occurrence of caste-based violence in the state, despite warnings is taking place due to the inefficiency of the government to curb it.
"These incidents show that the Tamil Nadu government is inefficient to take any actions against perpetrators. Most of the time, it remains silent," says A Kathir, executive director of Evidence, an organisation working for the rights of dalits.
Much more than caste bands
The incidence of caste violence in schools has not decreased even after the state government's recent order to ban the wearing of caste bands in schools. Wearing of caste bands, however, is just one aspect of caste discrimination in schools. Sources say, many children from upper castes are now asserting their caste pride by creating separate pages and groups named after their communities on social media and WhatsApp.
"They are just doing what their caste heads have asked them to do. Schools are now turning into places for caste violence. In order to stop these incidents, schools should introduce human rights education in their pedagogy," adds Kathir.
In case of Thangaraj, the other student who perpetrated the crime should be given a counselling to bring about a behavioral change in his attitude feels Kathir.
More than the lack of awareness among people, the negligence on the part of lawkeepers is dangerous, says Babu, state coordinator, Social Awareness Society for Youths (SASY).
ALSO READ: Buried tales of Dalit discrimination in Tamil Nadu village
"If you take the case of Surya, the kurava youth, he hails from Madukkoor village which is inhabited by only seven kurava families. No caste-related case has been filed from the village yet. This is the first time, such a case has been filed. It means that all these years, though there were incidents of caste violence, the scheduled castes and scheduled tribes didn't report the atrocities after either being cajoled or threatened by the perpetrators," he adds.
Hiccups en route
Incidentally, in all the above-mentioned incidents, there was a delay in registering cases under SC/ST Prevention of Atrocities Act, even though the act of violence happened in broad daylight and in public.
Babu says the registering of the case itself becomes cumbersome, especially when police officials investigating the case hail from the dominant community that the accused belongs to, says Babu.
"Many say the SCs and STs misuse the Act. But, the truth says otherwise. It is the people who deal with and implement the Act that misuse it. And they misuse it in favour of the dominant castes," he says.
"If one look closely at these conflicts, he or she can understand that the incidents reflect the jealousy and grudge of the dominant community against the lower caste for prospering in life," says Babu.
New ways of caste assertion
Another caste-based discrimination that has riled up anti-caste activists is the outright display of caste dominance by a shop selling firecrackers in Sivakasi district. The shop in Sivakasi named 'Sri Thevar Pattaasu Kadai' has announced that it will sell fire crackers at a subsidised rate only to the members of the mukkulathor community. The advertisement put up by the shop was circulated on social media. While the shop faced severe criticism on social media for such an advertisement, when The Federal dialed the numbers given in the advertisement, the receiver said it was a wrong message and that he had nothing to do with it.
"This kind of discrimination in a business place is against our constitution," says Kathir.
ALSO READ: 'Casteing' a discriminatory gaze on classical and traditional folk arts
"The chief minister is the one responsible for all these caste conflicts," says activist Henri Tiphagne, executive director of People's Watch. "According to the SC/ST Act, the CM should convene a committee meeting to ensure the effective implementation of the Act. But he has never convened such a meeting. Is that not a crime?" he asks.
When the former CM J Jayalalithaa was alive, she was honoured by human rights organisations for introducing human rights education in schools. But the current regime is refusing to follow her path, opines Tiphagne. "The school education department refuses to educate our children on the right to equality," he added.