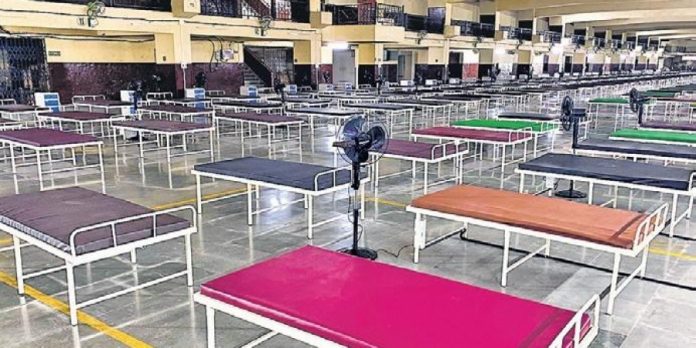 A reply by a deputy tahsildar from the Mudukulathur block in Tamil Nadu's Ramanathapuram district to an RTI application has revealed certain irregularities in the expenses per head for people in isolation centres.
Going by the reply to an RTI application filed by activist M. Valli Narayanan, founder, Tamil Nadu RTI People Movement, Erode, discrepancies could be observed between the amount shown as spent by district administrations and the amount allowed to be spent.
People in Tamil Nadu began using isolation centres from March after the outbreak of COVID-19. Various district administrations in the state arranged for isolation centres. The state government then allotted separate funds for this process.
Advertisement
The Tamil Nadu government has permitted districts to spend ₹3,697 per person for seven days when they stay in COVID isolation centres.
The amount will be allotted to cover expenses related to food, drinking water, face masks, medical expenses, rent, cleaning and maintenance bill, electricity bill, and other items like a cotton bedsheet, pillow, bathing soap, detergent soap, a bucket and mug.
"However, the expense per head varies from district to district and in most of the districts, authorities at the isolation centres do not maintain the records properly, including details on how many people were admitted to isolation centres, their addresses, and expenses incurred," according to activist Valli Narayanan.
"I wanted to know how much funds were allotted to each district, district-wise details of people admitted to isolation centres, medicines given to them, and the amount spent on each person. I got a reply from the state revenue and disaster management department," said Narayanan.
Expenses per head in various districts
For example, in Ramanathapuram, the Mudukulathur block has spent ₹3,697 for a person over seven days, which is the exact amount permitted by the government.
However, officials in the Kamuthi block had spent only ₹140 per person per day, specifically for food-related expenses. Going by the government order, authorities should have spent ₹250 for a person per day for expenses related to food.
Meanwhile, in Virudhunagar district, the city block has spent ₹1,676 per person for seven days.
On the other hand, officials in Kariapatti block of the same district said they did not possess any details at all related to per head expenses. However, they had reportedly "spent" ₹16 lakh towards COVID relief work.
Authorities from the Watrap block had spent ₹220 per person per day, according to the RTI reply.
Details on number of people in isolation in various districts
Meanwhile, a reply from the personal assistant to the Vellore district's Collector noted that so far, 2,833 persons were in isolation, but that they did not have details on individual expenses.
A total of 89 persons were isolated in a private school in Erode district's Sathyamangalam municipality. Interestingly, officials from the isolation centres of that municipality said they incurred "no expenses".
While the Virudhunagar block reportedly spent ₹3.85 lakh to take care of 230 people, the Nambiyur panchayat union in Erode district spent ₹2.21 lakh for just 77 individuals, who were in isolation at a government school.
"The reply I got from various districts shows that the officials have not spent the money properly. COVID-19 patients were not given proper care because of this reason. When I spoke to some of the individuals who were in isolation centres, they said they were not given any other items except food and water. There is a possibility that the funds could have been mishandled. We need proper investigation into this issue," said Narayanan.
The state revenue and disaster management department, in its reply, also asked Narayanan to check their website for proper details regarding the funds allocated to each district. The department further said it has directed district administrations to provide other related information.