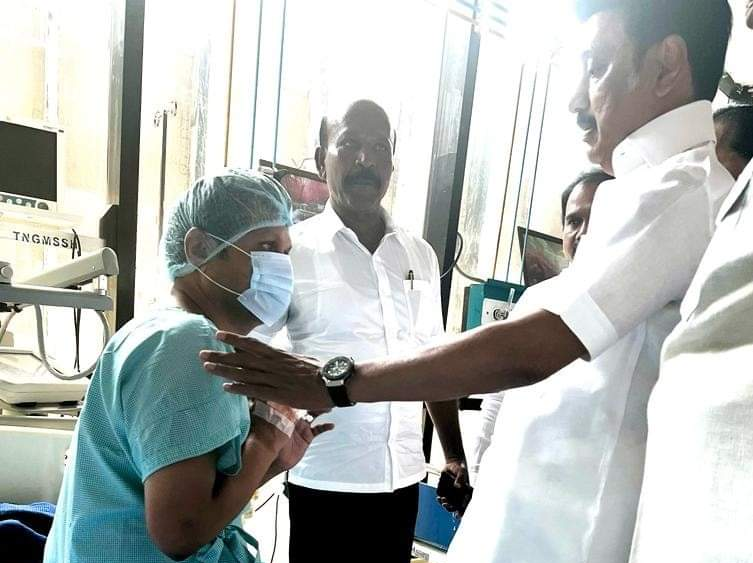 'Don't provoke DMK, you can't face it': Stalin dares BJP in viral speech
Tamil Nadu Chief Minister MK Stalin, reacting to the arrest of his cabinet colleague V Senthil Balaji, once again slammed the BJP leadership on Thursday (June 15) for engaging in "anti-people" politics. He said the saffron party "wants to do its politics through the ED".
In a video posted on his official Twitter handle, Stalin also slammed the ED for subjecting arrested Electricity and Prohibition and Excise minister Balaji to "mental pressure", due to which he subsequently suffered a health issue.
தி.மு.க.காரர்களைச் சீண்டிப் பார்க்க வேண்டாம். எங்களுக்கும் எல்லா அரசியலும் தெரியும். இது மிரட்டல் அல்ல; எச்சரிக்கை! pic.twitter.com/MTA0suBkSh

— M.K.Stalin (@mkstalin) June 15, 2023
"You all are aware of the unfair troubles being given to Senthil Balaji by the ED. No one has any doubt that it is brazen political vendetta. In a case that is 10 years old, he was confined and subjected to mental pressure. He was mentally and physically weakened and even suffered a life-threatening heart disease because of the ED. Can there be any more brazen political vendetta?" Stalin asked.
The CM said it was not wrong for Balaji to be questioned based on some complaint or court order, but he was no ordinary person who could abscond. "He is an elected MLA and a five-time legislator and a second-time minister. He attends a lot of public events," Stalin pointed out.
Also read: TN withdraws general consent given to CBI; 'Stalin scared he's next,' taunts Annamalai
"Confined like a terrorist"
"What was the need to question such a person by confining him like a terrorist. When the ED officials came, he fully cooperated with them and said he was ready to submit whatever explanation they sought. Despite that, he was confined for 18 hours and was not allowed to meet anyone," said Stalin.
"Only when his health got worse did they take him to hospital. Had they been ignorant, he could have suffered grave danger to his life," the CM added.
"What was the emergency for such an enquiry. Is there an undeclared emergency in the country? Going by the ED's activity, it looks like that. To put it simply, the BJP leadership wants to do its politics through the ED; it's is not ready to do politics by meeting people. They are also not ready to trust the BJP. People will believe in the party only if it does politics for them. BJP's politics is anti-people," Stalin said, attacking the saffron party.
Also read: Court dumps Balaji's plea to reject remand, Balaji alleges torture by ED
Balaji was arrested on Wednesday by the ED in connection with a cash-for-jobs scam when he was transport minister in the late Jayalalithaa-led Cabinet. He has since been hospitalised after he complained of chest pain. Following a coronary angiogram on Wednesday, doctors said he needed a bypass surgery as soon as possible.
Warning, not a threat: Stalin
Stalin said his DMK won't get cowed down by the BJP's intimidation and that its workers would take on any challenges.
"DMK has its own ideology and principles and was against communalism, casteism, discrimination based on birth and all regressive things," said Stalin.
"We will not budge if somebody tries to make us fall in line through intimidation. We will face things," he said.
"Don't dare provoke DMK workers. You can't face it. We know how to deal with such things," he said.
(With agency inputs)