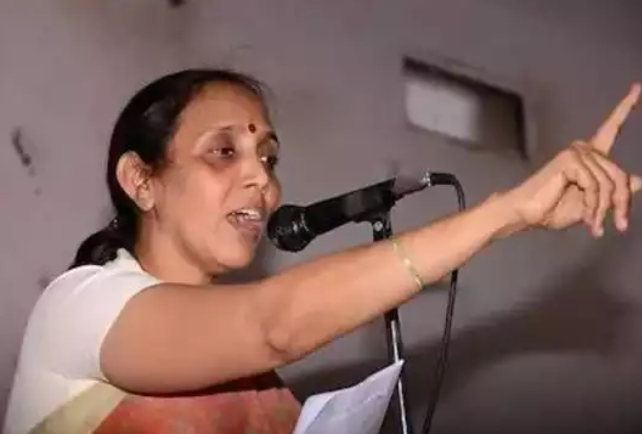 The DMK has rubbished allegations that pointed to an internal conflict behind the alleged suicide attempt by Poongothai Aladi Aruna, the party's legislator from Tamil Nadu's Alangulam constituency.
A former Information and Technology Minister, Poongothai was rushed to a hospital in Tirnelveli on Thursday (November 19) after she allegedly swallowed sleeping pills.
The hospitals, however, has not confirmed the same and but has said that the MLA is awake, responsive and that her vital parameters are satisfactory. She is being monitored by a team of doctors and needs to stay in the ICU due to her current condition, the hospital said in a statement.
DMK MLAs who visited Poongothai denied rumours of an internal squabble among party members to have triggered her suicide attempt.
Related news: BJP's split vote tactic in Tamil Nadu behind wooing of Alagiri
"I met her today at the hospital after our president (MK Stalin) asked me to visit her. She is conscious. I am confident about her discharge from the hospital on Friday," DMK's Rajya Sabha MP RS Bharathi told PTI.
The rumours of an internal feud in the party was sparked by a video clip which showed Poongothai sitting on the floor and touching the feet of some party functionaries at a recent party meeting.
Another DMK source, however, attributed the suicide attempt to a feud with one of her brothers, a party man, and her disappointment to see him on the stage at a party event.
"She has had a long-standing feud with one of her brothers, who is also in the party. She had participated at a party meeting on Wednesday, but was upset as her brother was on the stage while she was not," the DMK source said.
Poongothai, reportedly, had refused to take the stage later.
The incident also comes amid speculations that Poongothai was in talks with the BJP to join the party. She, however, had denied the report and lodged an FIR against a social media user who had spread the rumour.
A gynaecologist by profession, Poongothai, is the daughter of eminent DMK leader and former law minister Aladi Aruna. She is the state's first IT Department Minister (2009) and was also the state Social Welfare Minister during Karunandhi's tenure between 2006 and 2008.
Related news: DMK not anti-Hindu, it revived temples, brought reservation: Stalin