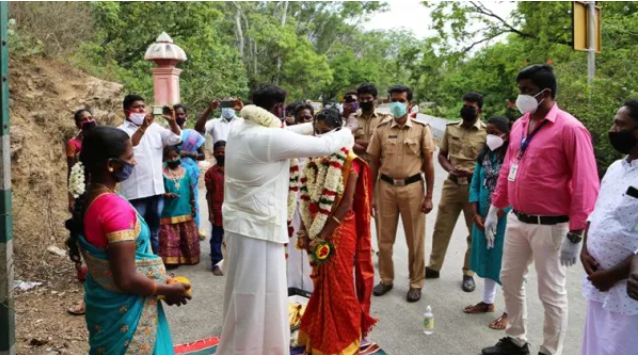 The Kerala-Tamil Nadu border near the Chinnar Wildlife Sanctuary on Wednesday (June 24) bore festive looks as three couples from the two states tied the knot and started the next phase of their journey together.
The three grooms were from Tamil Nadu and brides from Kerala.
Having waited for long – three months – due to the COVID-19 induced lockdown their respective families decided it was no longer wise to wait and decided to go ahead with the wedding.
Suhanya-Manikandan, Vedakkani-Muthapparaj, and Kasthuri-Nirmalraj got married within one-and-a-half hours with close relatives, a clutch of health and excise officials in attendance and safety measures in place.
Since the families couldn't risk travelling to different states they had to zero in on at the border check-post as the wedding venue.
Related news: COVID-19: UP police stop wedding procession as groom, father test positive
"The weddings were solemnized under the directions of the health department of Kerala with the attendance of very few people and safety measures in place. The check post and the items required for the wedding such as garlands were disinfected in advance. After the families took the necessary passes, it was coincidental that all three weddings fell on the same day," Arun Kumar, a junior health inspector at the Kanthallur primary health centre said.
According to the Indian Express, two of the weddings were as per Christian rituals and the third was a Hindu wedding.
After completing the wedding rituals the brides left for the groom's homes and were subsequently tested for COVID-19 in Tamil Nadu.
"We had planned to conduct the wedding on June 24 (Wednesday. Due to COVID and considering the safety of everyone, we decided to have the wedding at the border itself. When we approached the health department, they agreed and helped us in organising it," told Sudha, the mother of Suhanya to Indian Express.
Related news: Murder convict attended Pinarayi's daughter's wedding, alleges BJP leader
She also said the wedding wasn't a disappointment since they had called many of their family members for the engagement earlier.
The absence of grand wedding ceremonies and being surrounded by a dense jungle is not how many people imagine their big day. However, the pandemic certainly has altered the way of life for many like these couples.