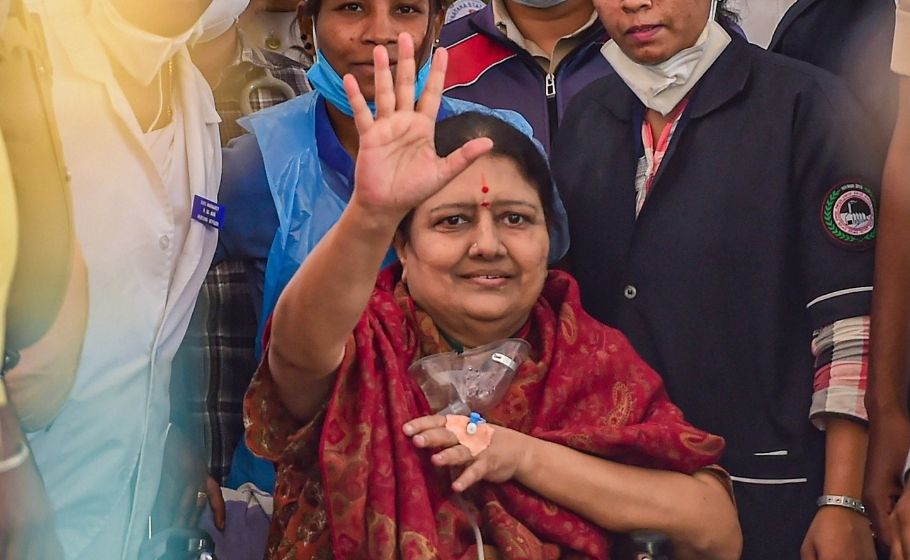 Security has been beefed up in Chennai ahead of VK Sasikala's return to Chennai after top AIADMK leaders lodged a police complaint alleging that she and her nephew, AMMK leader TTV Dhinakaran, are planning to disrupt the law and order situation in Tamil Nadu.
Sasikala, a close of aide of former Tamil Nadu chief minister J Jayalalithaa, is set to return from Bengaluru on Monday after serving four years in jail in a disproportionate assets case. She had earlier deferred her return to the city due to COVID-19 treatment.
Top ruling party leaders, including state ministers such as CV Shanmugam, D Jayakumar, and P Thangamani, met DGP JK Tripathy in Chennai on Saturday in this regard and urged him to ensure that the law and order situation in the state is not compromised.
Advertisement
Shanmugam said that a complaint has been submitted with the police seeking to "thwart a conspiracy to unleash violence and protect the lives of Tamil Nadu people and properties from Sasikala and Dhinakaran and ensure peace."
The state law minister told reporters Dhinakaran has issued threats to create conflict and have planned accordingly. The AMMK leader, he said, has even said that armed forces can't stop him or Sasikala from using the AIADMK flag despite the fact that Election Commission has ruled in favour of CM Edappadi Palaniswami and deputy O Panneerselvam.
Distancing itself from the Sasikala camp's "ploy", Shanmugam said they are going against the EC judgment. They are plotting to disrupt law and order in the state, he stated, adding that they may also blame the AIADMK for their turmoil.
In response, Dhinakaran said that people who were affectionate towards Jayalalithaa are now getting ready to invite Sasikala, and that's why ministers are getting rattled. He also accused them of planning disruption in law and order and shifting the blame on them.
Related news | It is payback time for Sasikala, Jayalalithaa's close aide
The MLA from RK Nagar, once represented by Jayalalithaa, further said the ministers hid it that Sasikala's petition over AIADMK's ownership is still pending in the Madras High Court.
In a statement, the AMMK leader claimed that police department has accorded sanction to the party's plan to accord reception to Sasikala at several places in Tamil Nadu on Monday. The AMMK has already announced a grand reception for Sasikala right from the beginning of Tamil Nadu border near Hosur.
The police, without naming anyone, said it has got information that some were planning to take law into their own hands and cause a breach of public tranquility and disrupt traffic movement. They warned of action against those who involved in such unlawful activities and this is seen as a warning to the AMMK following the AIADMK's complaint.