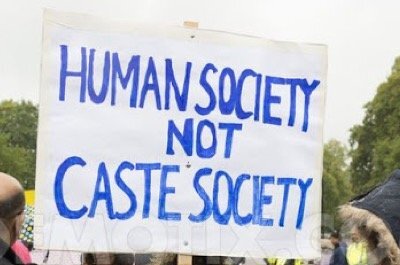 Casteism to fore: Panchayat prez asked to dig pit to bury body
After years of oppression, despite being elected to reputed positions at village panchayats reserved for Scheduled Castes and Scheduled Tribes (SCs and STs) in Tamil Nadu, Dalits and Adivasis in the state continue to face discrimination and caste-based oppression at the hands of the 'upper' caste people.
The state had witnessed several incidents of caste discrimination at the time of local body elections held in rural parts of the state. Though many Dalits and Adivasis had overcome the oppression and been elected, a few of them are still being overlooked and assigned menial jobs at their villages.
On Wednesday (June 3), M Murugesan, panchayat president of Ariyakunjur village (in Tiruvannamalai district), who happens to be from the Irular community — a Scheduled Tribe — was asked to dig a pit to bury a corpse in Chinna Kalthambadi locality of the village.
"A woman in the village named Chinna Papa died due to illness, and so, as a village president, I approached the village vice-president Sivanandham, seeking money to get a garland for her. But, he abused me and asked me to buy a garland for her with my own money," Murugesan told The Federal.
"I had never gotten my salary as a village president, which was why I asked him for money. However, he refused. This was when an upper caste Hindu man asked me to dig a pit to bury the body and assured me that he would give me money to get a garland," Murugesan added.
Related news | Casteist remarks away from public view not an offence under SC/ST Act: HC
He also said he had never been to the panchayat office in his village. "Ever since I was elected, I attended the panchayat meeting only once and that too was held outside the office. I have only signed the resolution notebook every time after that," he said.
Speaking about this incident, P Selvam, a member of the Communist Party of India (Marxist), who went to the village to inquire about the incident, said the villagers did not even regret or realize what they were doing to their village president.
"When I went to the village to ask around, one among the men asked me who would dig a pit, if not the Irulars in the village. This reflects the casteist mindset of the people," Selvam said.
It was also found that Murugesan was from an economically weaker section of the society and that he did not have even a mobile phone to contact him through.
"If we have to talk or convey something to the president, we would have to pass the message through the villagers. He would talk to us from other people's mobile phones," Selvam said.
After this incident came to light, other elected representatives in the village got him a cycle to help with travel.
However, Tamil Nadu Discrimination Eradication Front state secretary K Samuel Raj said it was not a lone incident.
Related news | Not only COVID cases, caste atrocities too spike in TN amid lockdown
"Every time, during the local body polls, instead of independent people from Scheduled Castes and Scheduled Tribes, people from dominant castes in the village would always pick a person of their choice from a minority caste among the 75 sub-castes of the state's Scheduled Castes, so that they do not have the support of the people," Samuel said.
Of the 75 sub-castes in Scheduled Castes, only three castes, namely Pallars, Parayars, and Arunthathiyars would contest the elections. Of those three, Arunthatiyars were considered the lowest in the caste hierarchy.
"So, even if an independent Pallar and Parayar candidate contest in a reserved village panchayat, the dominant caste people would pick an Arunthatiyar as their preferred choice of candidate and make them win, with the help of other people from dominant castes," Samuel said.
However, caste-Hindus whom The Federal spoke to claimed that Murugesan went on to dig the pit on his own when no one in the village had asked him to do so.
When asked about it, village panchayat vice president Sivanandham claimed he was unaware of the incident.