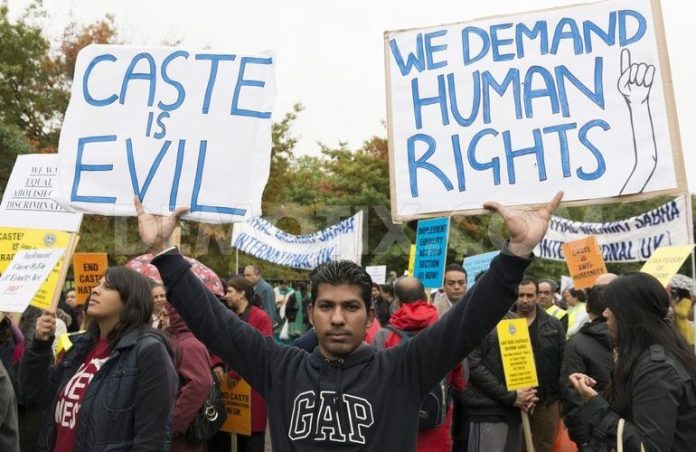 After a village Dalit Panchayat leader in Tamil Nadu's Coimbatore complained of being discriminated on grounds of caste, it was found that more than 1,000 Dalit families, apart from the Dalit panchayat in the village of J Krishnapuram, continue to face caste-based discrimination in various forms to this day.
It included denial of entry for people into temples and refusal of haircuts in barber shops.
"I have never gone to the barber shops in my village," says A Santhosh (29), a mill worker in the village of J Krishnapuram.
"It's nothing new for me. We were not allowed to cut our hair in the barber shops where the caste-Hindus would cut their hair. So, when I was young, my mother used to cut my hair and after growing up, I started to go out of the village for a haircut," says Santhosh.
Advertisement
"It's not just Santhosh. Any children or men from the Dalit community staying there wants to have a haircut, this is the case," a village senior who wanted to remain anonymous says.
"If we defy the order and enter any barber shop, then there will definitely be a clash between the two castes and at the end of the day, we would be the losers since the police and the administration would support them only," the village senior explains.
Initially, women in the Dalit colonies were a little hesitant to speak up about this, but later opened up on how they coped without sending their children to barber shops.
Related news: Why the clamour among Dalits over sub-quota for Arunthathiyars
"If they grow up, we can send them to the barber shops in villages nearby or to other cities, but how do we send our children alone? Nobody will be here in the village to take them for a haircut as everybody would go for farm work or some coolie work in the village. So, we started doing hair cuts for our children. We did not have any other choice but to do it on our own," says S Seethalakshmi, one of the women in the village.
The women also revealed that they were not allowed inside the Perumal temple in the village.
"If there are any special poojas, caste-Hindus would invite us to their Perumal temple and we would also invite them to our Madurai Veeran temple. But, we will not be allowed to enter the Perumal temple. We will have to stay outside the temple and pray. But they don't mind entering our temple," says another elderly woman who did not want to be named.
"In a couple of occasions, when we asked them for permission to enter the temple, they told us we were 'impure'. So, we gave up. I am over 60 years old and I never got to know what is inside that temple," the elderly woman adds.
Another decades-old practice of discriminating against Dalits by serving them food in different vessels also continues to exist in this village. The Federal witnessed that most of the tea shops in the village have been keeping up with the practice of two tumblers (one for Dalits and one for caste-Hindus) and three tumblers (Dalits, caste-Hindus in the village, and outsiders).
"We know we will not be treated as well as the others. So, we don't go to tea shops unless we go to work in the farmland," says S Maayavan.
Furthermore, Panchayat president V Saridha shared that she took a while to realise that she was being discriminated on the basis of caste only after she went to the caste-Hindu streets for campaigning.
"Until then, there was not any need to cross their streets. But during the campaigning, they never let me inside the houses. Few of the caste-Hindus, did not even let me inside their streets," says Saridha.
Though the local police registered a case against a caste-Hindu resident in the village for allegedly discriminating and hurling casteist slurs at Saridha, the accused is yet to be arrested.
Speaking to The Federal, Superintendent of Police SP Ara Arularasu expressed that it might be a politically motivated complaint and that they are investigating the matter.
The Discrimination Eradication Front's district secretary Aruchamy, who visited the village, says they would push the district administration to take action in this regard. "Unless the police take stringent action against the accused persons booked on charges of the Prevention of Atrocities (against SC/ST) Act, the caste-Hindus would continue to behave the same way," Aruchamy says.